Having fun taking pictures of slushy drinks in highball glasses on perfectly distressed hardwood tables and hashtagging it #happyhour? What about posting pictures of the sky and clouds that look like every other picture of the sky and cloud and commenting how 'this is just how I feel right now'? These are the Instagram pictures we see everyday! But that's because we're mere humans. What would superheroes post to Instagram?
---
---
---
Bats aren't know for their musical prowess… at least not in regular human circles. But! With a little tinkering with the natural sounds they produce, bats can be just as hip as the rest of the animal kingdom. What better place to start their new career in audio than a rendition of the theme song to 1960s' Batman?
---
It wasn't a secret that Heath Ledger went to extreme lengths to prepare for his role as the Joker in The Dark Knight, going so far as to put together a diary from the perspective of the movie's deranged antagonist. In this one minute clip, Ledger's father, Kim, gives us a brief glimpse at the contents of that journal.
---
Having captured the Joker, offed Two-Face, faked his own death and passed the crimefighting torch to a new generation, Bruce Wayne is a man with a lot of time on his hands. So what better way to enjoy retirement race this street-legal Tumbler across the US in the annual Gumball 3000 rally?
---
---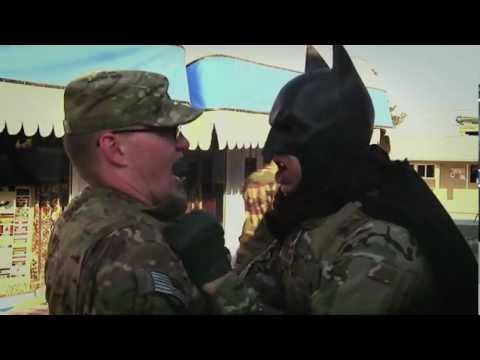 That Batman. What a hero. After solving the crime wave in Gotham City, he has decided to take his skillset where it's really required: Afghanistan. Watch these hilarious troop training videos right this instant.
---
Because we all dreamed about being Bruce Wayne once upon a time (or to this day), here's something you can get that he could never: a batman logo coffee table. Made by Charles Lushear of the Bohemian Workshop, the coffee table is carved from wood with hairpin legs and is a must for any comic book geek still living with his parents or someone who has a really understanding girlfriend (or boyfriend).
---