Wow, this is so cool. Here's a MiG-29 fighter jet taking off from a runway and then immediately launching vertically into the sky. The takeoff looks completely normal and innocuous until the jet is a few feet off the ground and then it just zips up like it's riding the world's fastest invisible elevator.
---
Briefly: It's not often that you could use a word like serene to describe a B-52H Stratofortress. But in this image, accompanied by Saab JAS 39 Gripen jets from the Swedish Armed Forces, that's exactly how it looks. This image was captured over the Baltic Sea during training manoeuvres on June 11. [US Air Force]
---
I forget how impressively thin and futuristic looking a B-2 stealth bomber is. I mean, just watch these two stealth bombers land at Royal Air Force Fairford in England, it looks like a UFO has just touched down on Earth and is ready to take over our planet. Or like a sci-fi fighter jet has hopped through a movie screen and been brought to real life.
---
Wow. Watch the Boeing 787-9 Dreamliner pull off an amazing aerial display in preparation for the 2015 Air Show. You can see the big bodied jet pretend it's like a stunt plane and basically do tricks in the air. The most impressive has to be the take off though, the jet almost immediately goes nearly perpendicular to the ground once it starts flying.
---
---
The angle of this photo of a paratrooper making a jump off a C-130 aeroplane is so perfect that it makes it seem like the soldier is using the Hercules aircraft as a surfboard of sorts. Obviously, he's not standing on the plane (it's just our perspective fooling us, or just me), but riding an aeroplane while outside the plane would be so badass.
---
All these fighter jets and war planes and attack helicopters are on display at Russia's Central Air Force Museum, just outside of Moscow. They're advanced killing machines, and yet this drone footage makes them look so peaceful, resting and hibernating in the Russian winter snow. It's as if we've stumbled upon a paradise for planes.
---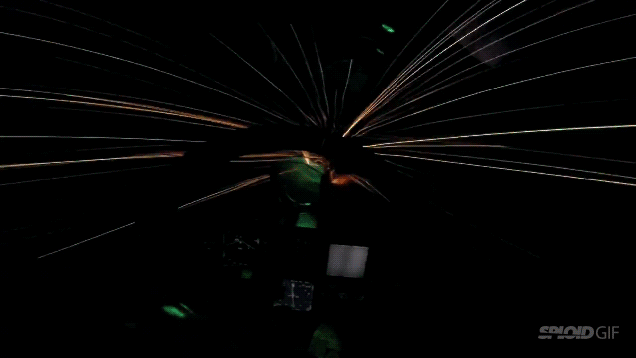 Our friend Lieutenant Chris Nigus — Weapons Training Officer with the Strike-Fighter Squadron VFA-27 Royal Maces — sent us his new video, which has some truly spectacular shots that I have never seen before. Like the night gunfire video above — we only had photos — or this cool landing footage from a carrier's deck camera.
---