Pro athletes lead a very luxurious life, with trainers ensuring they're always in top physical shape. But they still travel in cramped aeroplanes that weren't designed for seven-footers. Teague design firm and Nike have come up with a solution: a super-luxurious concept jet that caters to a team's every need.
---
Video: Aside from going through security and lugging around your carry on and rushing to the gate and avoiding human swarms, aeroplanes are magical places. OK, maybe not. But there's beauty in how they operate. Just watch this ballet of aeroplanes at Shanghai's airport. It's like seeing man made shooting stars.
---
---
---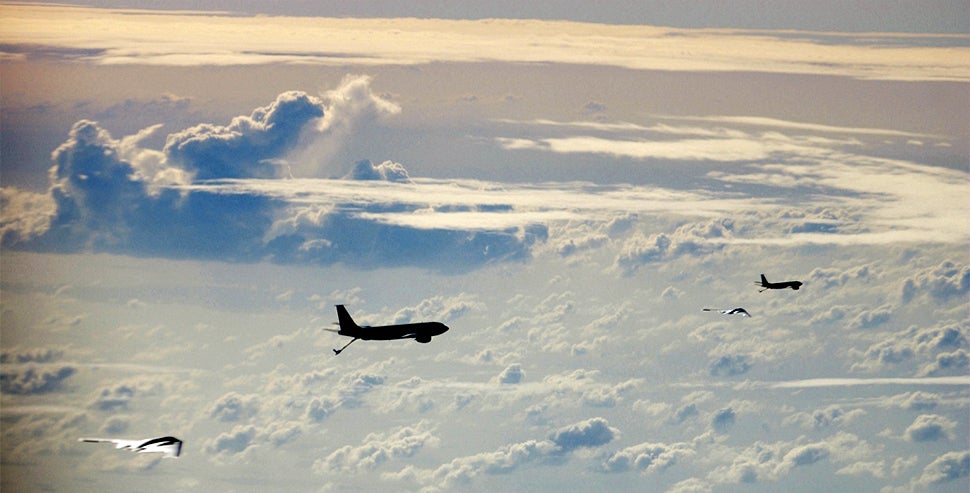 Image of the day: An extraordinary photo of two B-2 Spirit refueling simultaneously from two KC-135 Stratotankers. And if that's not cool enough for you, here are two more cool photos of the world's most advanced stealth bomber (that we know of.) One solo, one flying with two F-22 Raptor fighters over Guam.
---
A mind-controlled iPhone? Sure, we'll take it. A mind-controlled Samsung Galaxy Note 10.1? Why not? A mind-controlled aeroplane powered by the pilot's brainwaves? Hold on for a moment while we look for the nearest emergency exit.
---
The B-52 bomber is one the US Air Force's most iconic aeroplanes — but it's also beginning to show its age. Now, Boeing has decided to bring it right up-to-date though, with its new Combat Network Communications Technology (CONECT).
---