Looking at this picture, it is hard to believe that the United States and Australia were in a bloody no quarter war against Japan only 70 years ago: Spot the Mitsubishi F-2 escorting a Boeing B-52 Stratofortress, the direct heir of the Boeing B-29 Superfortress bombers that obliterated Hiroshima and Nagasaki.
---
---
---
Once again, the French Navy shows they make the best aeroplane videos there are. This one shows the flight deck operations onboard the nuclear-powered aircraft carrier Charles DeGaulle. Although I would have preferred no soundtrack, it helps that, instead of using dubstep, they slapped in AC/DC's Thunderstruck.
---
Last year, Australia dramatically boosted its order of the still-in-development, problem-prone F-35 stealth fighter. Now a new report says the jet's 25mm cannon won't be operational until 2019 at the earliest. Even more laughable is that it probably doesn't even need the gun to begin with.
---
A Virgin Atlantic Boeing 747-400 had to make an emergency landing at Gatwick Airport, London, when its right landing gear got stuck. Amazingly enough, the pilots managed to keep control with only three of the four gears in place.
---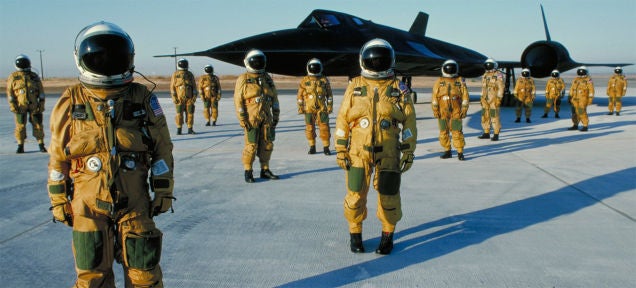 No other plane in history has captured the hearts and minds of the American public quite like the SR-71 Blackbird, providing the West with an unprecedented look behind the Iron Curtain during its 33 year operational career. But before it was cracking the skies over Russia at mach 3.3, the Cold War spy plane had to prove itself during a series of test flights. The first of those took place on December 22, 1964.
---
I have to give kudos to Airbus for having the guts to do this using five test A350-900 XWB aeroplanes, its newest wide-body airliner. I know the stunt was well calculated and the pilots — all of them ex-military aviators — knew exactly what they were doing, but the entire thing still looks insane.
---
Building a commercial aeroplane is a monumental task. It takes around 4,000 really smart engineers over 7 years of planning to make one of those flying tubes with countless experts testing and re-testing each individual part (and there are 2.65 million parts in an Airbus A350). This video shows you how they make one.
---