Some might say New Yorkers had more money than sense in the Roaring Twenties. Somewhat profoundly, John K. Hencken's idea to build highways on top of skyscrapers in Manhattan required both. Bummer about that stock market crash — otherwise these elevated boulevards might have been built! Emphasis on the might have.
---
The latest episode of Super-Fan Builds just hit the internet, and this time the lucky recipient is a member of the 501st, a group of Star Wars fans who build their own replica costumes and visit hospitals and other charitable events while dressed in character. If anyone deserves an amazing 'Han Solo frozen in carbonite'-themed coffee table, it's Ray Choi who has nine hand-made costumes in his repertoire.
---
Video: Colour me intrigued. Anna Péter, Malackaraj, cooks up another wild dish I've never heard of that sounds and looks pretty gross (I mean, it's called sour lungs), but also somehow looks pretty tasty after she's done cooking it through. I don't think I've ever eaten lungs before, but I love all offal meats so why not give this a try?
---
When they're young and still waiting for their first evolution, all a Pokemon dreams about is fighting in tournaments with a skilled trainer guiding the way. What they don't think about is that all those battles will take their toll, and eventually they're going to have to consider other work in order to pay the bills. At least Pikachu is embracing the corporate world.
---
Our favourite TV show characters and movie stars and cartoons are often remembered for how they look. The outfits they wear, the cars they drive, the weapons they use, the swagger they carry and the hairstyle they have. Here's an infographic showing 65 different famous hairstyles.
---
Video: When I saw this video of Swedish skier Erik Sunnerheim zooming over the ice while carving with a chainsaw two thoughts popped into my mind: At first, I thought it was super-fun and wanted to try it right away, but then all the things that could go wrong started to pile up in my brain taking the shape of a giant nope.
--- If you want to take your bicycle off-road, you need larger and larger tyres, depending on how rough the terrain gets — and that makes it harder and harder to pedal. But maybe Ron Schroer has found the perfect off-road cycling alternative with his Boneshaker Big Wheel that rolls and walks all at the same time.
---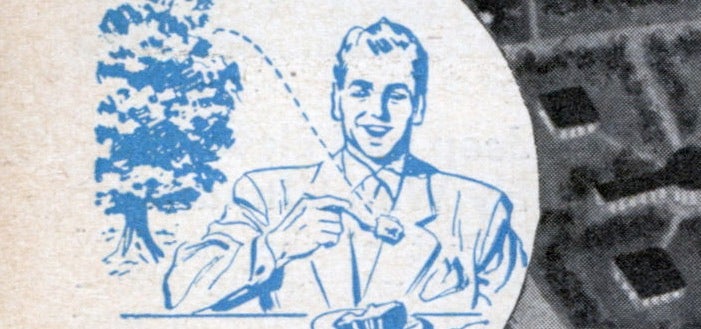 It's so easy for us to look back at old predictions for the future and see them as quaint or overly optimistic. But when we take a closer look — when we stop to really process what's going on in these predictions — we often find that they weren't merely silly or naive. They were warning of the horrific, dystopian future to come.
---
Video: The guys at AtomCentral uploaded this video depicting the failed test of the Atlas missile back in 1961. The footage — scanned to HD from the original film — shows the rocket exploding in an epic and mesmerising slow motion that would make Michael Bay drool.
---