Video: There might not be anything more awesome than going to space. It's an incredible achievement and the idea of exploring the unknown is fascinating. But as this short animation called Solus by Zac Dixon for Identity Visuals shows, it can get quite lonely. Watch it, it's nearly as good as any feature.
---
The likes of Sony, Nintendo and Microsoft have gotten better over the years at securing the consoles from external modification, though persistence (and a bit of smarts) can get you a long way. The PS3 eventually fell thanks to some determination and now the Nintendo 3DS has been hacked, so to speak, allowing users to run unsigned code on the platform.
---
The last time we lusted over a cloned video game console it wasn't some cheap plastic knock-off from Taiwan, it was the Analogue Nt, a perfect NES homage made from a solid block of aluminium. And now the Analogue Nt's creators are back with a new creation that sees a classic Neo Geo arcade system elegantly packed into a slim wooden housing that looks downright beautiful.
---
Since 1975 the Choose Your Own Adventure books have given millions of kids the chance to determine their own destinies (at least in a literary sense). Sadly, the author and publisher of those books, R.A. Montgomery, died this week. But he leaves behind an incredible legacy in both publishing and, perhaps surprisingly, gaming as well.
---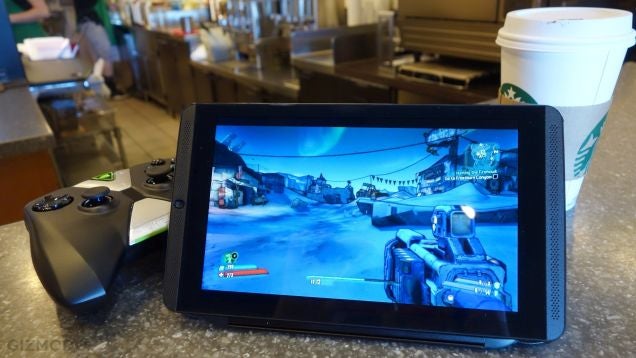 The Nvidia Shield Tablet isn't for everyone, but it's a pretty solid Android machine. It's about to get even better in three distinct ways: Android 5.0 Lollipop, Half-Life 2: Episode 1 and a whole bunch of absolutely free streaming games.
---
It's not as monstrous as the wall-hanging Scrabble board that Hammacher Schlemmer sells, but Restoration Hardware's take on the classic spelling game will look a little classier hanging on your walls. And it even includes a chalkboard for keeping score and publicly shaming players who can't spell worth a double-letter-tile.
---
Now that Apple has finally introduced widgets for iOS 8′s Notification Center, we're starting to see some great ways to quickly access important info on our iPhones. But a few clever developers are pushing those widgets beyond just notifications. A new iOS game called Overglide can actually be played directly from your iPhone or iPad's Notification Screen, without even having to unlock your device.
---