Have you downloaded Dallas Buyers Club illegally via BitTorrent? It might serve you well to read this. The studio behind the film is looking to send out copyright infringement notices to Aussie infringers, which may include demands for money. To do it, the studio needs customer names and addresses, but iiNet isn't playing ball and will oppose the action in court. That's right, kids. It's time to take to the high seas once again for iiTrial 2: The Clickening.
---
Today, Google Play Music gets smarter about the suggestions it offers, by taking into account the time of day, day of the week, and device you're using. So when you're dragging at the end of the work day, you get just the jams you need to get through it.
---
If you're going to dive head first into an already crowded market like the world of Bluetooth speakers, you better do something to make your product instantly stand out. And it looks like Bowers & Wilkins has done just that with its new T7 compact speaker featuring a stylish honeycomb design that actually helps strengthen its housing to reduce vibrations and improve its sound.
---
Video: Everyone seems to be making fun of Christopher Nolan's Interstellar as we all eagerly await for it. After the Wall-E parody, here comes a classic: Spaceballs. A hard one to pull, but the Schwartz is strong in this one.
---
Video: If you ever wondered what characters from The Simpsons would look like if they got animated in the style of South Park or Archer or Adventure Time or various animes or maybe even made to look like minions, well, here you go. On last night's episode, we got to see what The Simpsons would look like as different cartoons.
---
Mayokero is the first song of the album Acowpella Beatbox by Israeli artist Roy Kafri. The music video — directed by Vania Heymann, a second year student in Bezalel School of Art and Design — is brilliant. It takes classic album covers and animates them to sing along the song in a completely seamless way.
---
Halloween is coming up next Friday, and it's as good a reason as any to settle in and frighten yourself with some horror flicks. Presto's seasonally-themed scary movie collection of nine titles doesn't actually have Scary Movie in it, but that's fine.
---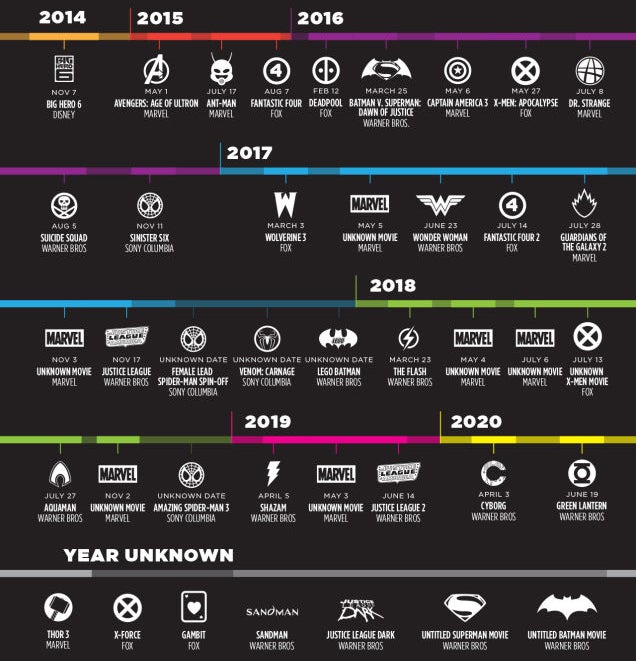 ComicsAlliance has published a comprehensive future timeline of all the superhero movies that are slated to be released over the next six years. It's a list of all the confirmed ones, too — it's still missing "one or two movies" from Marvel in 2019, apparently — and of course dates may change — but this is pretty much a locked-down list of all the awesome movies that you'll want to go and see for the next few years.
---