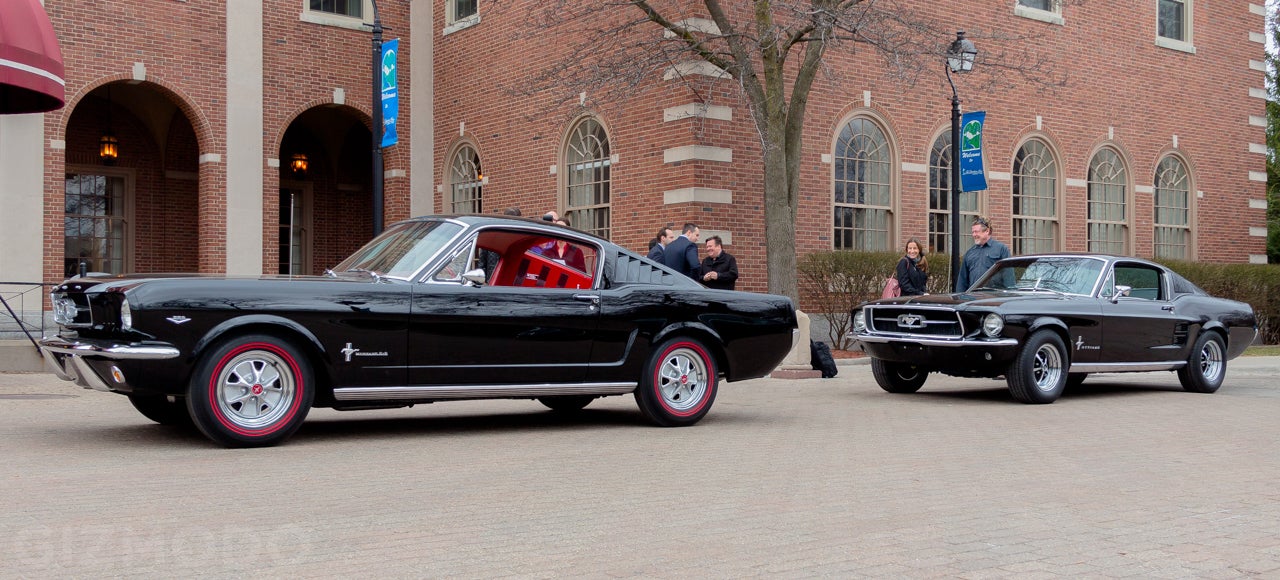 This week the Ford Mustang, perhaps America's most culturally influential car, turned 50. Ford Motor Company celebrated the anniversary with commemorative models and publicity stunts, but the company's top two designers had the most fitting tribute: A Michigan-to-NYC road trip in two classic Mustangs. I rode along and, while the vehicles were vintage, the conversation was all about the future — of design, of cities, and yes, of cars.
---
If you've got cash to burn on spare rear tyres, don't mind a bit of excess wear on your brakes, engine and drivetrain, and want to impress your mates in front of Maccas on a Friday night, then the 2015 Ford Mustang is the car for you. It has an electric line lock feature that clamps the front brakes, holding the car still while you step on the gas and light the rears up.
---
Carparks are ugly by their very nature: they're metal cages that take up valuable space in our cities to house our automobiles for a few high-priced hours. But not all carparks have to be ugly. In fact, three of the most beautiful are located within a few blocks of each other, in the city of Santa Monica, California.
---
Autonomous vehicles are likely going to have to do more than just drive themselves: They're also going to have to organise carpools. GM's EN-V was cute and all , but this Akka Link & Go 2.0 is more like a tiny bus — which is a much more reasonable proposition for a self-driving, car-sharing fleet.
---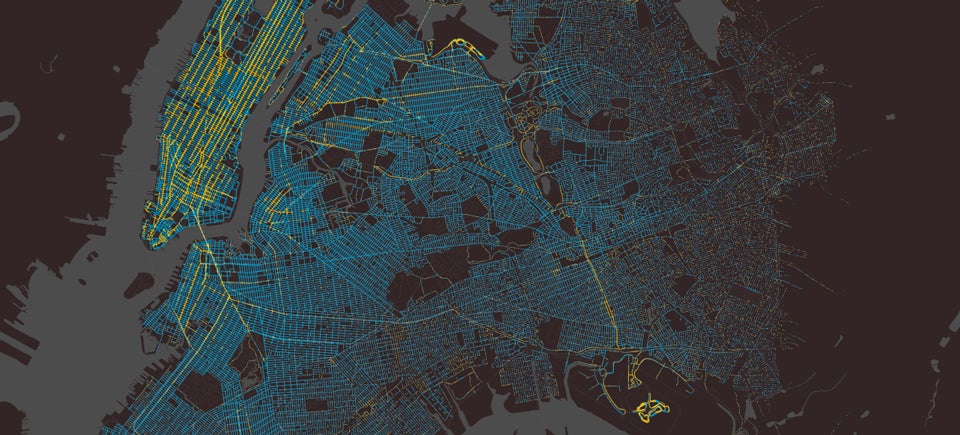 New York's fleet of iconic yellow taxis are still the city's reliable, non-surge priced transportation backbone. Its 13,500 medallion taxis make 170 million trips a year, every single one of them mapped in this beautiful new visualisation from the folks at the MIT Senseable City Lab. The interactive map isn't just here to be pretty — it's also the data behind a strategy to make riding taxis way more efficient.
---
You wouldn't think that a four-wheeled car would go faster if one of its wheels didn't touch the ground. Or if its axles were bent. Or if it was designed to grind against a wall. You would be wrong, and here's the science to prove it.
---
It's been 50 years since Ford built the world-renowned 1965 Mustang and placed it high above Manhattan on the 86th floor of the Empire State Building. Last night, Ford came back with a bigger, yellower, all around more complicated car from 2015 and decided to recreate the famous stunt as a 50-year homage — only this time, they did it in the snow and over the course of just five hours.
---
---