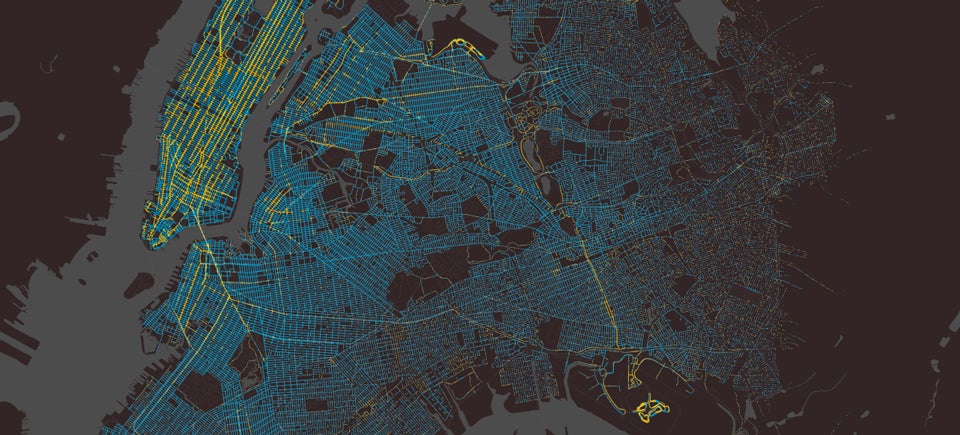 New York's fleet of iconic yellow taxis are still the city's reliable, non-surge priced transportation backbone. Its 13,500 medallion taxis make 170 million trips a year, every single one of them mapped in this beautiful new visualisation from the folks at the MIT Senseable City Lab. The interactive map isn't just here to be pretty — it's also the data behind a strategy to make riding taxis way more efficient.
---
You wouldn't think that a four-wheeled car would go faster if one of its wheels didn't touch the ground. Or if its axles were bent. Or if it was designed to grind against a wall. You would be wrong, and here's the science to prove it.
---
It's been 50 years since Ford built the world-renowned 1965 Mustang and placed it high above Manhattan on the 86th floor of the Empire State Building. Last night, Ford came back with a bigger, yellower, all around more complicated car from 2015 and decided to recreate the famous stunt as a 50-year homage — only this time, they did it in the snow and over the course of just five hours.
---
---
After six hours of deliberations before an appeals court, poor Red Bull team racer Daniel Ricciardo is still disqualified from the Melbourne Grand Prix after the court upheld the FIA's decision following a breach of the fuel flow rules for the new F1 season.
---
Apple iOS car integration is coming to loads more vehicles now, thanks to a firmware update that will make CarPlay available through Pioneer's popular aftermarket in-dash infotainment systems. The firmware update will bring CarPlay to five of Pioneer's NEX in-dash systems in the third quarter of 2014.
---
When a semi-trailer truck carrying a rig filled with toilet paper crashes into a bridge, what happens? A giant mess. A giant mess that someone has to clean up. This timelapse shows a city clean up crew picking up all the crap, repackaging it for another truck and getting the streets clean so that no one would know what's going on.
---
Nissan Quasaski? Nissan Quashkee? Oh God it hurts my brain. I had no idea how to say the name of Nissan's new compact SUV until it put out this video explaining how to pronounce it. Ohhhhhhh! That's how.
---