A massive explosion rocked a chemical plant that produces petroleum products in southeast Texas overnight, sending fireballs into the air. The shockwave of the blast has damaged walls in nearby homes and even shattered windows miles away, according to early reports on social media, but the cause of the blast is still unknown.

The initial explosion occurred in Port Neches, Texas, near the Louisiana border, shortly after 1:00 am local time on Wednesday. People living within a half-mile have been advised by the local fire department to evacuate and residents south of the I-10 freeway are being told to shelter in place until at least 6:00 am because the wind is carrying a chemical plume.
There are at least three injuries so far but thankfully no fatalities, according to local ABC news station 12 News Now. Early reports indicate that the explosion was felt as far as 40 miles away.
Twitter users have been posting videos of the fire, as well as damage to their homes. The fire was still raging as of 4:30 am local time, 5:30 am ET.
These are pictures of a home in the Hebert Woods neighborhood, about a half mile from the TPC plant in Port Neches, where the explosion occurred earlier. The front door was blown off the hinges, insulation fell from ceiling, windows shattered and garage door damaged. @kfdmnews pic.twitter.com/G4ZuRiL6Aw

— Jillian Fertig (@JillianFertig) November 27, 2019
SO THANKFUL my nieces were not at their father's home tonight. There's been a large explosion and fire at a chemical plant in Port Neches, TX.

This is his home. Lots of houses damaged on the area. So far no fatalities reported. pic.twitter.com/ddxK2bc7Nj

— Rusty Surette (@KBTXRusty) November 27, 2019
In Port Neches right now pic.twitter.com/IJ45BJQB8Z

— Free Real Estate (@derekrosshall) November 27, 2019
People have also posted Nest and Ring camera footage of the explosion to YouTube.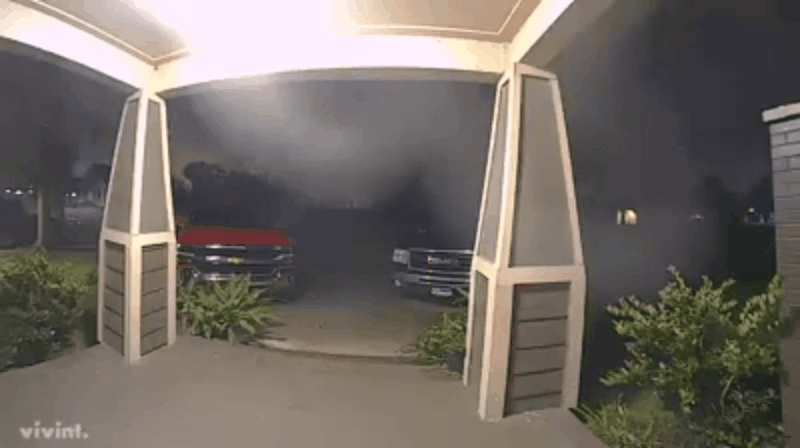 Gif:
YouTube
Security camera footage also shows that the explosion caused buildings to shake from the initial blast.
The refinery is owned by TPC Group, which has reportedly accounted for all of its employees.
This is a developing story and will be updated…