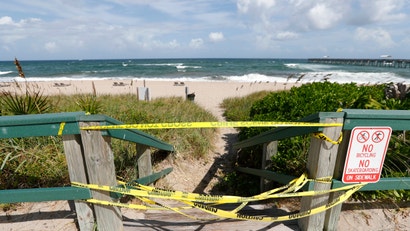 An access point to a beach closed off in Palm Beach County due to red tide on October 2. (Photo: AP)
The red tide that's plagued Florida's Gulf Coast for a year and made a rare jump east earlier this month wasn't vanquished by Hurricane Michael. Instead the toxic algae bloom has continued to move up the state's Atlantic coast, befouling beaches and raising fears of a new ecological crisis should it become widespread in the Indian River Lagoon, one of the most biodiverse estuaries in North America.
Red tide, a rusty-brown ooze caused by the neurotoxin-producing algae Karenia Brevis, is a frequent occurrence along Florida's Gulf Coast — it washes ashore from the West Florida continental shelf and is sustained by local and man-made nutrients. But the 2018 bloom's recent Atlantic coast tear has been unusual. The Florida Fish and Wildlife Conservation Commission first detected the algae on the east coast near Palm Beach County at the end of September after it followed the Gulf of Mexico loop current.
Since then, it's migrated northward into what's known as Treasure Coast — comprising Martin, St. Lucie, Indian River counties — and even the southern part of Space Coast in Brevard County.
Conditions have, unfortunately, been welcoming. Throughout its journey the red tide has been killing fish, releasing noxious fumes, and prompting widespread beach closures.
"We've got warm nutrient rich waters on our coast right now, and the conditions are set up well to allow that algae to bloom," Zack Jud, a marine biologist with the Florida Oceanographic Society located in Stuart, Florida, told Gizmodo.
Recent measurements by Florida's Fish and Wildlife Commission have revealed patches of algae off Treasure Coast at what's considered "high" densities of over a million cells per litre of seawater. However, Jud noted that much lower concentrations, such as those seen off Stuart, can still kill fish and cause breathing problems for humans.
"Today, guests at our nature centre are coughing and we're a [400m] from the ocean," Jud said of conditions on Monday.
His biggest concern is the Indian River Lagoon, a 250km long estuary complex that traces Florida's Atlantic coastline from north of Cape Canaveral to Jupiter Inlet. So far, red tide has only been detected in isolated patches within the lagoon and at fairly low concentrations. But favourable salinity levels combined with loads of man-made nutrients could trigger a more widespread bloom of red tide.
That, Jud said, would be "absolutely devastating to our economy and ecology."
While the Indian River Lagoon is regularly inundated with blooms of blue-green and brown algae that choke out fish by gobbling up oxygen, K. brevis's toxins pose an additional deadly threat to dolphins, manatees, and other animals that make their home there. A widespread, red tide-induced die-off is unlikely, but Jud said it's not inconceivable.
"When you have a confined body of water like the Indian river lagoon — [250km] long but only [1.6-3.2km] wide — [it] would not be impossible to experience very extensive losses of marine organisms," he continued.
There's no telling how long the red tide will stick around on the Atlantic coast. National Oceanic and Atmospheric Administration oceanographer Richard Stump told Gizmodo that while previous east coast blooms have been fairly short lived and winter wind patterns could help push the bloom offshore, "we don't have a whole lot to go on."
While there are no quick fixes that will make red tides go away now or in the future, Jud said anything that can be done to minimise the level of nutrients making their way into coastal estuaries could help stave off a crisis. In addition to receiving nutrient-rich discharges from Florida's Lake Okeechobee, local fertiliser use, leaky septic tanks and inadequate sewage all help fill the Indian River Lagoon with algae fuel.
"Individual homeowners can make a difference," Jud said. "We don't need bright green grass that's gonna cost us the health of our estuary."