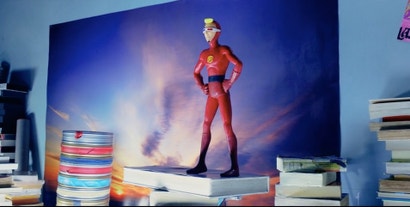 Yep, he's got a li'l soul patch. (Image:
Vimeo
)
Video: Sprung from the cover of a comic book with the help of some old-school 3D glasses, the tiny hero at the centre of Captain 3D knows what he has to do: Save the shrieking damsel from the clutches of an octopus monster. Piece of cake, right?
This super-short clip from filmmaker Victor Haegelin is an old-fashioned superhero tale — Captain 3D's strongest skill set is definitely his very high levels of self-confidence — with some clever animation and cheeky details.
[h/t Vimeo Staff Picks]