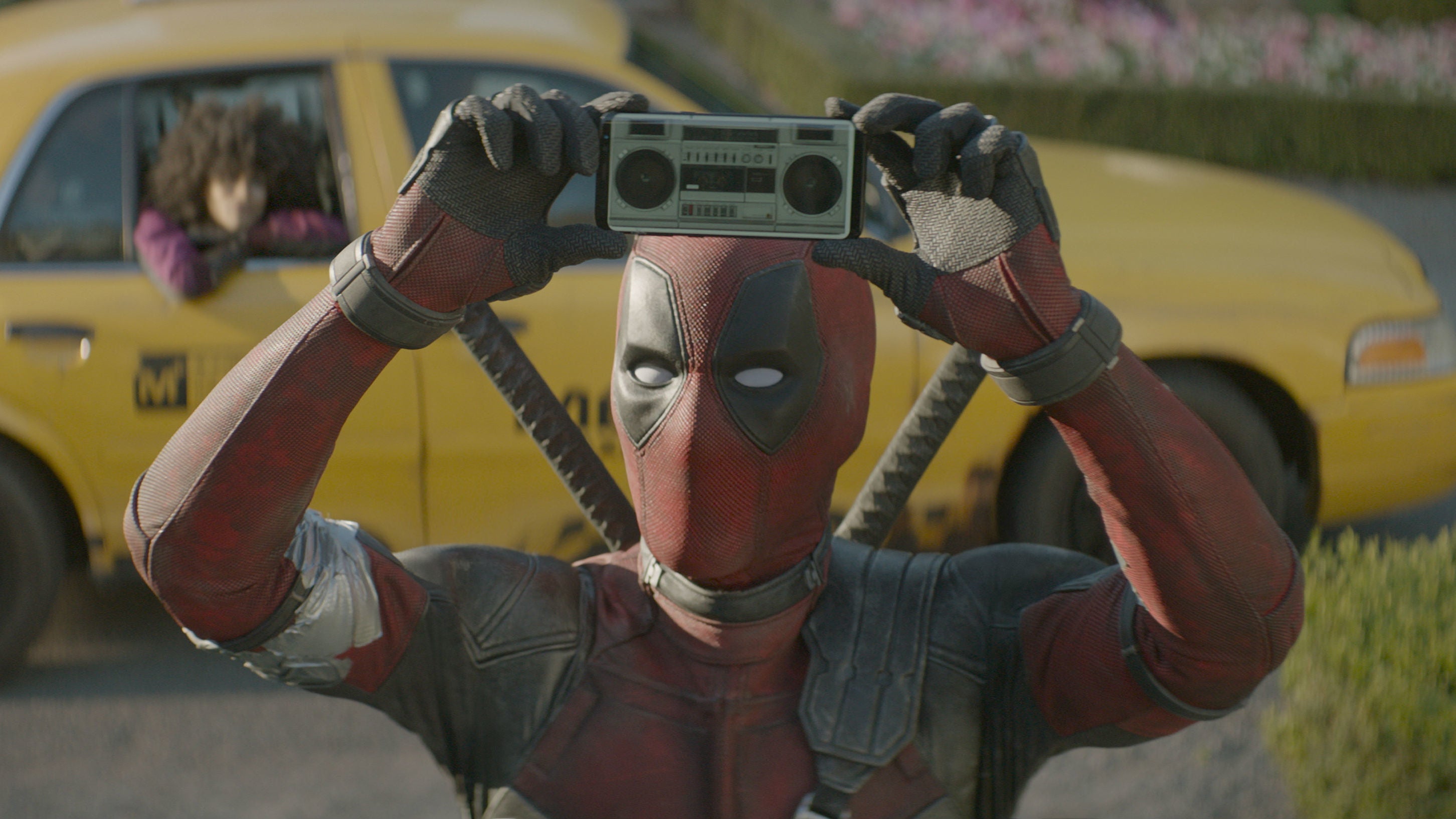 Deadpool 2 began screening for press today, and everyone who's seen it wants to talk about one thing: The post-credits scene.
The first reactions to Deadpool 2 are here. Photo: Fox
Beyond that, it sounds like the movie is still funny and relentless, just as you'd expect (also, violent and gleefully offensive). But in classic Deadpool fashion, it feels oddly appropriate that the most notable thing about the movie is the tag scene at the end.
Here are just a few reactions from people who've seen Deadpool 2.
So, #DEADPOOL2 is the perfect sequel. Doubles down on everything that fans love about the original, and fixes some of that film's issues. Huge, huge laughs that play the audience like a fiddle. @VancityReynolds destroys as Wade. Great action, fantastic comic nods. A killer ride! pic.twitter.com/KaM8gUT2Jf

— Sean O'Connell (@Sean_OConnell) May 10, 2018
Liked DEADPOOL 2 way more than the first. Smarter, funnier, and with 100% more Ricky Baker.

— Rachel Simon (@Rachel_Simon) May 10, 2018
I didn't like the first Deadpool. DEADPOOL 2 beat me into submission until I was actually enjoying myself. Also it features my now favorite post credit scene.

— Mike Ryan (@mikeryan) May 10, 2018
#Deadpool2: I'll say this, it earns the hell out of that R rating. And the cameos. And the post-credit scenes.

— Kate Erbland (@katerbland) May 10, 2018
I liked DEADPOOL 2 more than the first one (which I wasn't a huge fan of). Slow to start but all the stuff with X-Force and Cable (and Peter!) works surprisingly well.

— Matt Singer (@mattsinger) May 10, 2018
Just saw Deadpool 2. Might need a sick day since I pulled a rib laughing

— Adrian Leiser (@APLeiser) May 10, 2018
The post-credits scene at the end of Deadpool 2 is so great.

— Ben Dreyfuss (@bendreyfuss) May 10, 2018
Deadpool 2 is better than Infinity War????

— alex (@alex_abads) May 10, 2018
Just saw early screening of Deadpool 2, AMAZING pic.twitter.com/fiUnn7xL4v

— Jonathan Gamez (@jonathangamez29) May 10, 2018
DEADPOOL 2: A 113-minute Honest Trailer that steals its best scene from MACGRUBER. Josh Brolin's third-best summer movie. Criminal misuse of Julian Dennison. Your ten-year-old son's new favourite movie. It will make $1-billion.

— Barry Hertz (@HertzBarry) May 10, 2018
The credits scene in #Deadpool2 is the best one ever done to date in any superhero movie. I am dead serious about this. #DoNotLeaveWhenTheCreditsStart pic.twitter.com/yQmbhSYrAs

— Jason Guerrasio (@JasonGuerrasio) May 10, 2018
Deadpool 2 is simply hilarious and amazing! #MCU https://t.co/wzqoLfs50b

— Julian marquez (@JMarquezMMA) May 10, 2018
#Deadpool2 is no doubt the most violent major release since Kill Bill Volume 1. It's also funnier than the first and has me genuinely excited for a sequel. Oh and it features a ton of Canada jokes, so of course I loved it.

— Nigel M. Smith (@nigelmfs) May 10, 2018
Saw Deadpool 2. Man that guy sure likes to make jokes about dicks and butts, and dicks being in stuff and stuff being in butts.

— Tom Philip (@tommphilip) May 10, 2018
I've seen #Deadpool2. It's phenomenal. I can't say much else but Brolin's Cable is outstanding. @robertliefeld's legacy is on proud display on the big screen. pic.twitter.com/W13RZJxoXs

— Zac Thompson @ VanCAF H5 (@ZacBeThompson) May 10, 2018
We'll have a full review next week. Deadpool 2 is out Wednesday, May 16.