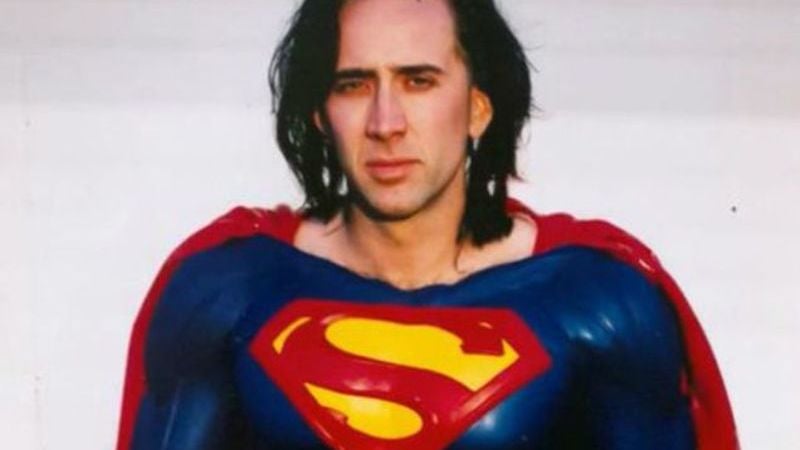 One of the writers behind Batman vs. Two-Face claims Warner Bros. briefly considered turning Tim Burton's ill-fated Superman Lives into an animated film. But if Nicolas Cage's Superman became a reality, would it no longer exist only in our minds? I don't know if I want to live in a world where I can no longer imagine the greatest superhero film never made.
Image: The Death of Superman Lives
While chatting about Batman vs. Two-Face at New York Comic Con (as reported by Comic Book Resources), co-writer Michael Jelenic shared that he'd once pitched an animated version of Superman Lives, the 1990 Superman film that was to be written by Kevin Smith and directed by Tim Burton.
"I had a big pitch, and they took it seriously for a second," Jelenic said, "to do Tim Burton's Superman… to do that animated."
This isn't the first time this idea has been brought up. Smith has also expressed interest in turning Superman Lives into an animated film. During a Facebook Q&A last year, he said: "If [Warner Bros.] were ever to call and say hey we want to do a cartoon version of that Superman script we wrote, believe me I'd be like (melts), that would be dope man."
Jelenic even mused with a reporter about whether Cage would be on board for something like that. The writer thinks he would, but I have my doubts. Cage seems content with the idea that Superman Lives is the world's greatest rendition of the Man of Steel odyssey primarily because it lives in our imaginations. In his own immortal words: "Even though you never saw it — it is the Superman."