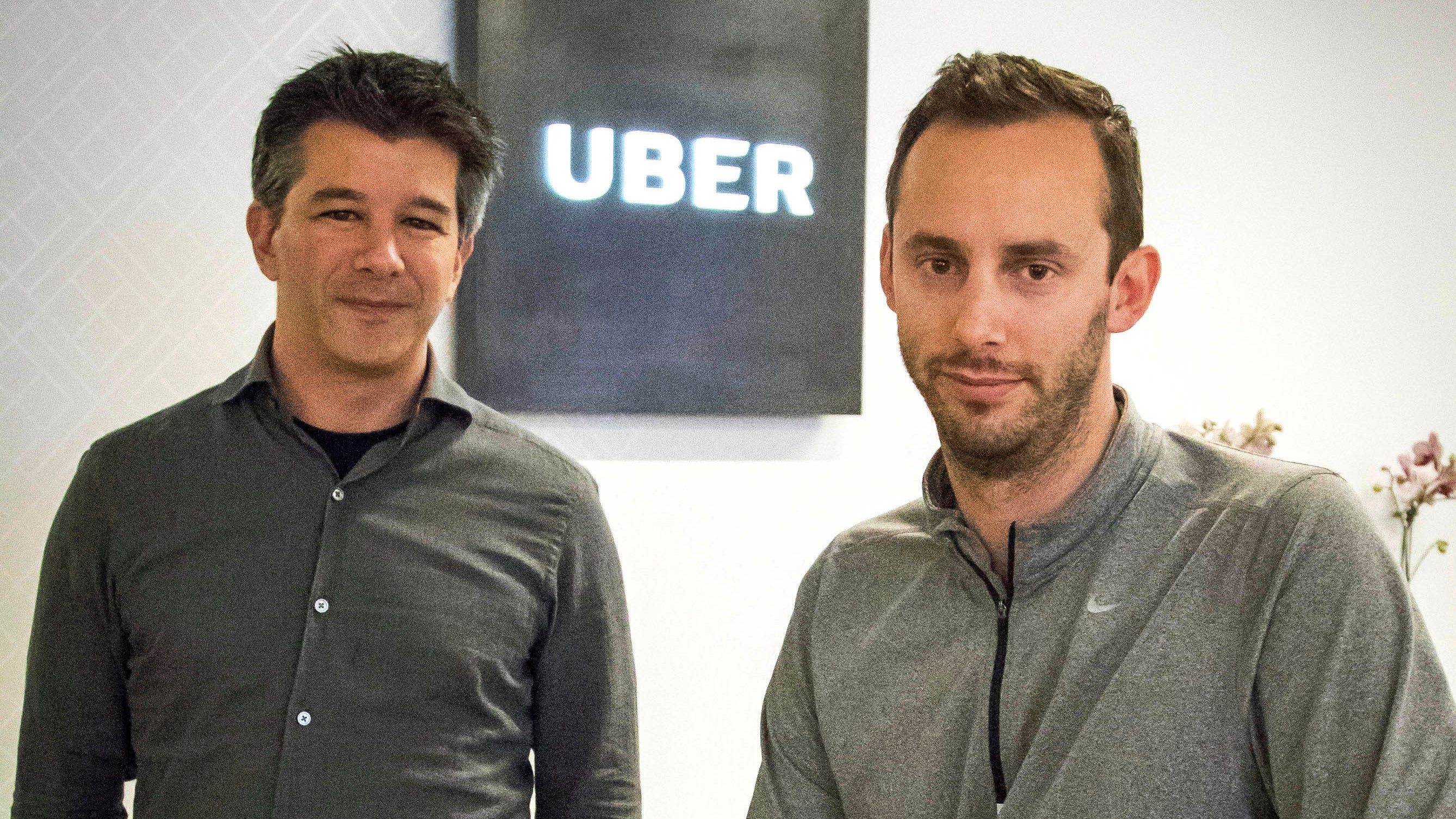 Waymo's trade secret lawsuit against Uber has so many twists and turns, it's hard to keep up with it all. But there's one key document that both sides of the case have been fighting over for a long time — the due diligence report Uber commissioned when it was considering the acquisition of Anthony Levandowski's self-driving truck startup, Otto.
Then-Uber CEO Travis Kalanick, left, and Anthony Levandowski, co-founder of Otto, pose for a photo in the lobby of Uber headquarters, in San Francisco. Photo: AP
If you've been following the case, you know the story: Levandowski mysteriously quit his job at Waymo in January 2016 (back when it was still part of Google) and went off to start Otto. Then, a few months later, Uber bought Otto, a fledgling startup that had just launched. Fast forward to this February, and Waymo accused Uber of orchestrating the entire thing to get its hands on thousands of confidential documents Levandowski downloaded before his departure.
During the process of the acquisition, Uber hired the forensics firm Stroz Friedberg to look into Levandowski and Otto. Stroz made copies of Levandowski's computers and phone, interviewed Otto employees, and compiled all that information into a due diligence report. Stroz collected 1.4 million documents and 176,000 source code files from Levandowski's devices, Waymo says. The company also claims that Levandowski had thousands of photos of Waymo devices, schematics, and files on his phone.
Waymo contends that report revealed the fact that Levandowski was sitting on a trove of its confidential documents, and that the report could be the smoking gun showing Uber knew Levandowski had the files and chose to acquire his company anyway.
The Stroz report reveals that Levandowski admitted he had five discs of Google information. During his interview with Stroz, he claimed that he had the discs destroyed at a commercial shredding facility. Stroz investigators visited the facility but were unable to confirm that Levandowski did indeed destroy the discs.
"Stroz Friedberg investigators showed the employees a picture of Levandowski, but no one recognised him," the report states. A manager found a receipt indicating "that five disks were destroyed and paid for in cash. The signature on the receipt was illegible," the report continues.
Investigators also found 50,000 work emails on Levandowski's personal computer, and said that because he accessed some of the emails around the time of his departure from Google, it was "difficult to believe" that he could not remember having the emails as he claimed in his interview.
Further, investigators found that Levandowski had accessed Google files after his departure and then deleted them. "A review of the names of the deleted files indicates that they were source code and electronic design files relating to driverless cars," the Stroz report notes. "Given the timing, these deletions could be a good-faith effort by Levandowski to attempt to purge from his laptop Googleconfidential material prior to his departure."
But the report also notes that Levandowski instructed his coworkers to delete iMessages from him and that he searched for instructions on securely wiping files from his computer shortly before his interview with Stroz investigators. Levandowski even attempted to empty the trash folder on his computer during his Stroz interview, the report notes.
Overall, the report is a damning look at Levandowski's digital footprints after his departure from Google.
Levandowski has fought to keep the due diligence report out of Waymo's hands. Last month, an appeals court ruled that Uber had to hand it over. Uber noted at the time that it didn't join Levandowski in asking the appeals court to block Waymo from seeing the document.
In a statement today, an Uber spokesperson said, "Before Uber acquired Otto, we hired an independent forensics firm to conduct due diligence because we wanted to prevent any Google IP from coming to Uber. Their report, which we are pleased is finally public, helps explain why — even after 60 hours of inspection of our facilities, source code, documents and computers — no Google material has been found at Uber."
"The Stroz Report unequivocally shows that, before it acquired his company, Uber knew Anthony Levandowski had a massive trove of confidential Waymo source code, design files, technical plans and other materials after leaving Google; that he stole information deliberately, and repeatedly accessed it after leaving Waymo; and that he tried to destroy the evidence of what he had done," a Waymo spokesperson said in a statement. "In addition, Mr. Levandowski used his smartphone to take thousands of covert photographs of computer screens displaying Google confidential files. Knowing all of this, Uber paid $US680 ($868) million for Mr. Levandowski's company, protected him from legal action, and installed him as the head of their self-driving vehicle program. This report raises significant questions and justifies careful review."
Due Diligence Report on Otto and Anthony Levandowski by Gawker.com on Scribd