Latest in the drip-feed of new info about the next-generation Holden Commodore is the first photos and technical info about the range-topping VXR. Here's what you can expect from the new top of the line Commo, which will be the fastest and most capable in Holden's stable for the foreseeable future.
The 2018 Commodore VXR will be differentiated from other model variants with a few useful under-the-bonnet upgrades: you'll get Brembo brakes up front, but the big upgrade is Holden and GM's Continuous Damping Control, with magnetorheological dampers that can adjust their stiffness under different ride conditions for sporty or plush suspension.
The VXR will only be offered in a single engine/transmission spec: the 235kW/381Nm 3.6-litre V6 that the new Commodore inherits with upgrades from the existing VFII, with a 9-speed auto gearbox mated to Twinster all-wheel drive, the same excellent torque-vectoring tech in the current Ford Focus RS that allows for very driver-friendly — and drift-happy — dynamics. Everything will be set up in the VXR with three different driving modes.
It also gets some exterior upgrades with bespoke 20-inch wheels, a heads-up display, the same trick LED Matrix headlights as the 2017 Astra RS-V, and a chunkier spoiler and body kit. The Holden Eye camera tech inside allows for adaptive cruise control and driver assistance features like lane keeping and automatic city braking that we really, really liked on the Astra.
You can expect to see the Commodore VXR start to hit Aussie streets in early 2018. Here's your first look at the 2018 Commodore VXR:
[clear]
[clear]
The next-gen Holden Commodore is going to be a very different car to the one that came before it in a lot of ways. But it'll also have a bit of a hat-tip to the early 2000s. the just-announced Commodore Tourer will be a rugged, lifted wagon in the vein of 2003's Adventra crossover.
Read more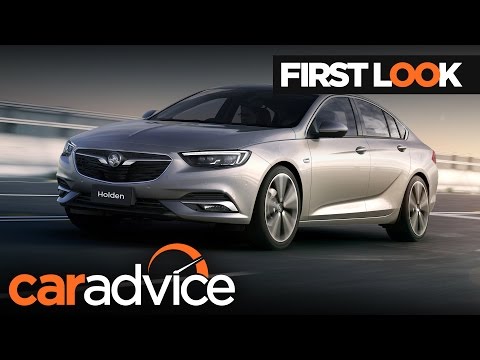 The next Commodore is a huge departure from the past 40 years of storied Holden sedans. It's based on the German-built Opel Insignia, and will be mostly offered in front-wheel drive with small, efficient petrol and diesel engines. You'll still be able to buy it as a sedan and wagon, but a lot has changed underneath its skin.
Read more