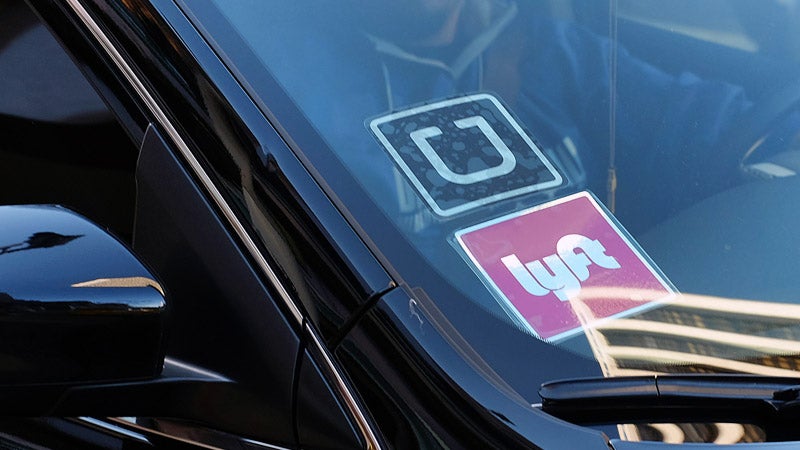 After shutting down their Austin operations over a year ago, Uber and Lyft are finally reentering city limits.
Photo: AP
The two ride-hailing companies yanked their services from the city after residents voted to require drivers to undergo fingerprint-based background checks last May. At the time, Uber and Lyft said that the requirements were too burdensome and decided to leave Austin.
Austin seemed to get along just fine without Uber and Lyft, and smaller competitors like Fasten and Ride Austin thrived in their absence (although when it rained during SXSW, techies complained about getting their feet wet on Twitter). Fasten touts its rigorous background checks as one of its advantages over other ride-hailing apps.
But last week the state legislature stepped in, passing a law that would overturn the fingerprinting requirement but still require regular background checks for drivers.
With Governor Greg Abbott expected to sign the bill, HB100, on Monday, the road is clear for Uber and Lyft to return.
Buckle up. Coming soon. https://t.co/AF34IVISL2

— Greg Abbott (@GregAbbott_TX) May 17, 2017
"We're excited to return to Austin on Monday. As we've said for months, we will relaunch in the city as soon as Governor Abbott signs HB 100 into law," a Lyft spokesperson said in a statement. Uber expressed similar optimism.
"Austin is an incubator for technology and entrepreneurship, and we are excited to be back in the mix," Uber told Gizmodo in a statement. "Our local team is focused on making sure that Uber works for Austinites and helping our driver-partners earn. We know that we have a lot of work to do in the city, but we couldn't be more excited for the road ahead."
Austin's mayor Steve Adler, however, said he was "disappointed" at being overruled by the state. "[T]he legislature chose to nullify the bedrock principles of self-governance and limited government by imposing regulations on our city over the objection of Austin voters," Adler told KXAN. "Our city should be proud of how we filled the gap created when Uber and Lyft left, and we now must hope that they return ready to compete in a way that reflects Austin's values."
Fasten also denounced the move. "In passing HB 100, the legislature voted to decrease public safety, enable discrimination and strip away the rights of cities to create their own rules. In leaving the market last year, Uber and Lyft voted against their drivers and riders," a Fasten spokesperson said in a statement emailed to Gizmodo. "Now, today, and every day forward, the drivers and citizens of Austin get to vote — with their pocketbook. They can vote for better driver pay. They can vote for better corporate ethics and progressive values. They can vote for local control. They can vote against discrimination. They may not be able to overturn HB 100 legislatively, but they can make it irrelevant economically."