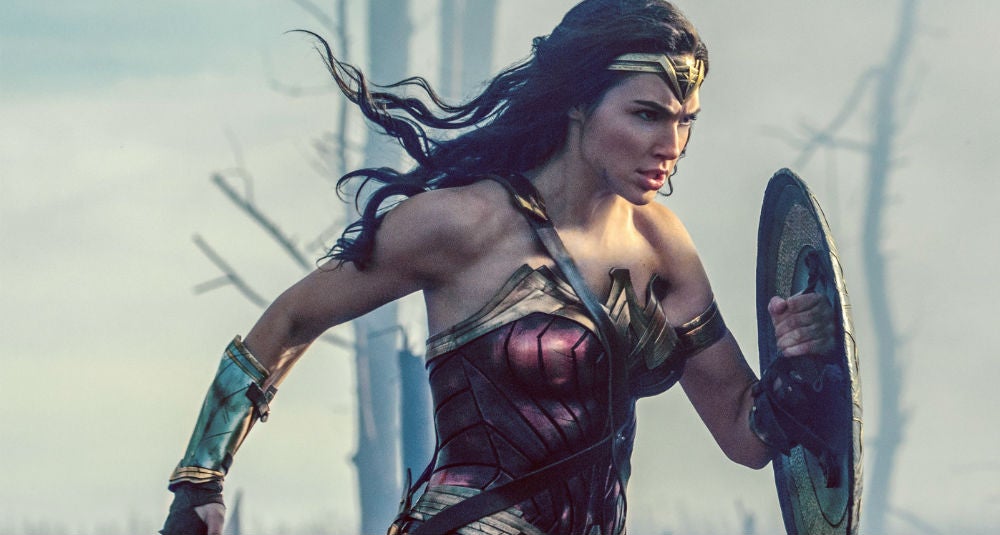 The release of Wonder Woman is just a few short weeks away and DC's latest film is currently screening for the media. Full reviews are still under embargo — but tonight, Warner Bros. allowed non-spoiler reactions on social media, and they were almost overwhelmingly positive.
Gal Gadot as Wonder Woman. Image: Clay Enos/ TM & © DC Comics
Here are some reactions from people who've seen Patty Jenkins' Wonder Woman.
WONDER WOMAN is great. My favorite of the recent DC movies. It's fierce, funny, well-written and badass. @GalGadot owns it. Her lasso FTW pic.twitter.com/rQ0ufZxWXP

— ErikDavis (@ErikDavis) May 19, 2017
The most wonderful thing about WONDER WOMAN is the wonderful Wonder Woman. Gal IS Wonder Woman. Now then, about WONDER WOMAN

— Josh L. Dickey (@JLDlite) May 19, 2017
#WonderWoman is hands down the best DCEU Film to date! Film is SO GOOD. I absolutely loved it! Bravo @PattyJenks @GalGadot @GeoffJohns ??⚔️

— Umberto Gonzalez (@elmayimbe) May 19, 2017
Loved WONDER WOMAN. She reminds me of Christopher Reeve's Superman: true north superhero w/ no angst or cynicism, which is needed right now.

— Mike Ryan (@mikeryan) May 19, 2017
#WonderWoman is the best DCEU film so far. The heart of Gal Gadot's Diana powers it, and the shift from mythic into WWI story really works.

— (((Eric Eisenberg))) (@eeisenberg) May 19, 2017
WONDER WOMAN: Easily my favorite DCEU film. Has the humor and heart the franchise so desperately needs. Gadot and Pine are charming as hell.

— Kate Erbland (@katerbland) May 19, 2017
Very pleased to report that #WonderWoman is the best DC movie since THE DARK KNIGHT. I'm already looking forward to seeing it again.

— Silas Lesnick (@silaslesnick) May 19, 2017
Wonder Woman is the DC movie I've been waiting for. It's exciting, inspiring, funny, and has some truly awe-inspiring action scenes.

— Germain Lussier (@GermainLussier) May 19, 2017
I'm finally allowed to say it: I loved #WonderWoman! I teared up watching her fight. The Amazons kick ass! #SheIsWonderWoman @PattyJenks <3

— JennaBusch (@JennaBusch) May 19, 2017
#WonderWoman is a flawless superhero movie. Loved every second of it. Amazing work, @PattyJenks! pic.twitter.com/UJMDI7Kb2k

— Jason Guerrasio (@JasonGuerrasio) May 19, 2017
Wow. That is awesome.
This has to be almost cathartic for fans, not just of DC, but comic book films in general. It feels like so much is riding on this movie. First, there were the negative reviews for the last few DC films. Those created massive tensions not just among the filmmakers but fans in general. Wonder Woman being a film that critics and fans can all champion will be a nice change of pace.
Plus, there's the even bigger fact this is the first solo female superhero film, something Hollywood has actively avoided for a long time. Positive reactions like this go a long way to making sure it won't be the last.
We'll have much more on Wonder Woman, including a full review, as we lead up to its release. But for now, just bask in the knowledge that you have a kick-arse movie coming on June 1.