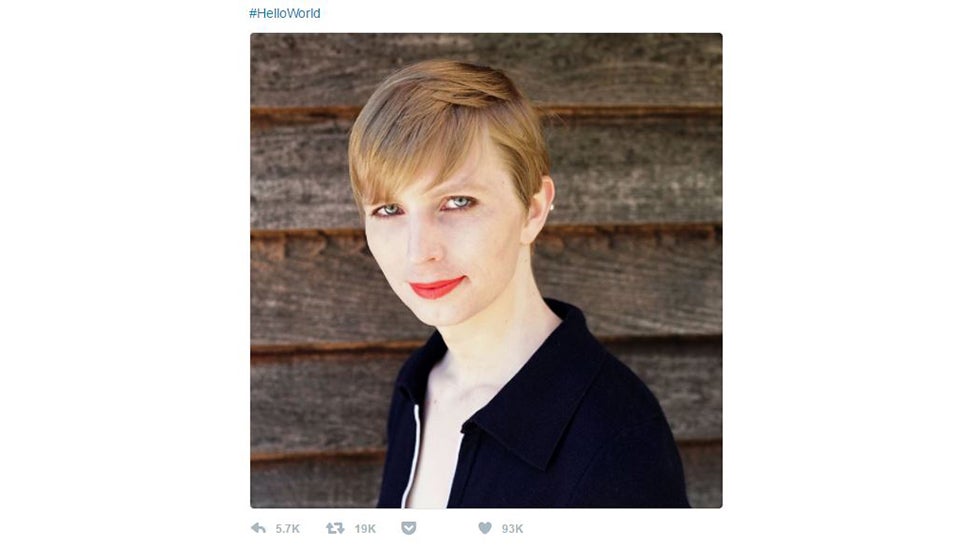 After seven years in a military prison, Manning was free on May 17. And over the last few days, her social media posts have been reminding us of the good old internet, before logging on meant bracing yourself for news of the next disaster.
Screenshot of Chelsea Manning's tweet
To let the world know that she was no longer living life in debilitating solitary confinement, she tweeted a pic of her new shoes.
First steps of freedom!! ?https://t.co/kPPWV5epwa#ChelseaIsFree pic.twitter.com/0R5pXqA1VN

— Chelsea E. Manning (@xychelsea) May 17, 2017
It was a sweet image that showed that she was on her way to a new life, and it was also just a picture of some new shoes. Remember when people used social media to just show off their new shoes and document the small stuff in their tiny lives? Now it's time to tweet like it's 2010. It's time to tweet a picture of your lunch.
So, im already enjoying my first hot, greasy pizza ? https://t.co/ctZ8NdrV16#ChelseaIsFree pic.twitter.com/NZR9cePsFb

— Chelsea E. Manning (@xychelsea) May 17, 2017
Yeah man, it was the go-to complaint of curmudgeons who didn't want to use Twitter. "It's just a bunch of people tweeting about their lunch." Hell yeah, it was. Lunch is good. Pizza is good. Pizza after spending the last seven years in prison is really good.
After pizza, it's time for some bubbly.
Here's to freedom and a new beginning.https://t.co/isnBy72rbO#chelseaisfree pic.twitter.com/ZLjIv4W1We

— Chelsea E. Manning (@xychelsea) May 18, 2017
Aside from images of her being taken to court proceedings, the press has pretty much only had one photo of her. So, the next day, Manning put up an image of herself looking her best.
Okay, so here I am everyone!! =Phttps://t.co/NuyZlcWfd9#HelloWorld pic.twitter.com/gKsMFTYukO

— Chelsea E. Manning (@xychelsea) May 18, 2017
And it was recently the weekend, a time for doing whatever you want. Manning wanted to play Forza Horizon 3, that's what she did, and that's what she tweeted about.
Its the freakin #weekend! Chillin with my peeps playing Forza pic.twitter.com/CPGKJDoUtH

— Chelsea E. Manning (@xychelsea) May 20, 2017
Twitter asks "what's happening?" when you compose a new tweet. Everything is so awful that it's easy to take that to mean "what's happening to this godforsaken planet?" It was cool when social media was a little more mundane. It was friendly. It was simple. Sometimes all that's happening is some kick arse video games.