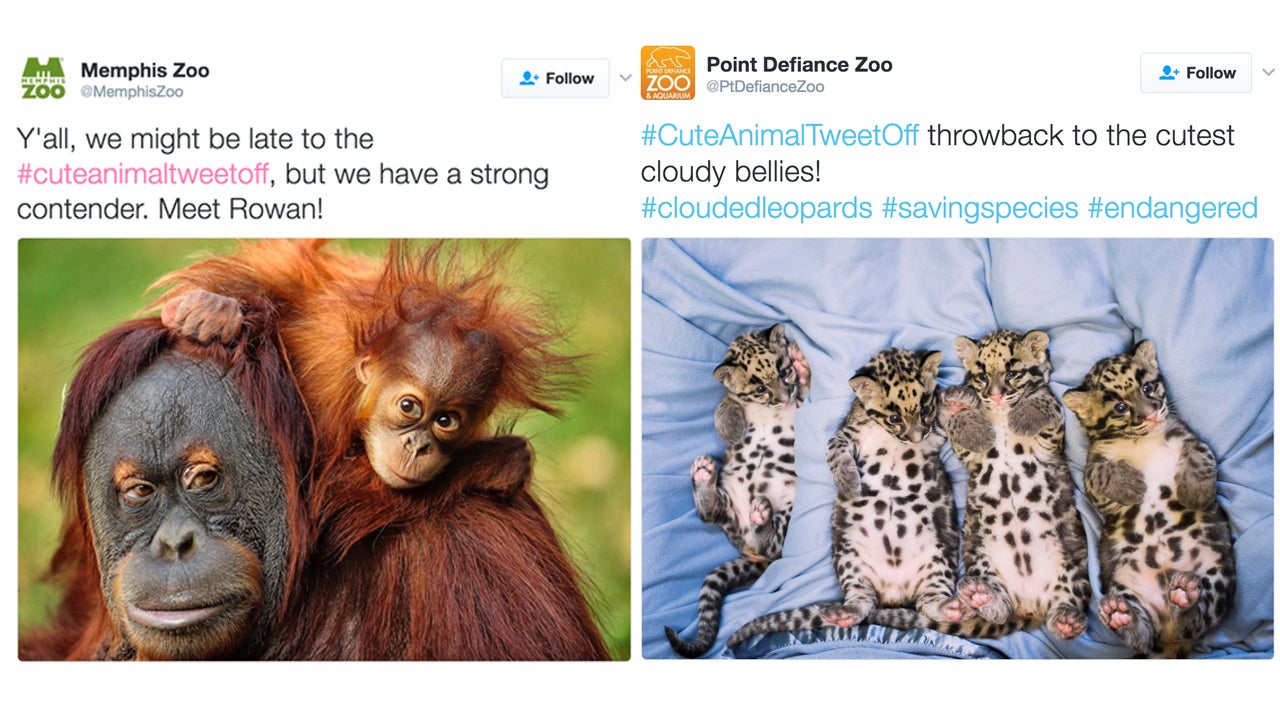 Screengrab via Twitter
Not sure if you've been paying attention, but the world isn't looking so great right now. People are scared. There's no easy way to make yourself feel better in these trying times, but here's something good — zoos around the globe are having a #CuteAnimalTweetOff.
The tweet-off began after the National Zoo released a picture of its adorable new seal. After a Virginia woman challenged her state's aquarium to get in on the cuteness, the viral moment we all desperately needed was born.
.@VAAquarium This is Redd, our endangered Bornean orangutan infant. And he is the cutest. Do you fold yet? #challengeaccepted pic.twitter.com/ED6WiZun1R

— National Zoo (@NationalZoo) January 25, 2017
So take a breather from checking your breaking news notifications, and instead, gaze lovingly at these good, innocent creatures.
Our river #otters don't want to be left out of the #CuteAnimalTweetOff! pic.twitter.com/9WfXmsEtCt

— Seattle Aquarium (@SeattleAquarium) January 25, 2017
It's not a competition, but ... #cuteanimaltweetoff pic.twitter.com/bhZkbvetT4

— Reid Park Zoo (@ReidParkZoo) January 25, 2017
For the reptile lovers: A tiny mossy leaf-tailed gecko. ? #CuteAnimalTweetOff pic.twitter.com/ZX5DN1iNG8

— San Diego Zoo (@sandiegozoo) January 25, 2017
@SarahJanetHill @VLMuseum @sandiegozoo @ZooATL @sfzoo @phillyzoo @PhoenixZoo @zoomiami #cuteanimaltweetoff? Bam: an oldie but a goodie. pic.twitter.com/6kjrTXG9dl

— Bronx Zoo (@BronxZoo) January 25, 2017
Feel better now? No?
Late to the party, but go ahead @SyracuseZoo @SenecaParkZoo @buffalozoo @UticaZoo #CuteAnimalTweetOff pic.twitter.com/n6vpAHKW4j

— Binghamton Zoo (@BinghamtonZoo) January 26, 2017
How about now?
Ziggy the harbor seal pup just made her debut at the L.A. Zoo yesterday! https://t.co/wfoaul9oh1 #cuteanimaltweetoff pic.twitter.com/tAexF7mZJO

— Los Angeles Zoo (@LAZoo) January 25, 2017
With such fierce competition, it's hard to declare a winner, but I'm pretty sure it's all of us.