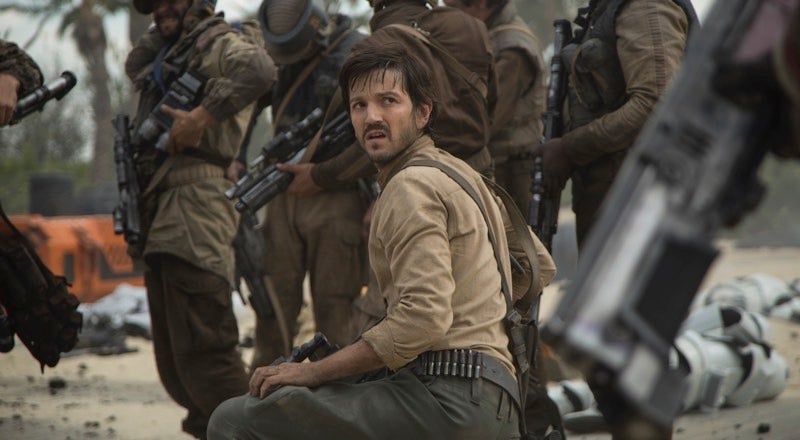 For Cassian Andor, fighting for the Rebellion is a way of life. It is "the only choice," actor Diego Luna told us at the Rogue One: A Star Wars Story press event this weekend. As the character becomes wrapped up in the mission to steal the Death Star plans, he becomes even more committed to the cause. "The hope for freedom in the galaxy — it's everything for him. He's been fighting for the Rebellion all his life, and he doesn't have anything else."
Diego Luna as Captain Cassian Andor in Rogue One: A Star Wars Story. All images: Walt Disney Studios
When Jyn Erso suddenly enters the picture, he's not thrilled, but "he'll do whatever is needed for the Rebellion to succeed, even work with someone who he doesn't respect because she doesn't seem to have that conviction. I think, seeing it from the outside, his real fear is that she's quite similar to him. They have a lot in common — more than he wanted to accept."
In the Rogue One footage shown to the press, there's a scene in which Cassian makes a split-second decision that is shocking in the moment: He kills a man in possession of extremely valuable information who clearly won't be able to escape the situation he's in. "He's saving him," Luna explains. "If they capture him, it's not just a problem because of all the information he has, but it will be miserable for him, the way they would extract that information. [Cassian] is an intelligence officer. He sees all the options and chooses to release him, in a way. And we're talking about war — no one wants to be in a war. Cassian would love this to stop. But also, he's willing to go as far as needed for freedom to come."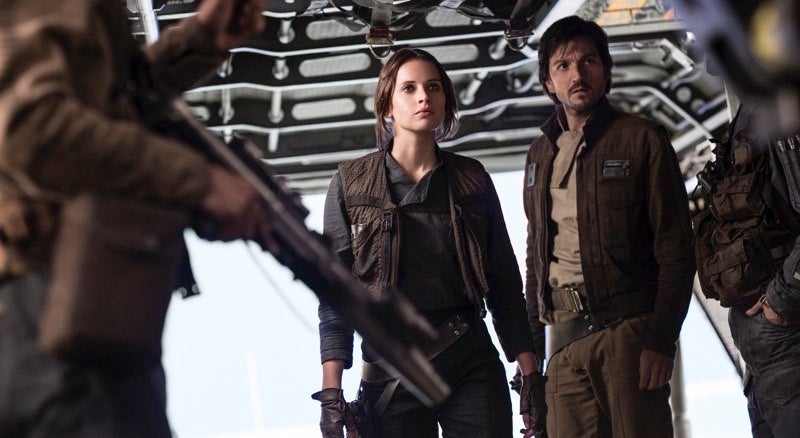 To get into the mindset of a someone capable of coolly making wrenching decisions without a moment's hesitation, Luna watched a lot of war movies — Apocalypse Now is once that he cited specifically — and huddled up with former members of the military in London for weeks prior to filming. Luna says they taught him a great deal:
[I learned] very technical stuff, like how do you move, how do you patrol, what are the rules to work as a team, and what is expected of the captain, and how to talk to your guys. But the most important part was to hear their experiences. What goes through your mind when you're in the middle of nowhere fighting against an enemy that believes as much [in their cause] as you believe in your cause. It was interesting to hear what keeps you sane, and what happens when they capture you, and what happens when you capture someone.
It was helpful, not just for the film, but also to understand the world we live in. It was interesting to listen to them and find the humanity in these characters. I wanted to portray a real character. Gareth [Edwards] kept stressing, yes, we're in a galaxy far away, but it has to feel very close to us. It has to be very realistic. The journey, we have to live it with a proximity that is almost uncomfortable, with a lot of intimate moments. The film balances between these amazing epic stuff that Star Wars always has, and moments that are very like, you're sneaking into the lives of these people and you're breathing the air that they're breathing.
It's safe to assume that some of Cassian's quieter moments are shared with Alan Tudyk's K-2SO, the Imperial droid who the captain has reprogrammed and is now his best friend. Just watching Luna and Tudyk interact at the press conference (lots of good-natured ribbing flying back and forth), you can tell that the friendship has continued off-screen.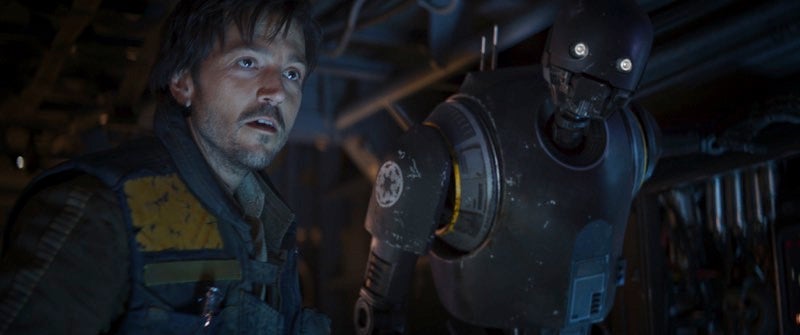 Luna says their chemistry was immediate:
His humour is so sharp and sarcastic. It's just so much fun. Because there was so much pressure sometimes, it was great to be able to relax a little bit and laugh, and remind ourselves how lucky we were. Alan was great at that, and he's just a very generous person. He understands the big difference between thinking this is a race you're doing by yourself, or how much this job depends on your partners. It's about the ping-pong you can play, you know?
Luna counts himself lucky to have been a part of a cast with not just Tudyk, but also Felicity Jones, who plays Jyn Erso. "I always say Alan and Felicity, because that's how everything started. It was the three of us stepping into this gigantic universe." While the experience was often overwhelming, Luna counts them all as "the luckiest actors ever," however.
"[Now] the question here is, are [audiences] gonna like it?" Luna asks, noting that he can't wait to hear what people have to say about the film. "Normally, in my career, it's the other way around. It's always, 'How do we get people to buy a ticket for this?' Well, that doesn't apply here. That makes me feel very fortunate."
Rogue One: A Star Wars Story is out December 15.