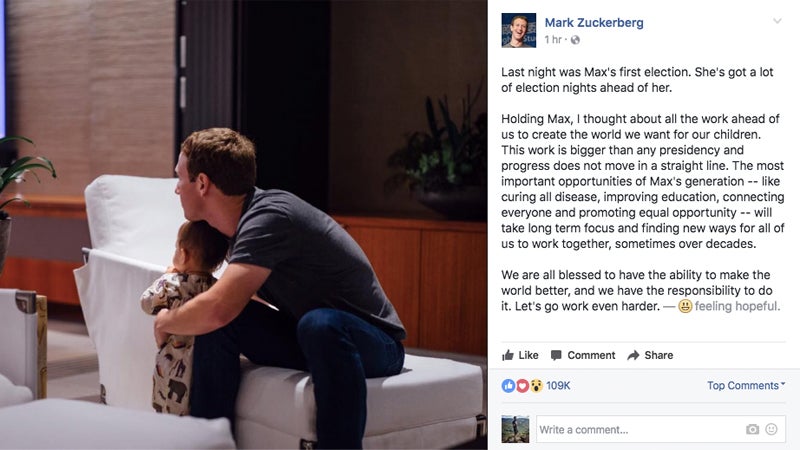 Yesterday, Facebook CEO Mark Zuckerberg issued his first public statement on the results of the 2016 US election, adopting an optimistic tone in a post on the social network tagged "feeling hopeful."
Photo: Facebook/Mark Zuckerberg
In the hours since Hillary Clinton conceded the race to Donald Trump, some have faulted Facebook for its role in disseminating false stories that may have affected the election, but the website's founder urged Americans to take a much longer view of history.
"Holding Max, I thought about all the work ahead of us to create the world we want for our children," wrote Zuckerberg, referring to his 11-month-old daughter. "This work is bigger than any presidency and progress does not move in a straight line."
Identifying the eradication of disease, improved education and increased access to communication technology as some of the greatest opportunities for his young daughter's generation, Zuckerberg encouraged a "long term focus" on goals that may take decades to achieve.
"We are all blessed to have the ability to make the world better, and we have the responsibility to do it," Zuckerberg continued. "Let's go work even harder."
While Zuckerberg himself did not reference Facebook's influence on the election, a company spokesperson acknowledged the website's role.
"While Facebook played a part in this election, it was just one of many ways people received their information," the spokesperson told Bloomberg, "and was one of the many ways people connected with their leaders, engaged in the political process and shared their views."