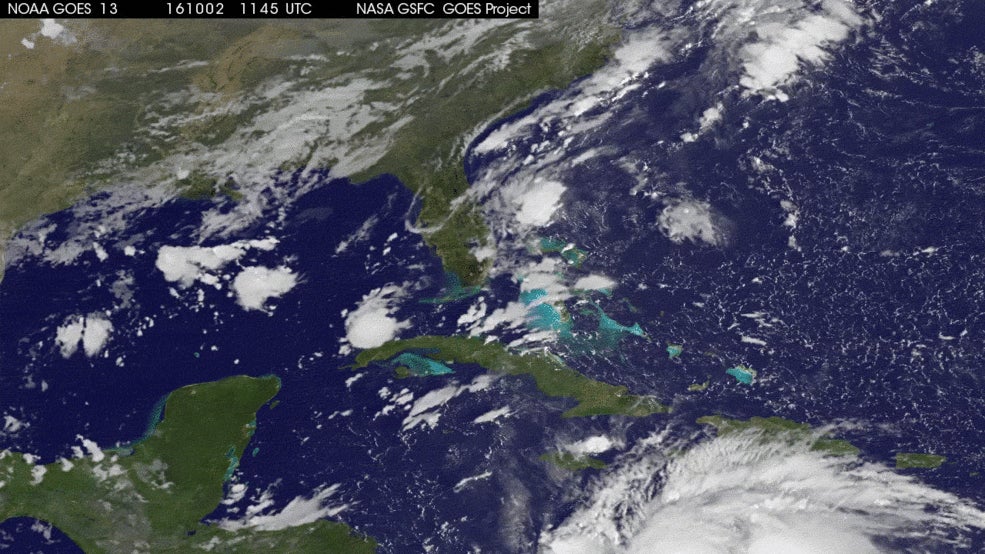 It isn't yet clear how close of a brush the United States is going to have with powerful, dangerous Hurricane Matthew. What is clear, in the minds of meteorologists tracking the storm, is that the entire US East Coast needs to be on alert. Image: NASA/NOAA GOES Projec
Matthew is currently unleashing Category 4 fury over Haiti, after which it's expected to meander north across eastern Cuba and the Bahamas. It's possible that the storm will weaken somewhat during its trek over Cuba's rugged mountains. "But not necessarily a ton, because it's staying mostly over water," said Phil Klotzbach, a tropical storm expert at Colorado State University. After its run-in with Cuba, Klotzbach says, exceptionally warm waters and favourable upper level winds over the Bahamas "look reasonably conducive to the storm staying strong."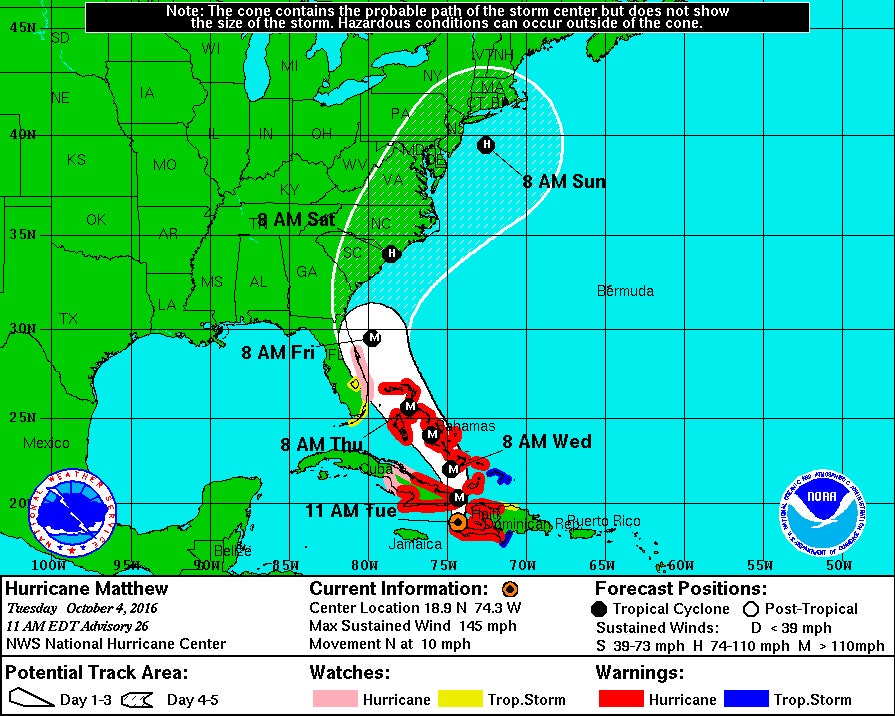 Latest forecast cone for Hurricane Matthew. Image: NHC
By Thursday, Matthew will be on eastern Florida's doorstep. A few days ago, hurricane prediction models placed the storm's most likely track several hundred kilometres out to sea. But over the past 24 hours, the forecast cone has veered notably westward. "Now, [Matthew] is looking perilously close to the US coast," Klotzbach said.
That means hurricane weather and even a landfall is growing more likely. "Hurricane force winds will extend outward from [Matthew's] center approximately 25-50 miles [40-80km], and tropical storm force winds likely 150-200 miles [240-320km]," AccuWeather meteorologist Ed Vallee told Gizmodo in an email. "So even if it's offshore it can deliver strong, damaging winds to coastal Florida, Georgia and the Carolinas late week and into the weekend."
GFS 12z landfalls Hurricane Matthew in 5-days in South Carolina. ECMWF 00z was also perilously close to SE US coast. Keep watch! pic.twitter.com/taUwPxDVQX

— Ryan Maue (@RyanMaue) October 3, 2016
Waves will grow to nearly 40 FEET off the Southeast coast this wknd as #Matthew churns nearby. This combined with 8-14" rain risk, not good. pic.twitter.com/p8iEVEYSWj

— Ed Vallee (@EdValleeWx) October 4, 2016
States of emergency have been declared in Florida and 66 North Carolina counties. As of 2:00AM AEST, tropical storm warnings and watches were in effect throughout south and southeastern Florida.
Further north, it's too early to say what kinds of impacts Matthew will have. The storm could veer eastward and out to sea, or it could ride alongside the coast, bringing stormy conditions all the way to New England. "One thing we do know is that the hurricane will be weakening as it moves over cooler water and interacts with land," Vallee said.
Weakening or not, right now it's entirely possible that Matthew will deliver powerful storm surge and heavy rainfall up and down the eastern seaboard. "Certainly, I would expect tropical storm watches to go up for the northeast, probably on Thursday," Weather Underground meteorologist Jeff Masters told Gizmodo.
"My parents live in Plymouth [Massachusetts], and I have them on high alert," Klotzbach said.