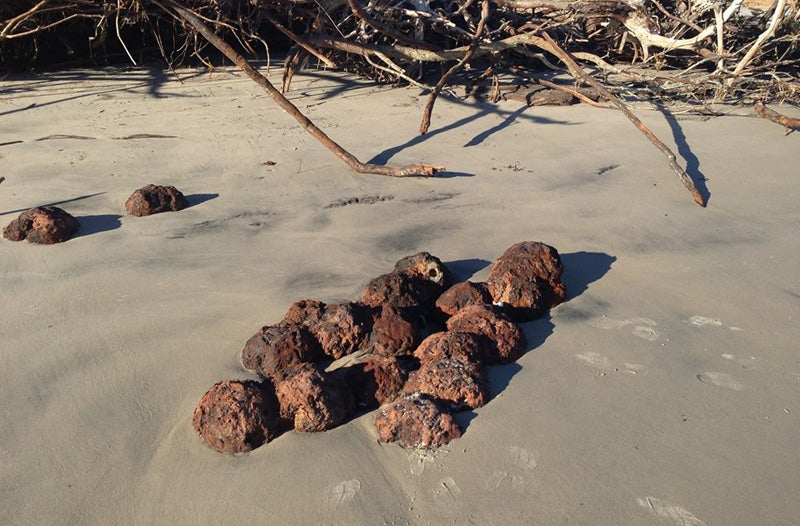 Image: Supplied
On Sunday, explosives experts were dispatched to Folly Island, South Carolina, after a resident found what appeared to be at least a dozen Civil War cannonballs uncovered by Hurricane Matthew.
CCSO Bomb and Air Force Explosive Teams still on scene examining these old civil war ordnance #chsnews pic.twitter.com/al4LHNpnVk

— ChasCoSheriff (@ChasCoSheriff) October 9, 2016
During the Civil War, Folly Island served as a key staging area for Union troops attacking nearby Fort Morris. Since then, remnants of the occupation have periodically been discovered in the area, including a black regimental cemetery found during a construction project in 1987 and military artifacts uncovered by Hurricane Hugo in 1989.
Unfortunately, while ordnance from the war is a fascinating part of American history, it can also be a serious hazard. In 2008, a Virginia man was killed after a Civil War-era cannonball he was restoring exploded in his driveway, sending shrapnel through a neighbour's porch a quarter-mile away.
Officials in Charleston say that residents can expect to hear explosions as the projectiles are detonated this evening. According to police, initial attempts to inspect them were hampered by another force of nature: high tide.
"Our technicians are unable to access the [ordnance] at this time due to the approaching high tide," police told WCSC-TV. "Once the tide has receded, our EOD technicians will evaluate the stability of the ordinance and render it safe, if necessary."
[Campbell Robertson via Ben Jacobs]