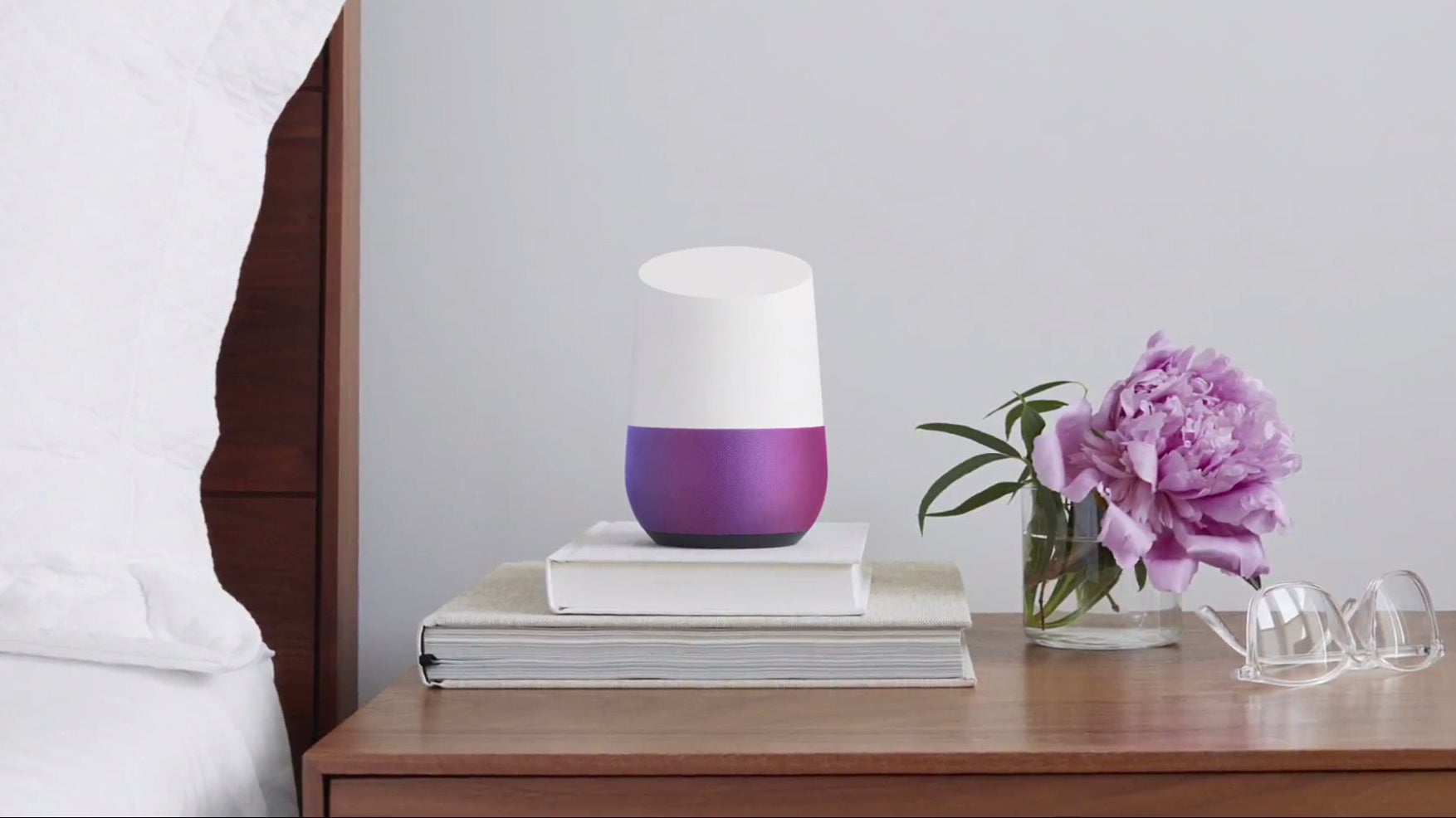 Google just announced more details about Home, the company's sleek-looking Amazon Echo competitor. Namely, we learned about the price: $US130 ($169) per device. That's $US50 ($65) cheaper than an Echo. AU Editor's Note: The Google Home speaker and Google Wi-Fi system aren't coming to Australia any time soon, we've been told by Google. We still thought you might be interested in learning about what they do! — Cam
The design is sleek and small — and almost identical to the images we saw in autumn. The device packs an always-on microphone that's activated with a hot word of your choice, like "OK, Google." While there's one physical mic mute button, there are four LEDs on the top of the Home that provide feedback to voice commands, as well as a touch-sensitive surface that can be used for scrolling through options. It's like the wheel on Amazon Echo except with no moving parts. Also like the Echo, the Home makes it easy to play music by asking for it. Google Home works with YouTube Music as well as services like Spotify, and it will remember which service you prefer so that you don't have to repeat yourself.
As Google explained when it initially announced Home earlier this year, the squat little speaker is powered by the new Google Assistant software. Through the microphone, you give it commands or ask it questions. Some have likened it to a search bar for your house — which honestly, if it works, sounds pretty dang cool. In effect, you can ask Google Home questions, and the Assistant software will give you an answer. The Assistant also works closely with Google Maps, Calendar and other Google apps across all of your devices.
Google Home also works as a hub for connected gadgets. It works closely with Google Cast devices, so you could control your Cast-equipped TVs and speakers with your voice. Nest, SmartThings, Phillips Hue and IFTTT are also launch partners, so those compatible devices can be controlled through the Home. Netflix will also accept voice commands through Chromecasts, and Google says it will be adding more partners over time.
Obviously, Google wants you to put a Home in every room of your house, so it's supporting multi-room audio, just like Sonos. Each device will be "context aware" so that only the device closest to you will light up when you call it. Priced at $US130 ($169), the Home is certainly cheaper than the Amazon Echo. And that could be a very important distinction.