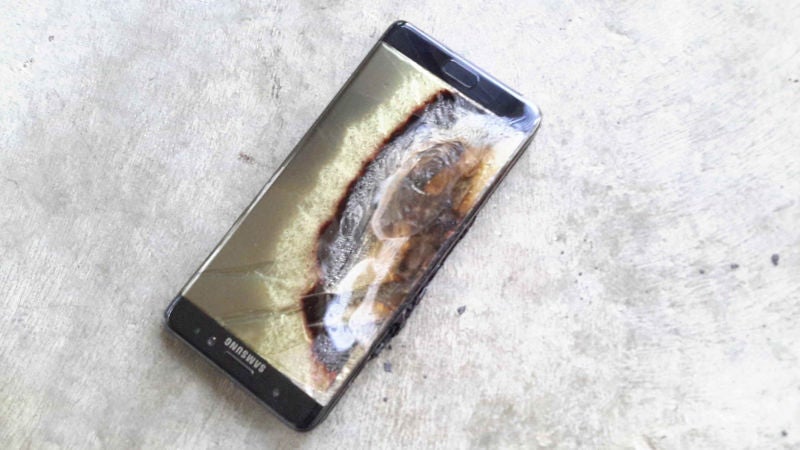 The Transportation Department just banned all Samsung Galaxy Note7 smartphones from any flight in the United States. The ban goes into effect at noon on Saturday local time, though it's unclear how effective it will be at keeping the devices off of aircraft since the TSA won't be actively searching for the devices at checkpoints. Reddit.com/Crushader
"We recognise that banning these phones from airlines will inconvenience some passengers, but the safety of all those aboard an aircraft must take priority," Transportation Secretary Anthnoy Foxx said on Friday. "We are taking this additional step because even one fire incident inflight poses a high risk of severe personal injury and puts many lives at risk."
Previously, the FAA had advised users to power down Galaxy Note7 devices before boarding a plane. This will now ban the devices from being brought on board entirely. Bloomberg explains:
Flight restrictions were extended to each of the 1.9 million Note 7s sold in the U.S. and the devices now can't be carried aboard aircraft even if they have been shut off, the Pipeline and Hazardous Materials Safety Administration and the Federal Aviation Administration will announce Friday.
The news comes just days after Samsung officially killed the Note7 and announced an expanded global recall.
In addition to the FAA's advisory, many airlines had already instructed customers that Note7 devices couldn't be powered on during the flight. On a United Airlines flight two weeks ago, I even observed flight attendants checking customer phones for potential Note7 devices. Last week, a Galaxy Note7 that was reportedly powered off exploded on a Southwest flight.
We reached out to the FAA for comment but had not heard back at time of writing. We also reached out to the TSA for clarification on what will happen if passengers attempt to bring a Note7 into the airport. A TSA spokesman told me via email:
In the event the phones are banned, our officers would not be searching for the phones. If, in the course of their normal duties, they encounter one at the checkpoint, they would inform the owner that the phone is not allowed on the aircraft and direct the passenger to leave the checkpoint and come back without the phone. If discovered in checked baggage, it would be turned over to the airline.
In other words, good luck sneaking a Galaxy Note7 through airport security. You might get away with it, but you really really shouldn't be trying in the first place. These devices are dangerous.