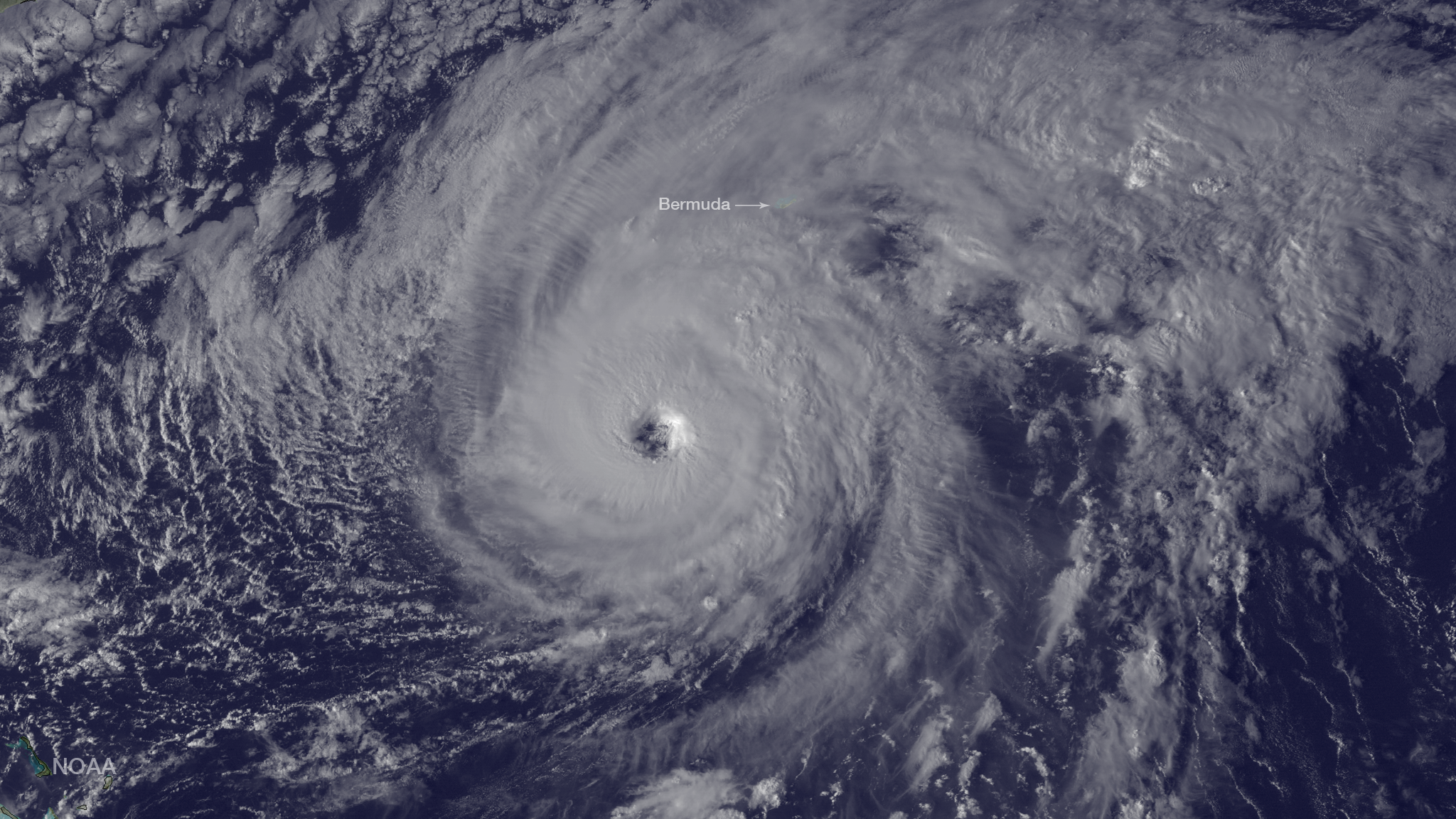 Just as Hurricane Matthew was bearing down on the United States last week, tropical storm Nicole was getting organised to the east. After a bout of rapid intensification yesterday, the storm is now a major hurricane, and it's closed in on Bermuda, which saw a direct hit early this morning. Hurricane Nicole, about 435km southwest of Bermuda in this image captured by the GOES East satellite yesterday. Image: NOAA
Packing maximum sustained winds of 205km/h, Nicole has been downgraded to a Category 3 storm in the latest National Hurricane Center advisory, after becoming the island nation's first Category 4 threat in nearly 80 years yesterday. Despite gradually weakening, Nicole is still "extremely dangerous", and remains a major hurricane (Category 3 or higher) as it passes Bermuda.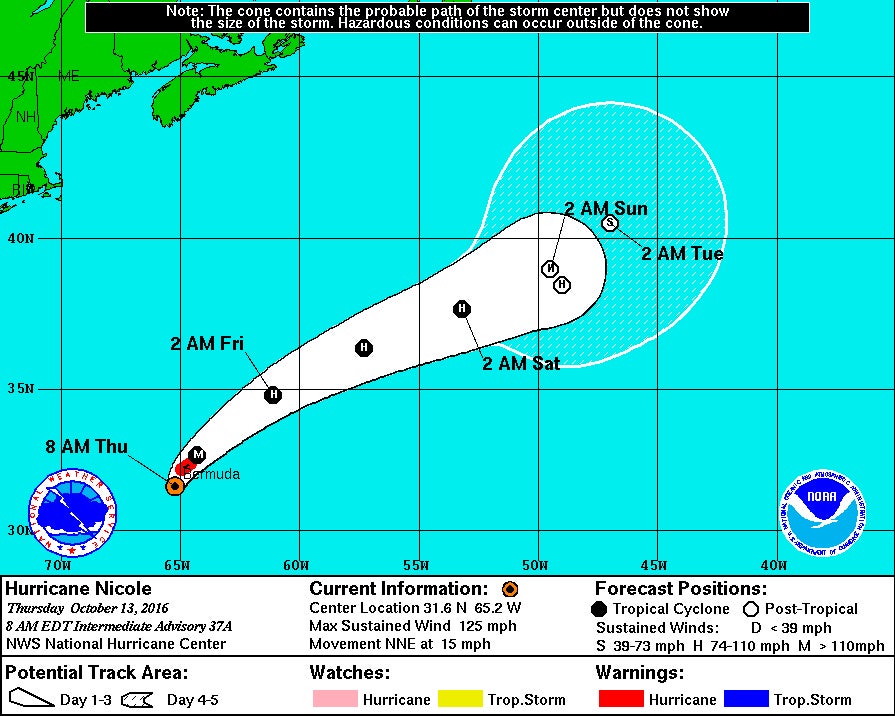 Latest forecast cone for Hurricane Nicole. Image: NHC
Either way, the National Hurricane Center advises that Bermuda should prepare for storm surges of up to 2.5m, "large destructive waves" and up to 20cm of rainfall.
After Bermuda, Nicole will continue its trek into the north Atlantic, eventually weakening to a post tropical cyclone. While there's little chance of a US impact, swells from the storm could create dangerous rip currents from the Carolinas north into the weekend, the National Hurricane Center warns.
Despite getting far less popular attention than Hurricane Matthew's deadly rampage through the Caribbean last week, Nicole is no trifle. Already, it's broken a handful of hurricane records, as tropical cyclone expert Phil Klotzbach noted on Twitter yesterday afternoon:
#Nicole has intensified to a Cat. 4 - the 1st Atlantic Cat. 4 north of 30°N this late in the season since Hazel (10/15/1954). pic.twitter.com/VYOfST5VAF

— Philip Klotzbach (@philklotzbach) October 13, 2016
#Nicole is 2nd Cat. 4-5 this October in the Atlantic (#Matthew the other) - the 1st time on record Atlantic has had 2 Cat. 4-5s in October. pic.twitter.com/zZ6Pwym6uV

— Philip Klotzbach (@philklotzbach) October 13, 2016
Only one Category 4 hurricane on record (since 1851) has tracked within 50 miles of Bermuda - Hurricane 5 on 10/16/1939. #Nicole pic.twitter.com/fEAFGm0GXy

— Philip Klotzbach (@philklotzbach) October 13, 2016
As always, you can keep up with the Nicole in real-time by visiting the National Hurricane Center, which issues updates on the storm's track and intensity every three hours. You can also keep an eye out for the latest satellite imagery from NOAA and NASA here, here, here and here.