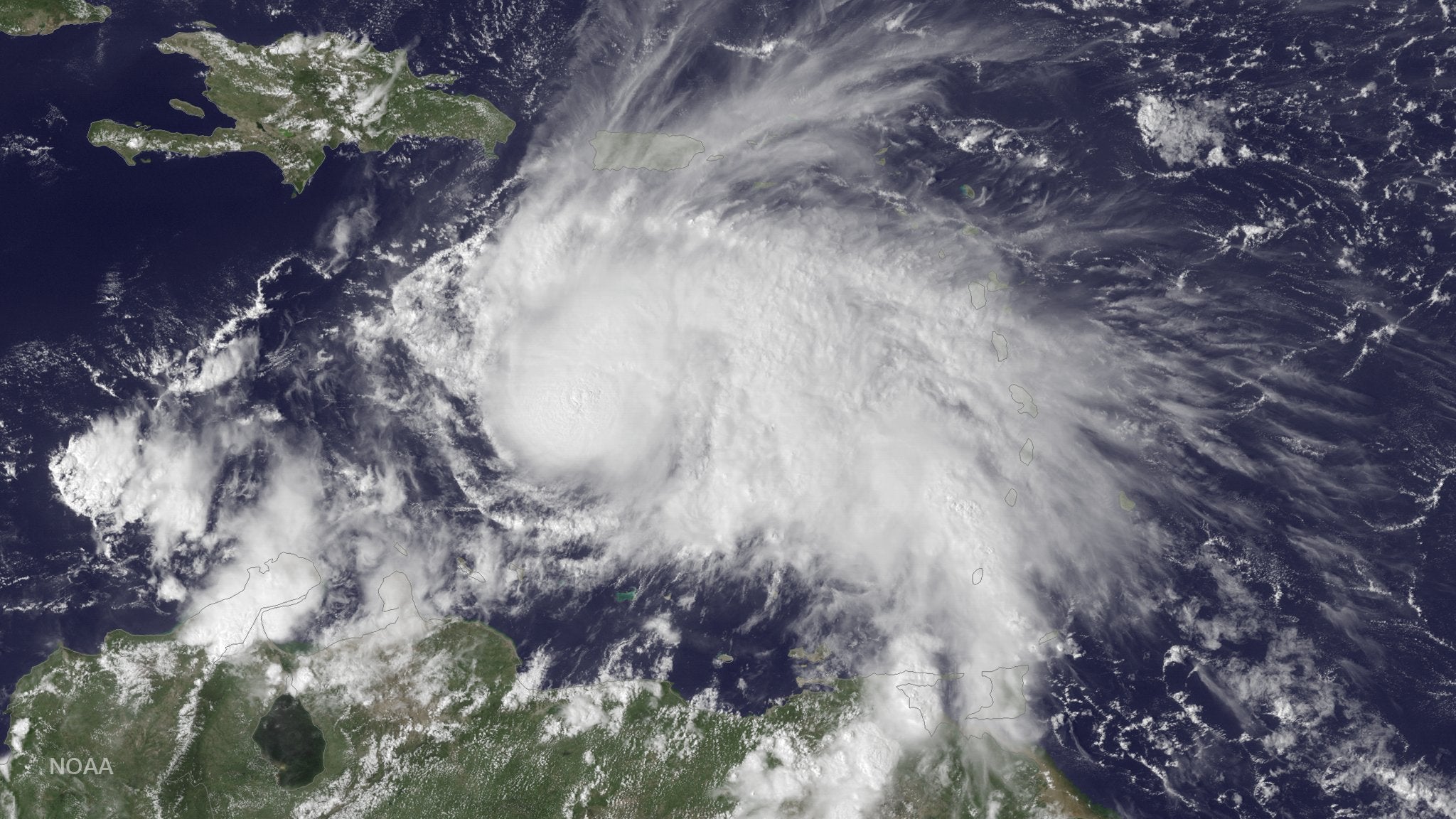 An ugly, dangerous storm is brewing out there. After a bout of rapid intensification last night, Hurricane Matthew has now achieved Category 3 status, packing 195km/h winds. It's first major Caribbean hurricane since Sandy, and the strongest to develop in this particular region since 2008. Hurricane Matthew forming in the Caribbean sea. Image: NOAA
According to the National Hurricane Center, the storm is expected to maintain its strength and possibly intensify further through the weekend as it rumbles toward Jamaica, reaching Hispaniola and eastern Cuba by early next week. Matthew currently sits about 765km southeast of Kingston and just 140km north of Colombia, where a tropical storm warning is in effect.
A hurricane watch may be issued for Jamaica as early as later today.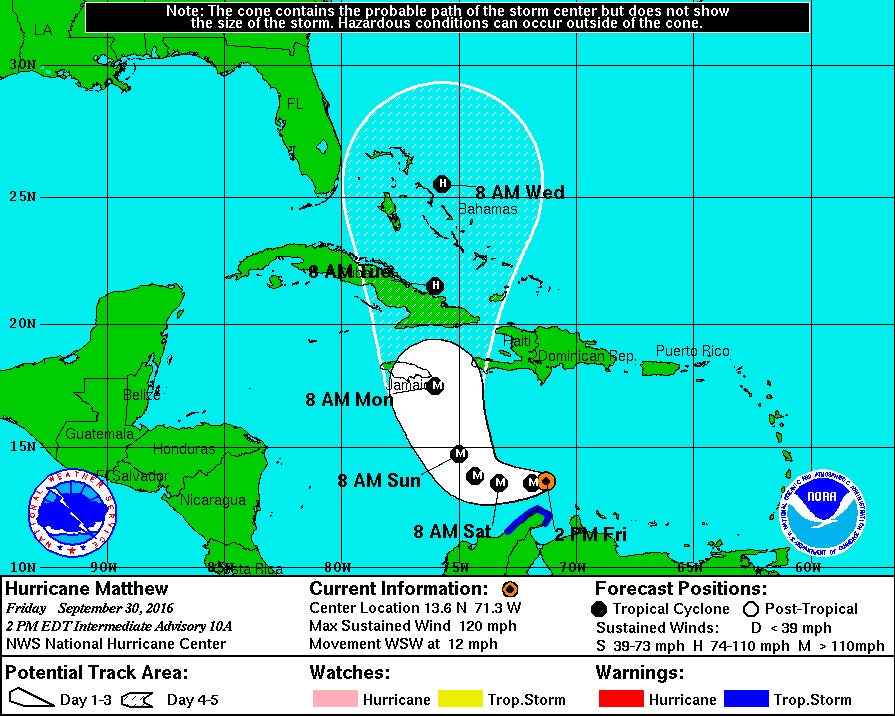 Image: NHS
Where exactly the storm is headed next, and whether the US will see any impacts, is not yet clear. There's a decent chance Matthew could pass Florida to the east. Or it hit the peninsula dead on, or track west into the Gulf of Mexico.
Hurricane Matthew has meteorologists all in a tizzy on social media, remarking on its impressive strength and sudden, dramatic intensification. You can be sure they will be paying close attention to the storm's development throughout the weekend, and if you live in a potentially affected area, you should, too.
With favorable atmospheric conditions, Euro gets #Matthew to a Category 5 storm in the northern Bahamas next week. Keep an eye on forecasts! pic.twitter.com/m4v89dpQXm

— Ed Vallee (@EdValleeWx) September 30, 2016
Latest (12Z) HWRF brings the center of Hurricane #Matthew into Kingston, Jamaica as a Cat 3. Catastrophic. pic.twitter.com/E6lCpVcC5W

— Eric Holthaus (@EricHolthaus) September 30, 2016
Last frame or two shows a well-defined eye starting to emerge in #Matthew. Category 3 hurricane now. pic.twitter.com/5Ko98exvDU

— Becky Elliott (@wx_becks) September 30, 2016
The last time there was a hurricane this strong in this part of the Caribbean was 2007 (Felix)! #Matthew pic.twitter.com/3dOVAmu7VQ

— Brian McNoldy (@BMcNoldy) September 30, 2016
This GOES East imagery shows Hurricane #Matthew in the Caribbean, about 530 mi. east-southeast of Kingston, Jamaica. https://t.co/Tv4rJ3IRah pic.twitter.com/zGM2osSEB5

— NOAA Satellites (@NOAASatellites) September 30, 2016
Meteorologists are speculating that Matthew might have already intensified into a Category 4 storm, although we'll have to wait for the next NWS update to be sure.
All evidence from the most recent pass and drop suggests #Matthew is now a Cat 4 hurricane w/ 130 mph winds pic.twitter.com/92bnHAF54k

— Michael Lowry (@MichaelRLowry) September 30, 2016