You might recognise the four chimneys of London's iconic Battersea Power Station from Pink Floyd's Animals album cover or from Christopher Nolan's 2008 film The Dark Knight — but you may soon begin to associate them with Apple's brand new London offices.

Image: AP
Apple announced today that it plans to relocate 1400 employees to a new campus inside London's famed Grade II building in 2021, which is currently undergoing renovation. The Silicon Valley giant will become the largest office tenant across six floors in the central boiler house, taking up roughly 40 per cent of the space inside of the power station.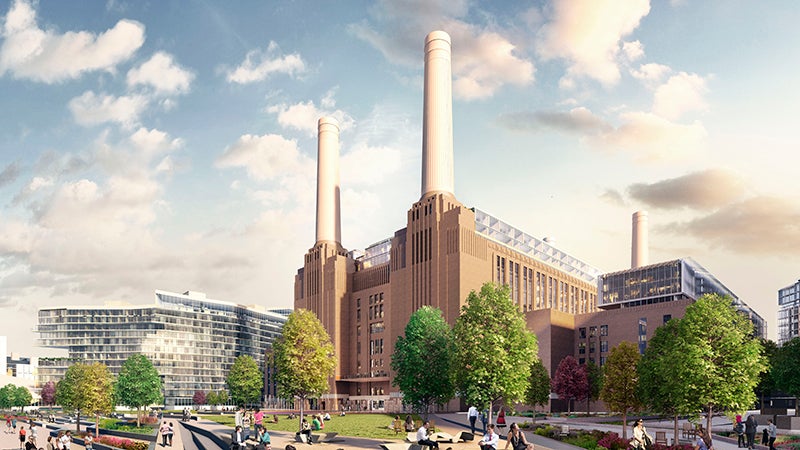 An artist rendering of the Battersea Power Station after renovations, which are set to be completed in 2021. (Image:
Nine Elms
)
The former coal-powered electricity generator has occupied its spot along the Thames River for decades. Construction on the plant started back in 1927, and was met with protests from people who worried that the pollution from the plant would hurt painting at the Tate Gallery nearby or buildings.
As decades (and the industrial revolution) passed, the building became one of the most visible landmarks in London. The structure has been featured in dozens of movies including Alfred Hitchock's 1936 film Sabotage, The Beatle's 1965 film Help! and the 2006 film Children of Men. Its dingy facilities have been used as a setting of the working conditions of modern industrialisation.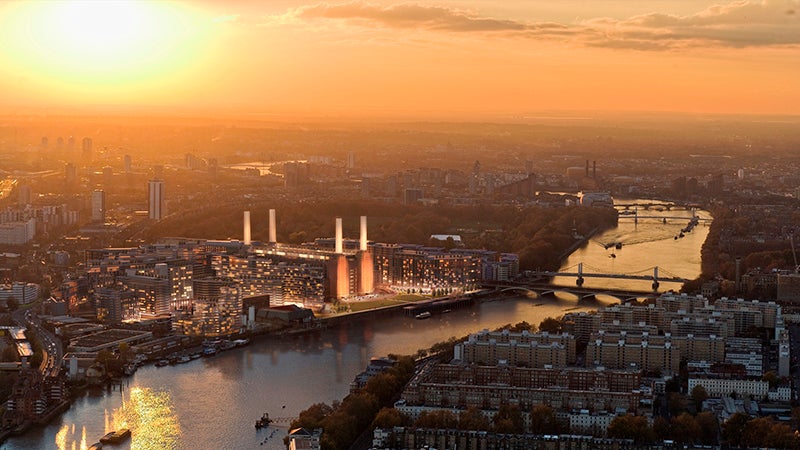 Apple's new London offices will be located in the Nine Elms renovation project that stretches 480 acres on the Thames River. (Image:
Nine Elms
)
Now, as one of the biggest renovations in Europe, the plant will likely become known to a younger generation as one of the newest and most ostentatious neighbourhoods in the world. Battersea Power Station is actually part of a bigger renovation project called Nine Elms that is taking place across 480 acres on the riverbank.
Investors have already dumped more than £15 billion ($25 billion) into the Nine Elms project. Battersea Power Station's iconic chimneys will be kept in tact during the renovation, and the Nine Elms project will add 800 apartments, offices, shops, gym, spa and even a theatre nearby. Apartments in the area range from a studio at £338,000 ($571,832) to penthouses that cost about £6 million ($10 million). I you're interested in moving into the newly renovated area, you'd better start saving now — or just try to lock down one of those well-paid Apple engineer gigs.