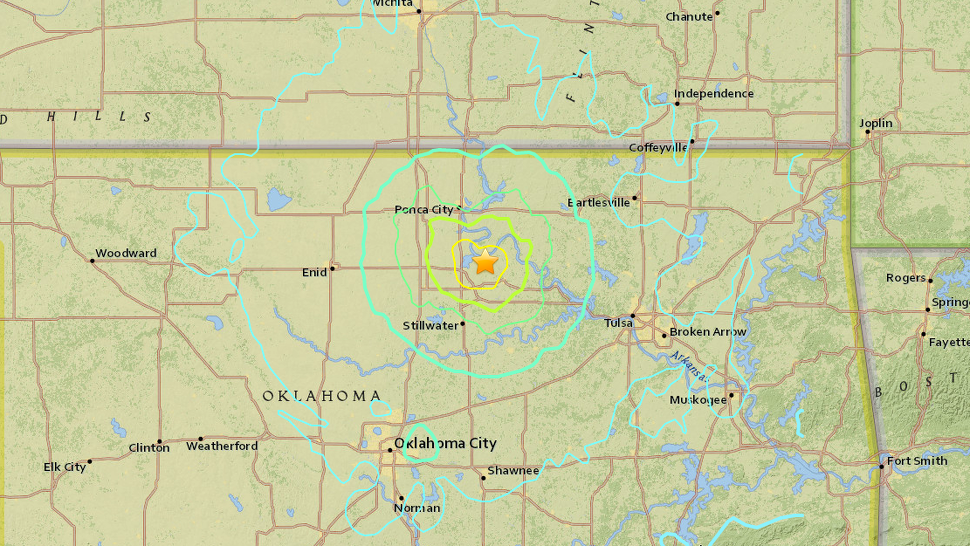 A 5.6 magnitude earthquake shook parts of the US Midwest earlier this morning, rattling homes from Nebraska to North Texas. The unusually strong quake will likely draw further scrutiny to the practice of disposing oil and gas field wastewater deep underground.
Image: USGS
The US Geological Survey recorded a 5.6 magnitude earthquake at 7:02 am this morning in north-central Oklahoma. It was centered about nine miles (14 km) from Pawnee, Oklahoma. A second quake was recorded less than an hour later, measuring 3.6.
5.6 magnitude earthquake rattles Midwest from Texas to Nebraska https://t.co/9aj2bsp9z4 pic.twitter.com/9o3na95yAN

— ABC News (@ABC) September 3, 2016
Initial reports indicate that the earthquake was felt as far north as Nebraska, and in large metropolitan areas such as Dallas and St. Louis. No major damage or injuries have been reported, but officials in the city are meeting to form a plan to assess damage and determine potential next steps.
…Norman Radar from this AM. Bloom on radar is birds being woken up & taking flight thanks to the 5.6 earthquake! pic.twitter.com/B8ERsGimG9

— Aaron Treadway (@OUwx13) September 3, 2016
What a mess after the #earthquake in #Pawnee pic.twitter.com/sZC1QkdyIz

— Amy Slanchik (@amyslanchik) September 3, 2016
This earthquake is similar to one that struck the region five years ago, but quakes of this magnitude are exceptionally rare. Oklahoma has experienced many quakes in recent years, but the vast majority have been under 4.0. This is already the second 5.0+ quake to hit the region this year. Back in January, a swarm of 32 quakes struck northwest Oklahoma in a 24-hour period.
Experts say the quakes are related to an increase in the disposal of waste water from oil and natural gas drilling. A Tulsa World analysis has shown that the volume of waste water that's being stored underground has jumped more than 80 per cent over the past six years, which also happens to coincide with the state's sudden proclivity to earthquakes. The Oklahoma Corporation Commission has already imposed restrictions on the amount of water that can be injected in certain areas, but this latest quake could prompt revisions.