There aren't many places you can experience Friday the 13th, A Nightmare on Elm Street, Halloween, The Exorcist, The Purge, American Horror Story and The Walking Dead all in one place, and survive the experience. In fact, there's just one: Universal Studios' Halloween Horror Nights.

A Horror Nights cast member Purging. All Images: Universal, unless noted
The annual tradition opened this past weekend at Universal Studios theme parks in Orlando and Hollywood, featuring mazes inspired by those popular horror series. We attended the Hollywood opening where long waits, disgusting smells and lots of scares were waiting for people at every single turn. It was a blast.
If you can go, and you've got the time and money, it's a great time. We know many people can't, though, so we assembled this collection of photos courtesy of both Universal and yours truly as I wandered around the attraction. Check them out!
---
American Horror Story
The Horror Story maze takes scenes from three popular seasons of the franchise (Murder House, Hotel and Freak Show) and weaves them together into a singular experience. It's one of the brightest and weirdest mazes, but a little confusing if you don't know the series.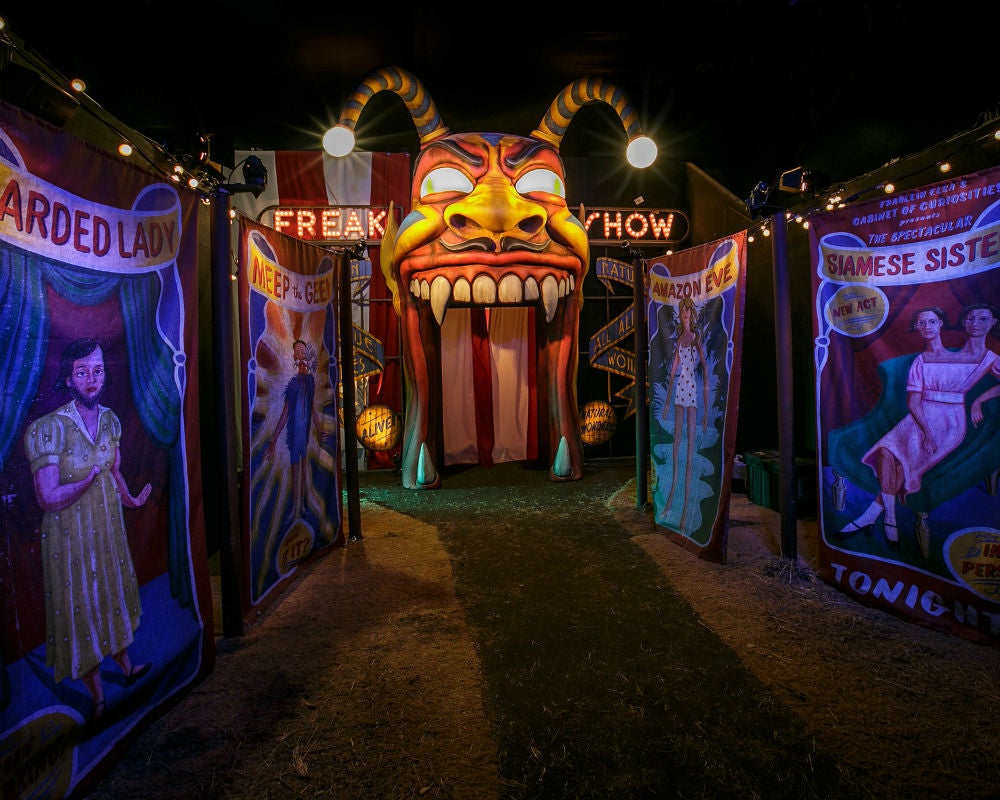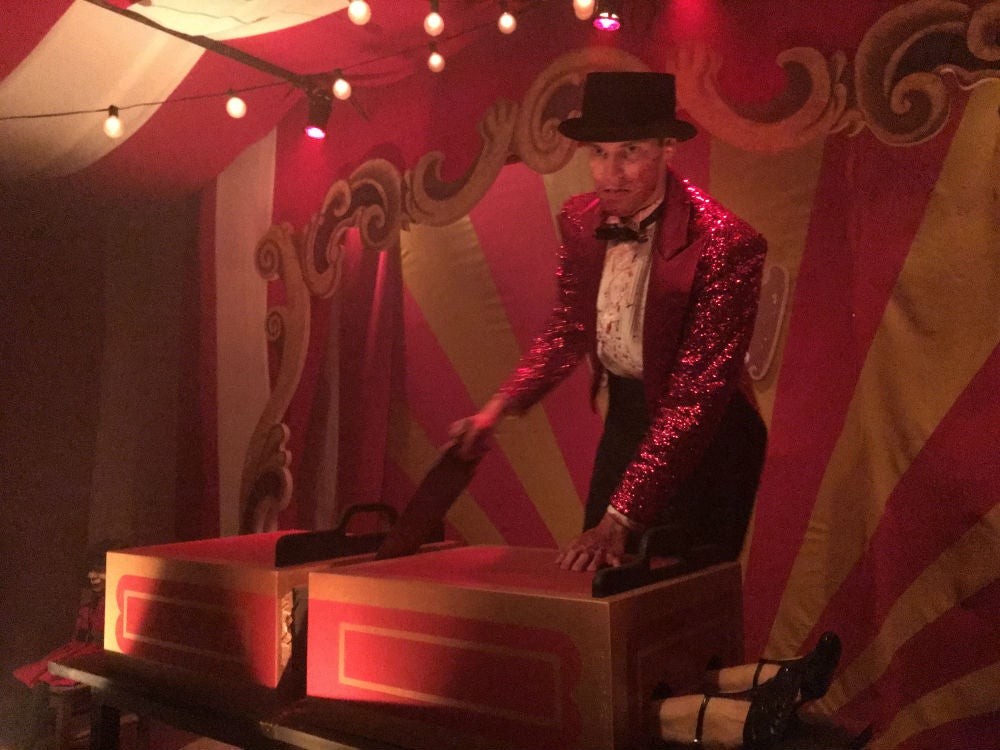 Here's an image I was able to capture of a very mean magician cutting up a girl. Photos in the mazes are difficult because it's so busy, dark and you're moving so fast.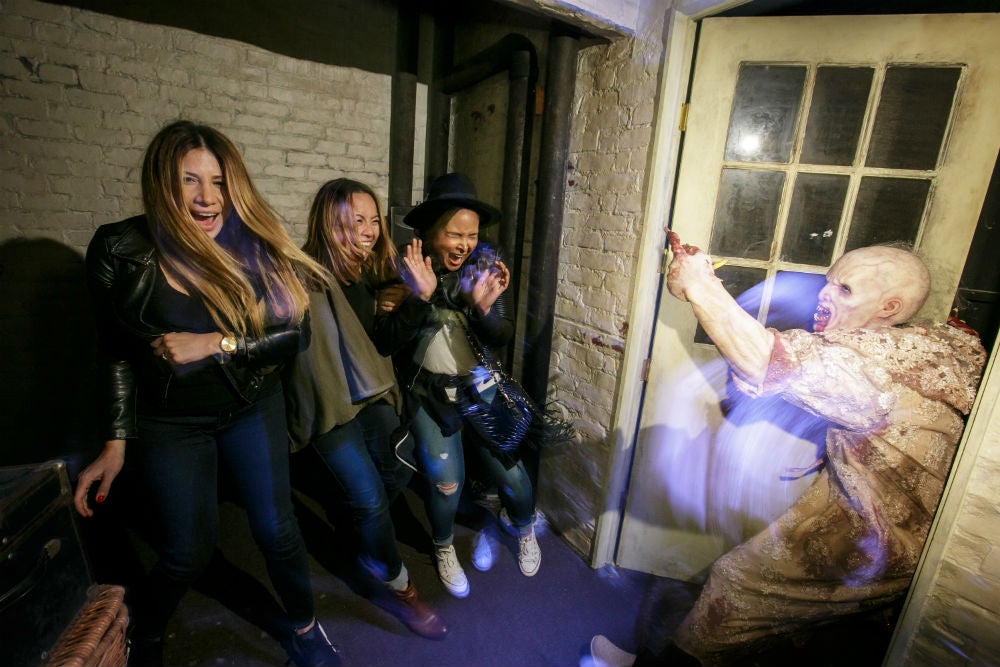 ---
The Texas Chainsaw Massacre: Blood Brothers
Enter through the front of a barbecue restaurant and meet the whole Sawyer family — not just Leatherface, but his brother, too. This is a really gross, really fun maze that includes some great, improvisational interactions with real actors.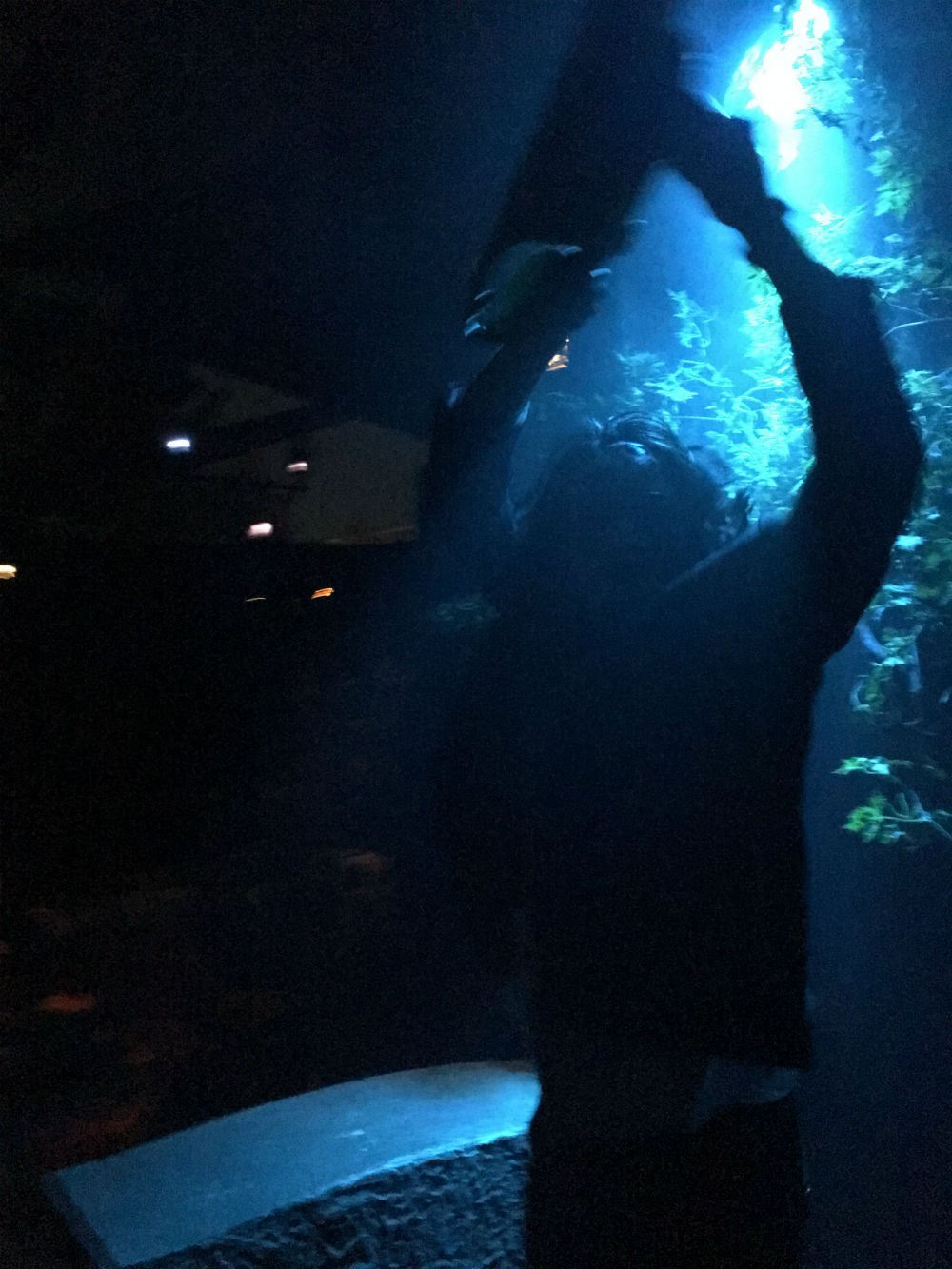 Somehow I snapped this ominous image of Leatherface running at us.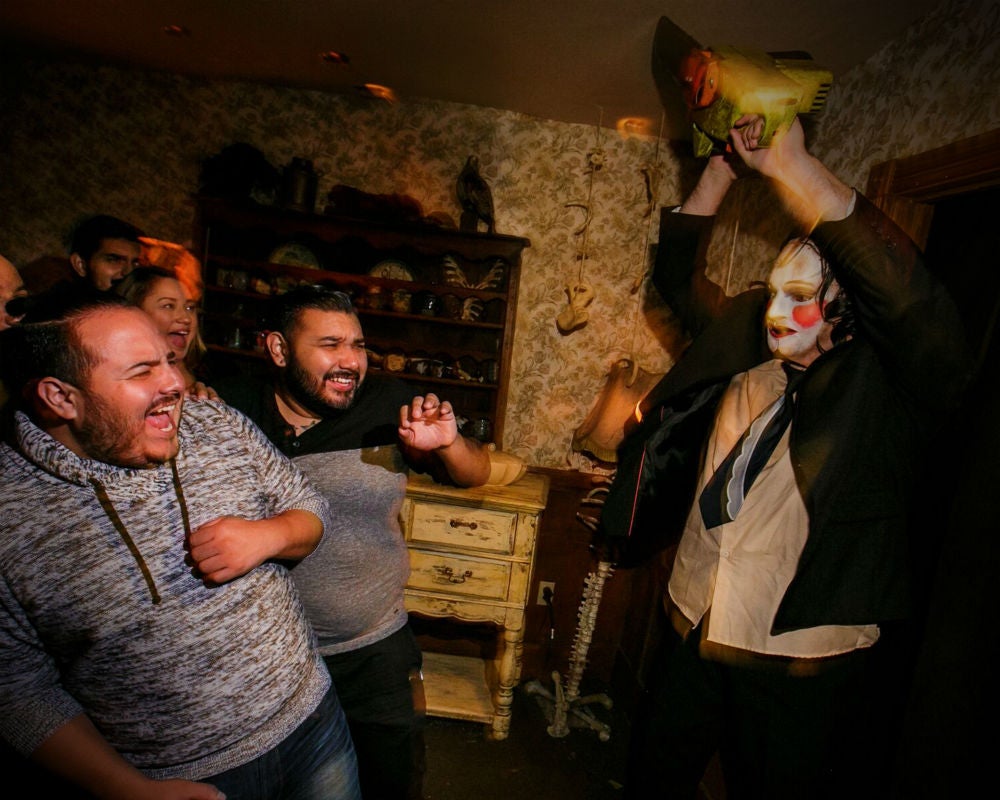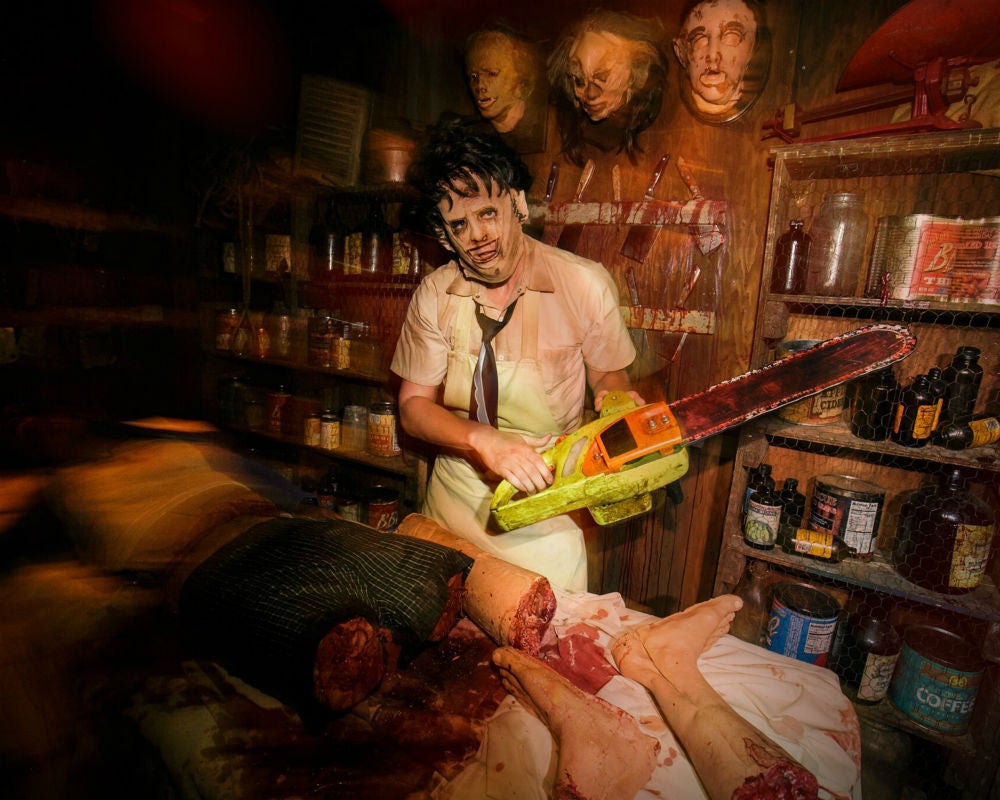 ---
The Exorcist
One of the most famous horror movies ever becomes a maze that features a lot of Regan with her head spinning, spitting at priests and running up and down stairs like a spider. It incorporates pieces from the original film and beyond. Also, either by luck or design, some rooms do have a pea soup vomit smell.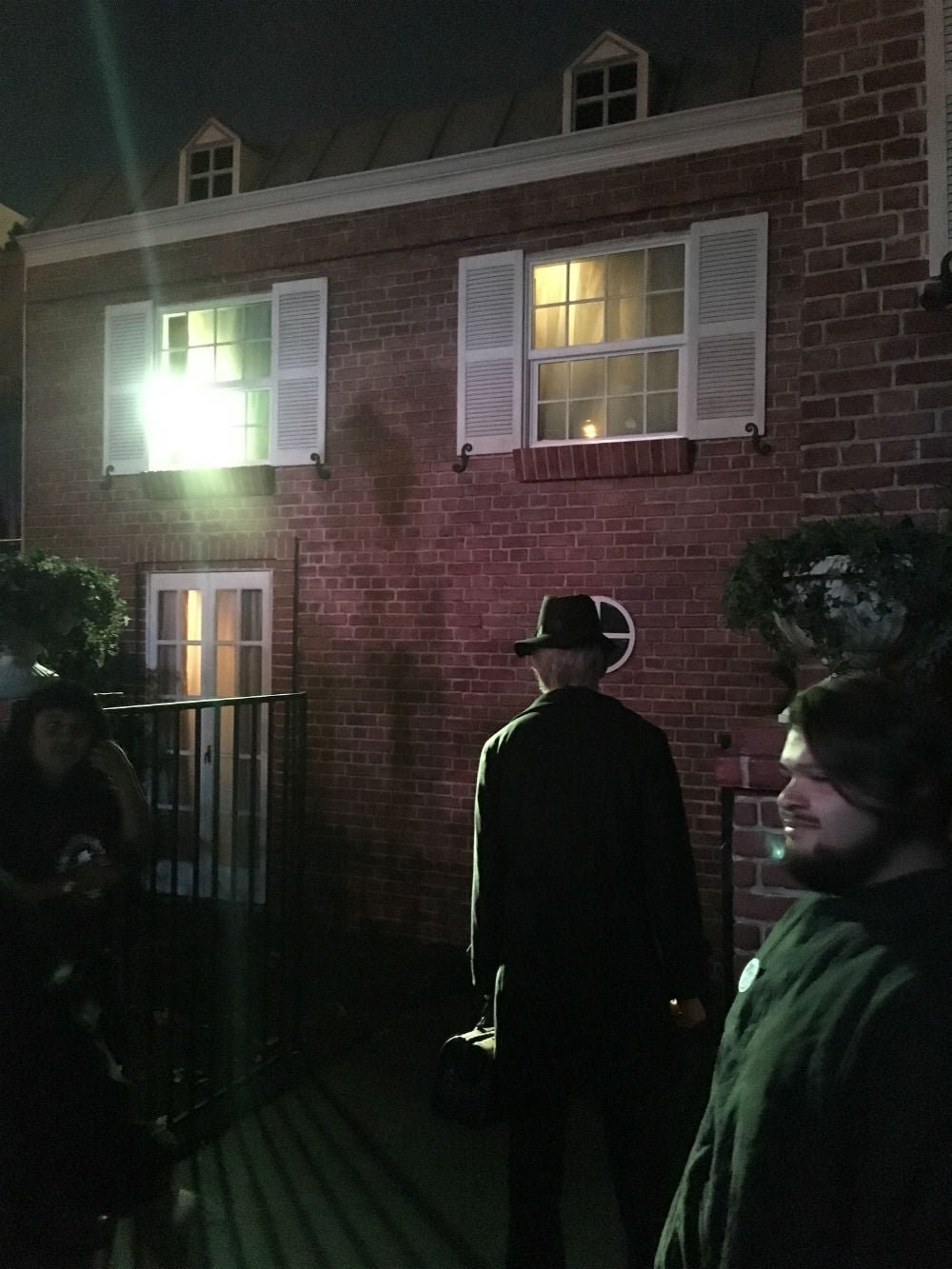 Of course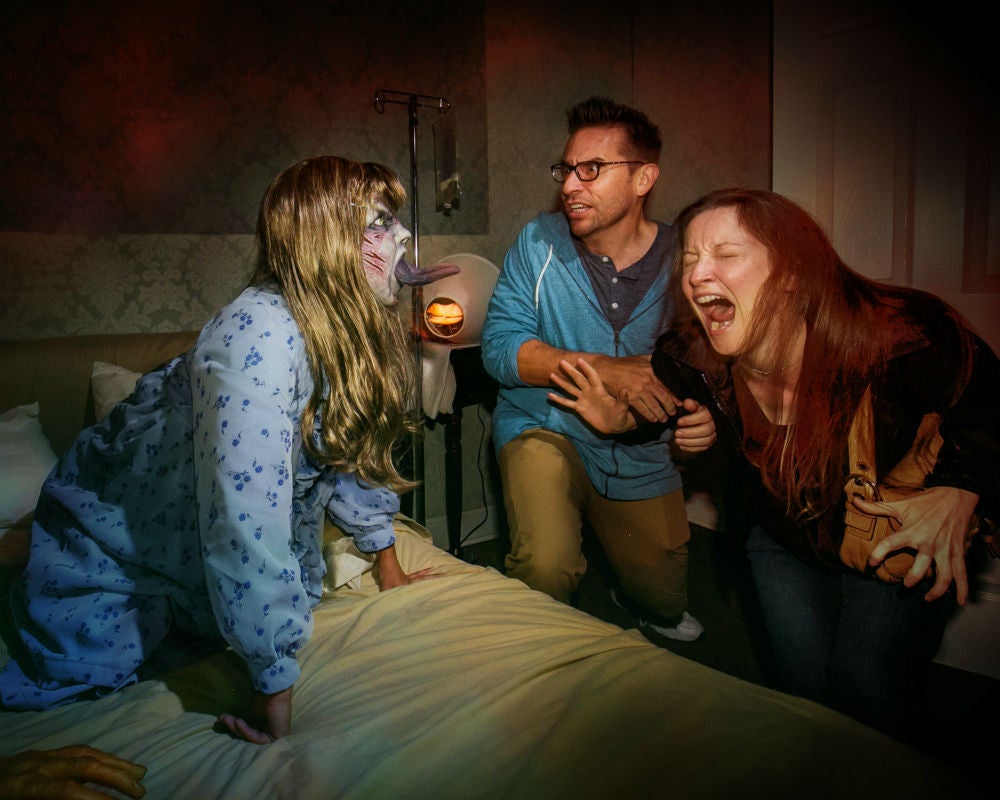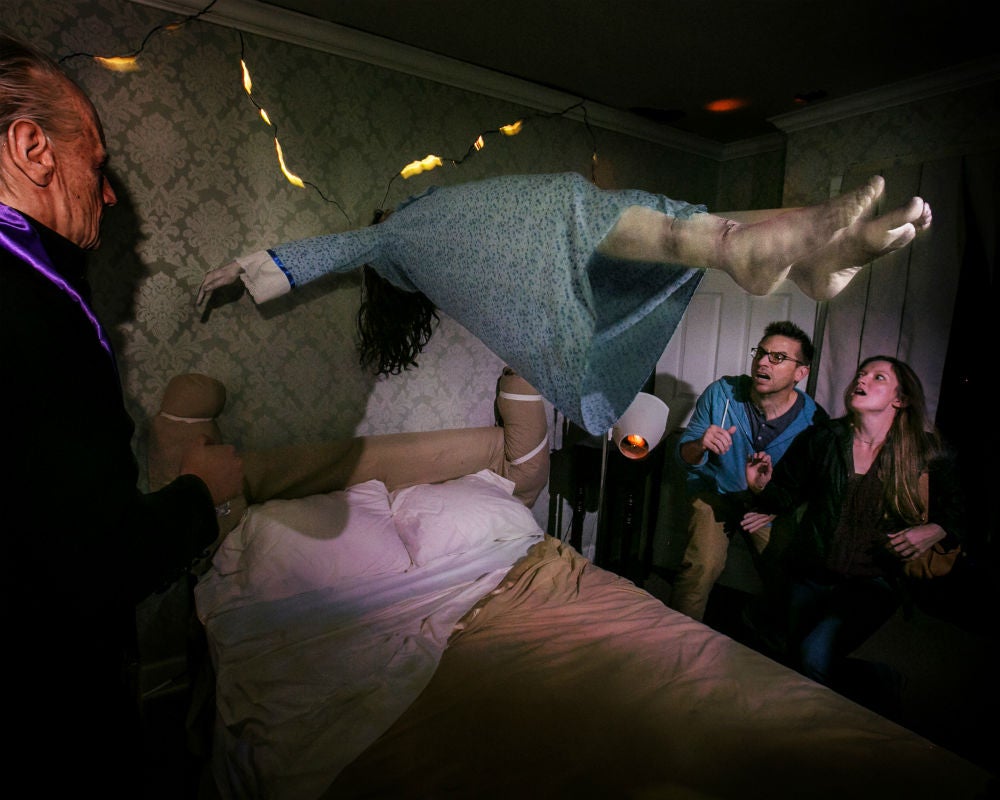 ---
Freddy vs. Jason
As a super fan of both these franchises, this was by far my favourite maze. It seamlessly blends iconic sets such as the boiler room from Nightmare on Elm Street and Camp Crystal Lake, crosses over between them when it needs to and features more Freddys and Jasons than you can shake machete at. There are some really cool, fun surprises as well.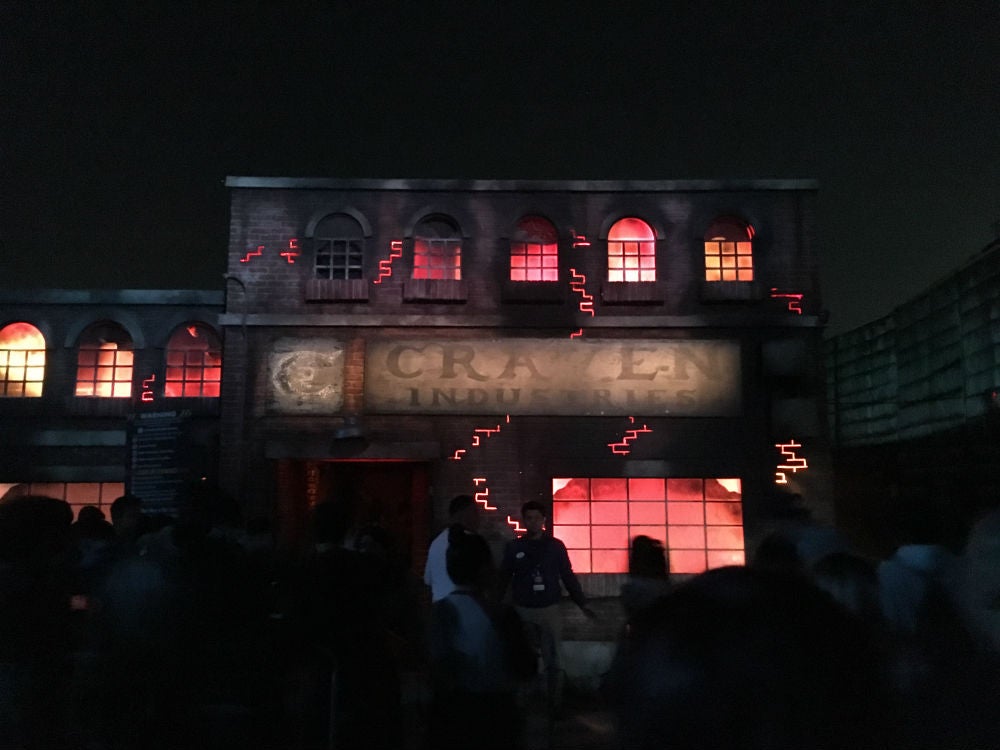 A photo I took of the entrance to the maze, which is a nod to the Nightmare creator Wes Craven.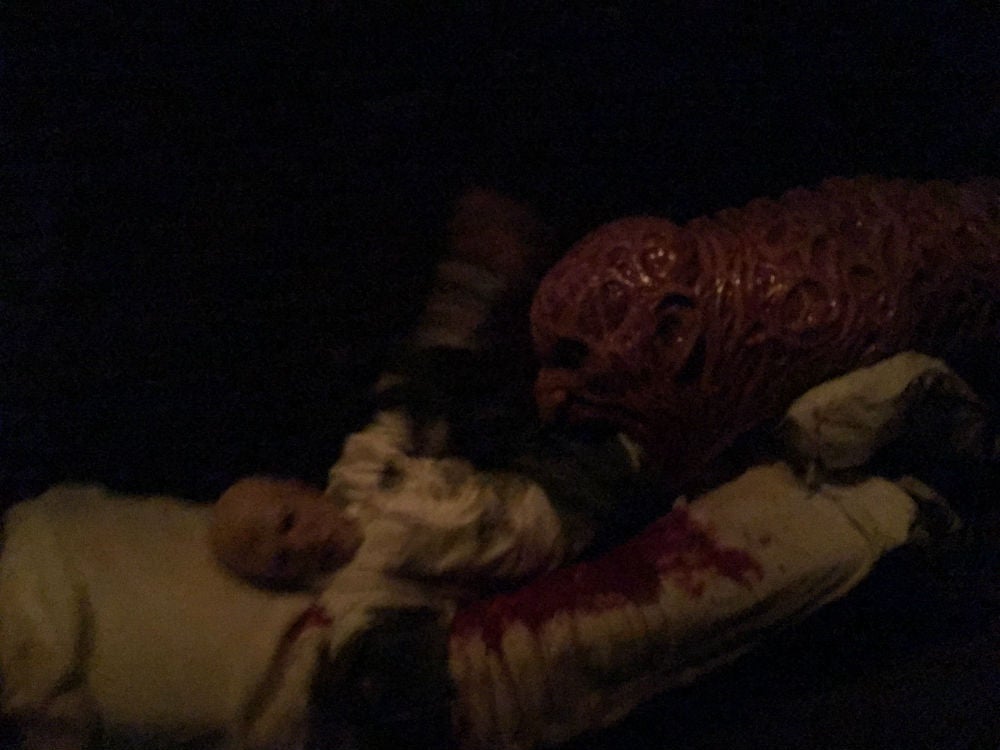 This is a terrible photo but, like I said, photos inside the maze are difficult. I included it because this is just the tip (pun intended) of how vile this maze gets.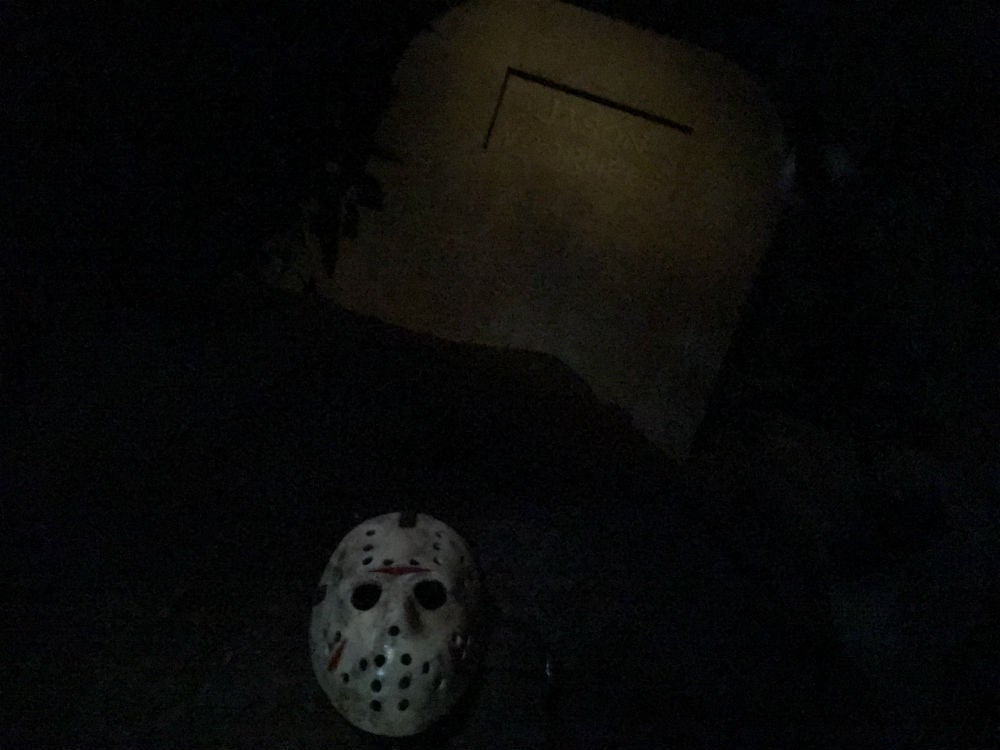 Another picture I took of a certain grave.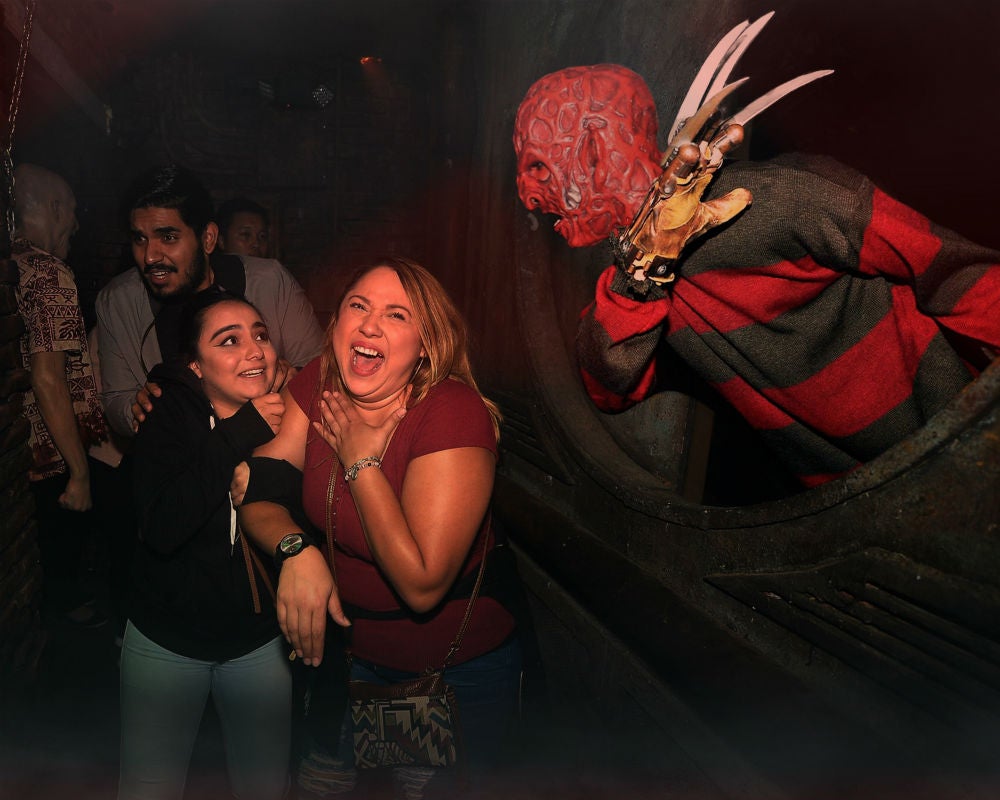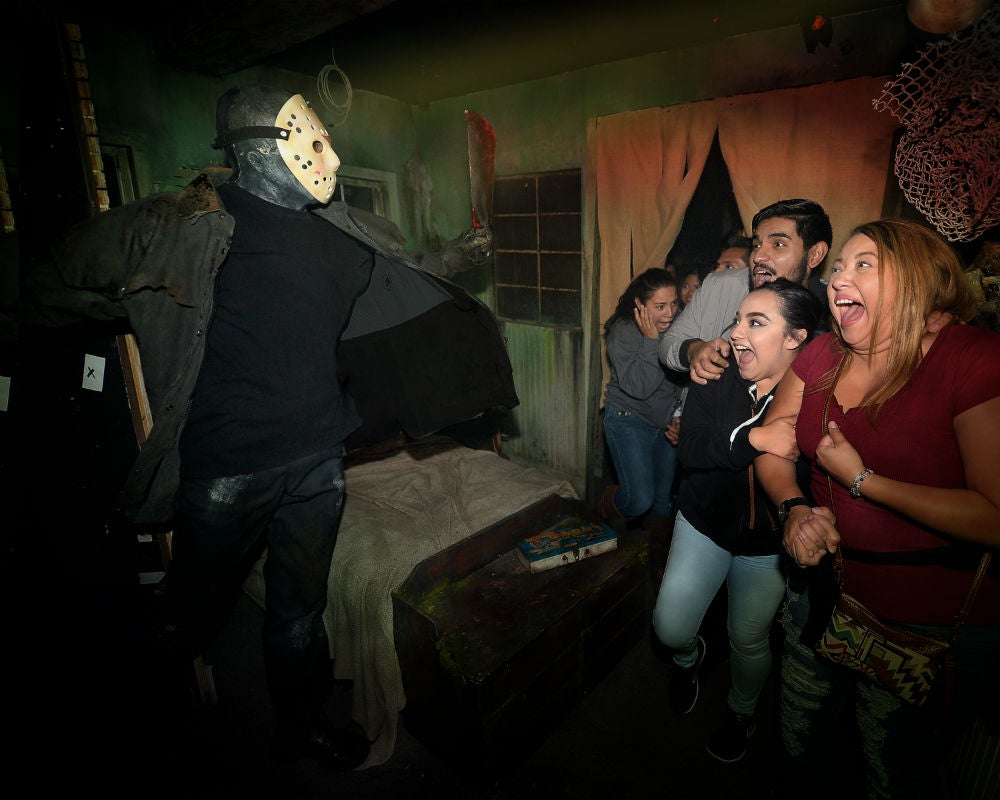 ---
Halloween: Hell Comes to Haddonfield
In 2015, fans at Halloween Horror Nights got to experience scenes from the first Halloween film. This year, the maze starts there, goes through the hospital from Halloween II and then even into the unrelated, but awesome, Halloween III.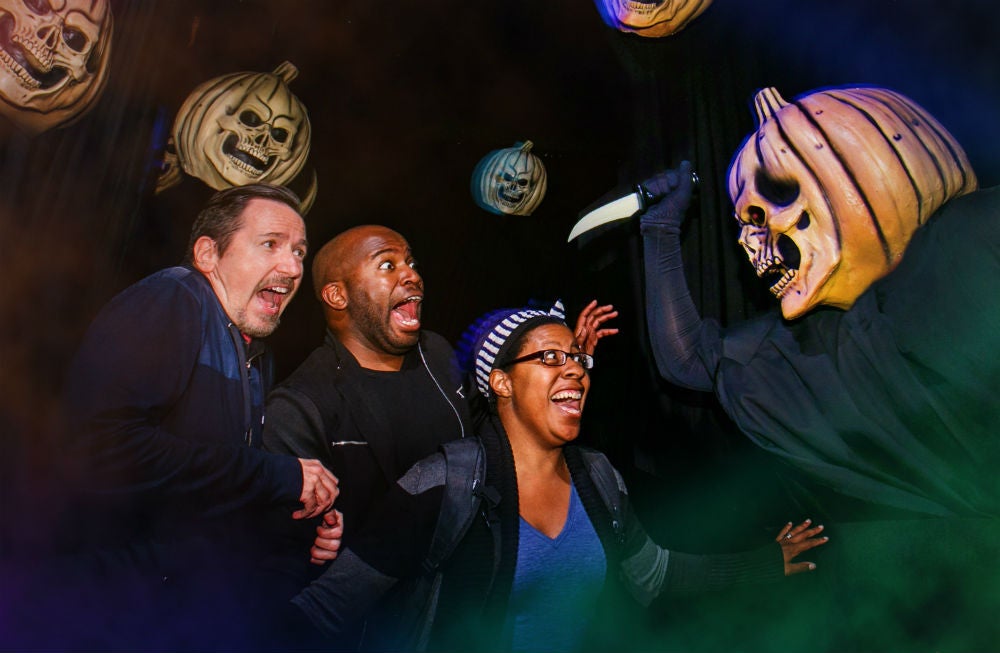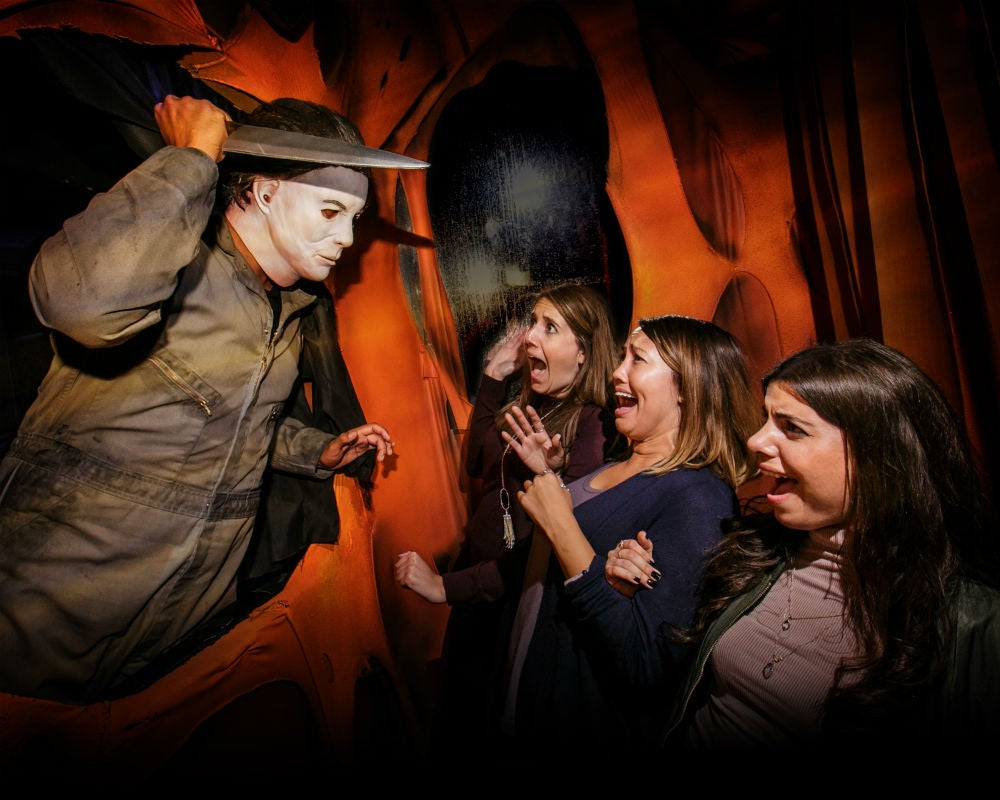 ---
Krampus
The holiday horror film makes its first appearance at Horror Nights with a really inventive maze that makes a whole lot more sense if you've seen the movie. If you haven't, it probably seems really, really odd. But in a good way! It also smells like gingerbread.
The line outside Krampus was one of the shortest if you can believe it. It was about an hour. Other approached three.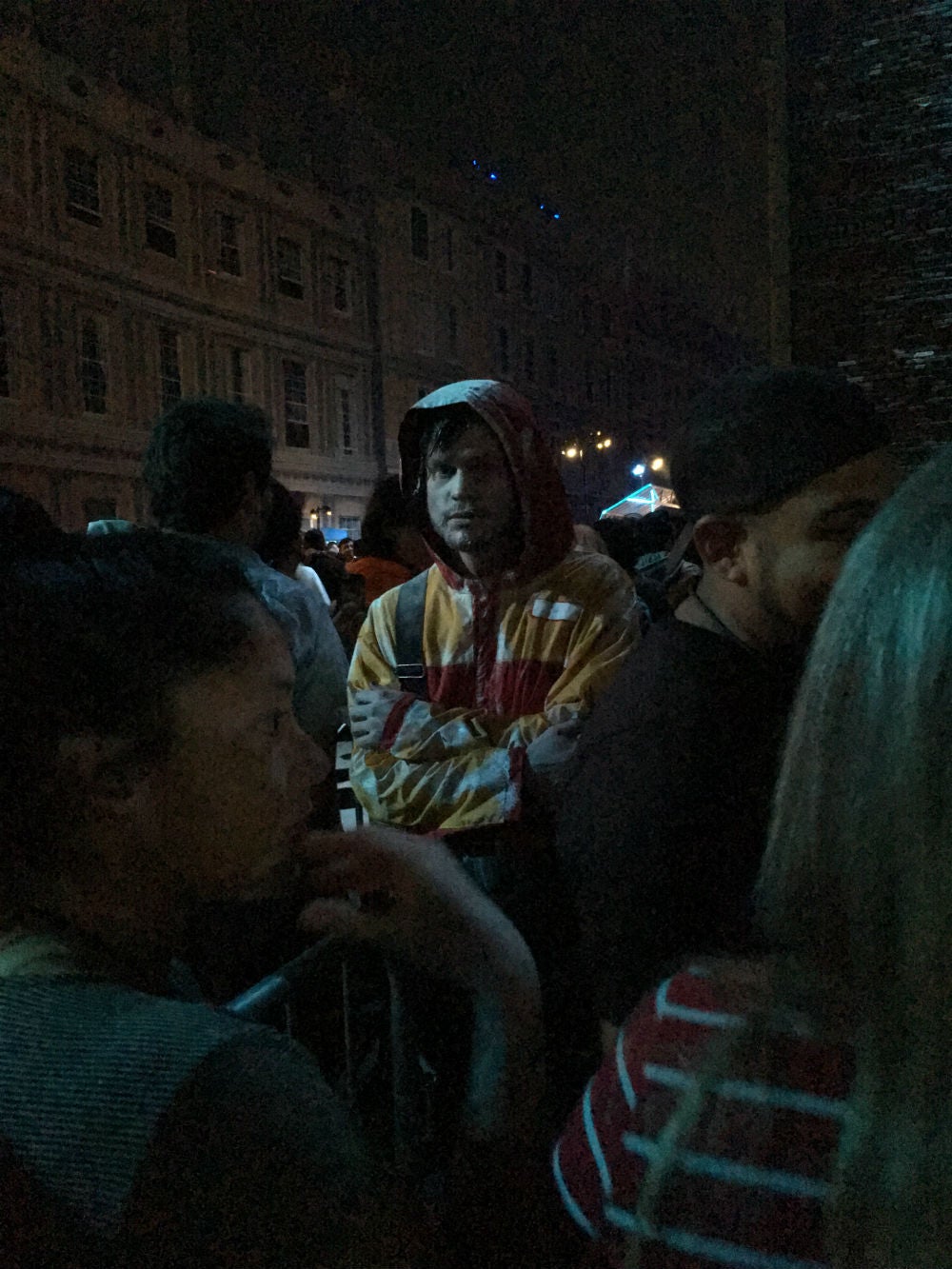 Before we walked in this gentleman, who looked like he was just in line, started saying, "Krampus is coming." He was obviously part of the attraction and very creepy.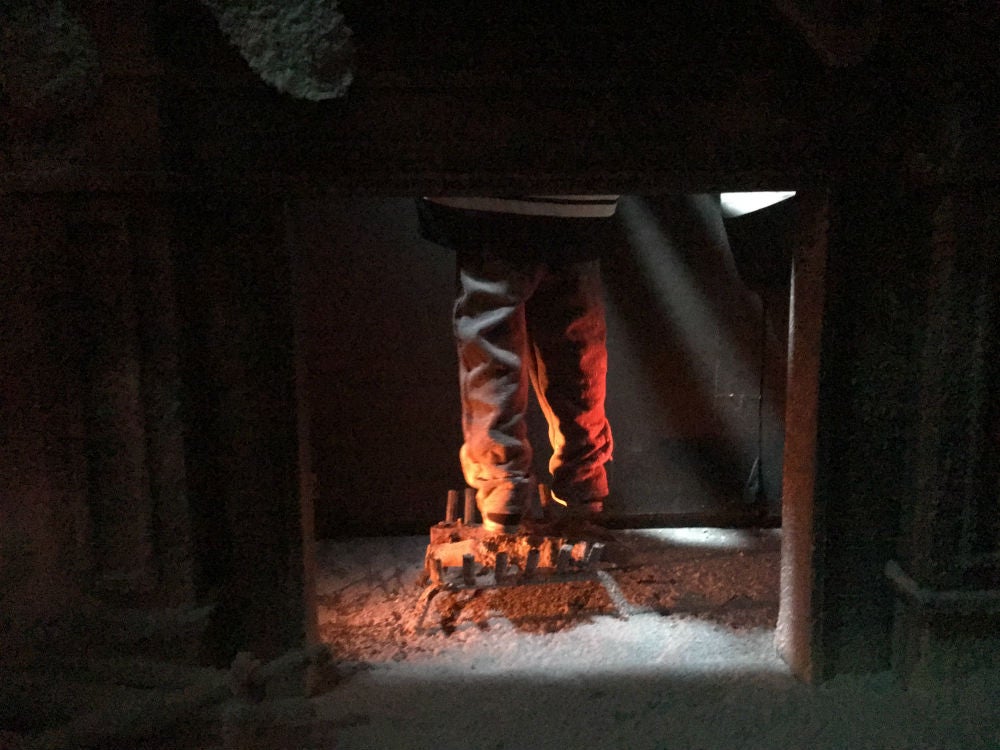 I just loved this visual of legs in a chimney.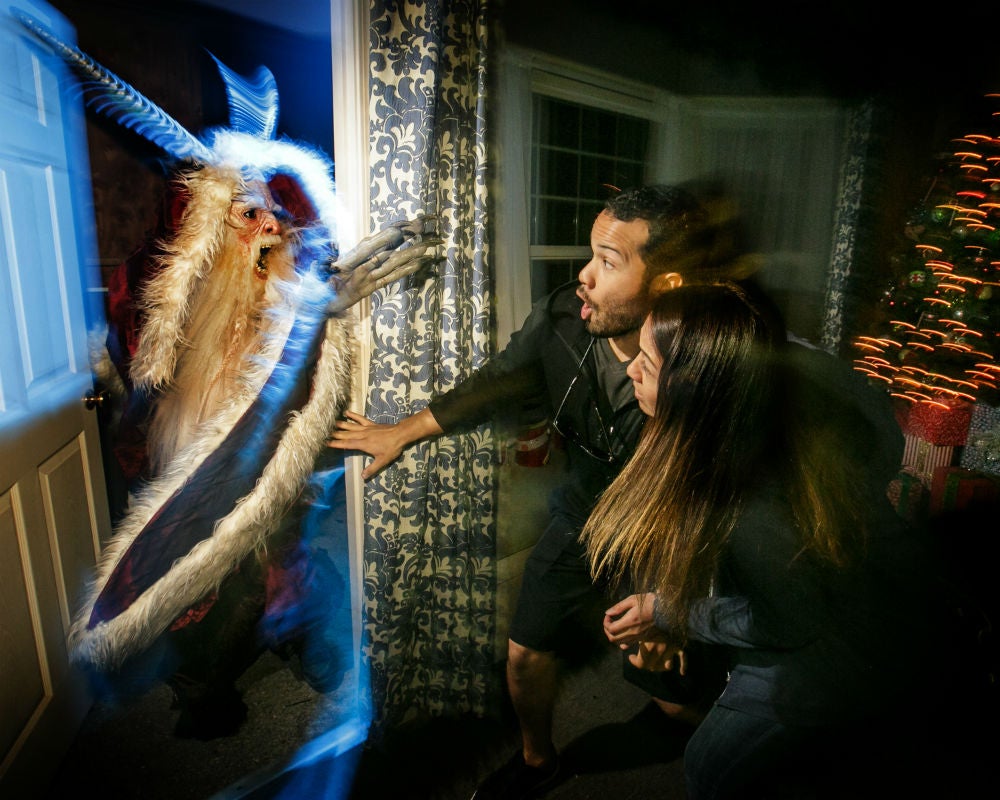 ---
The Purge
Between mazes, as you walk around, people dressed as characters from The Purge movies are running around to scare you, making it sort of the overarching setting of the event. There's a separate outdoor space that's kind of a smaller maze, and then plenty of little nods all over the park.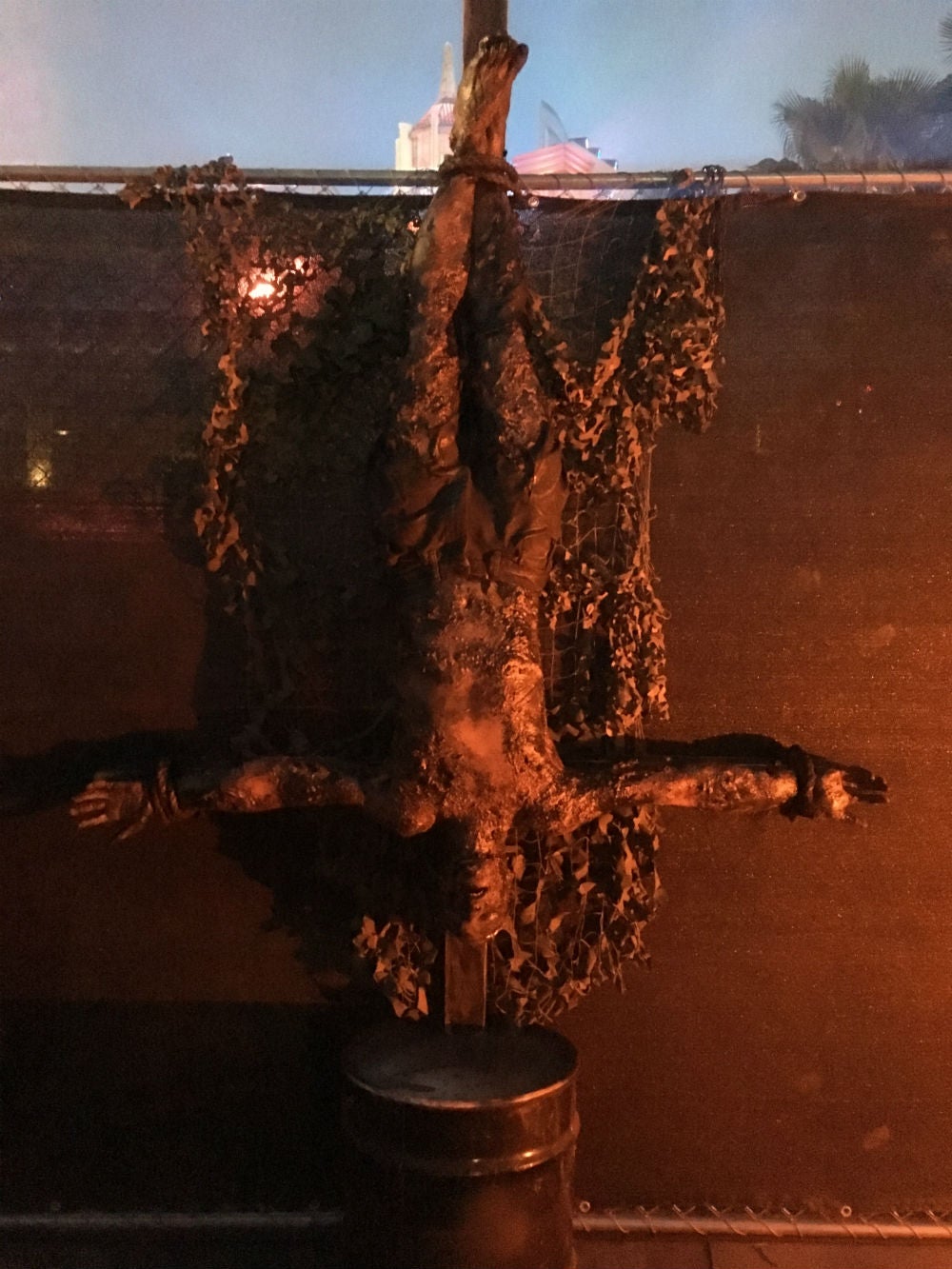 Yeah, this image creeped me out.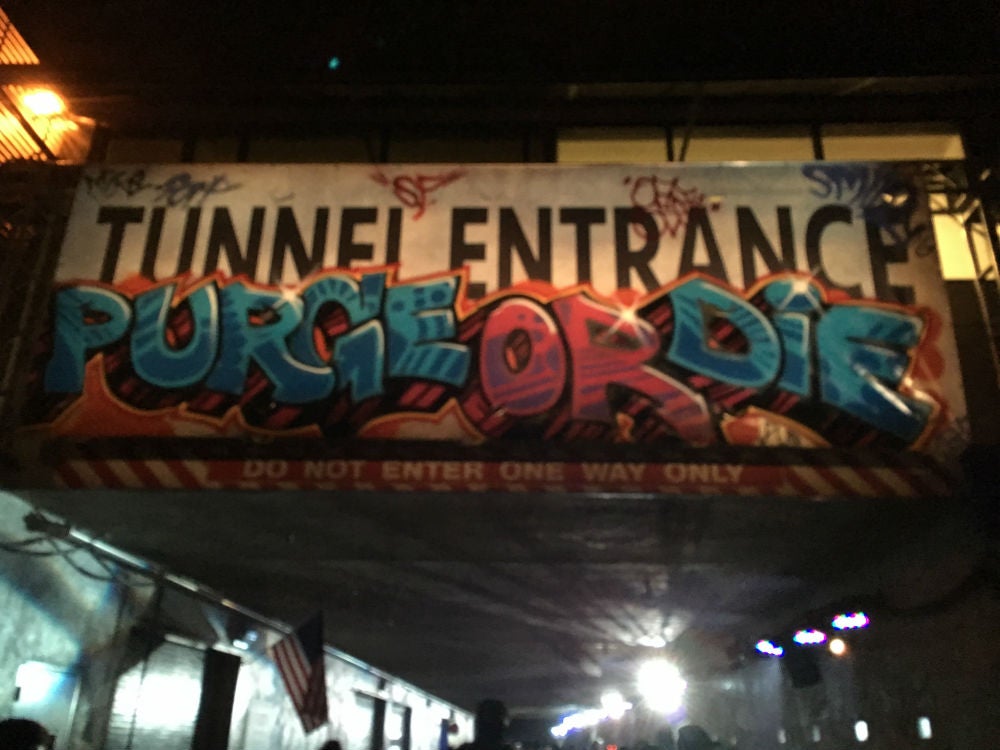 On the way to the second half of the park, you have to go through a tunnel. And the tunnel is packed with Purgers who make it their right to get in your face.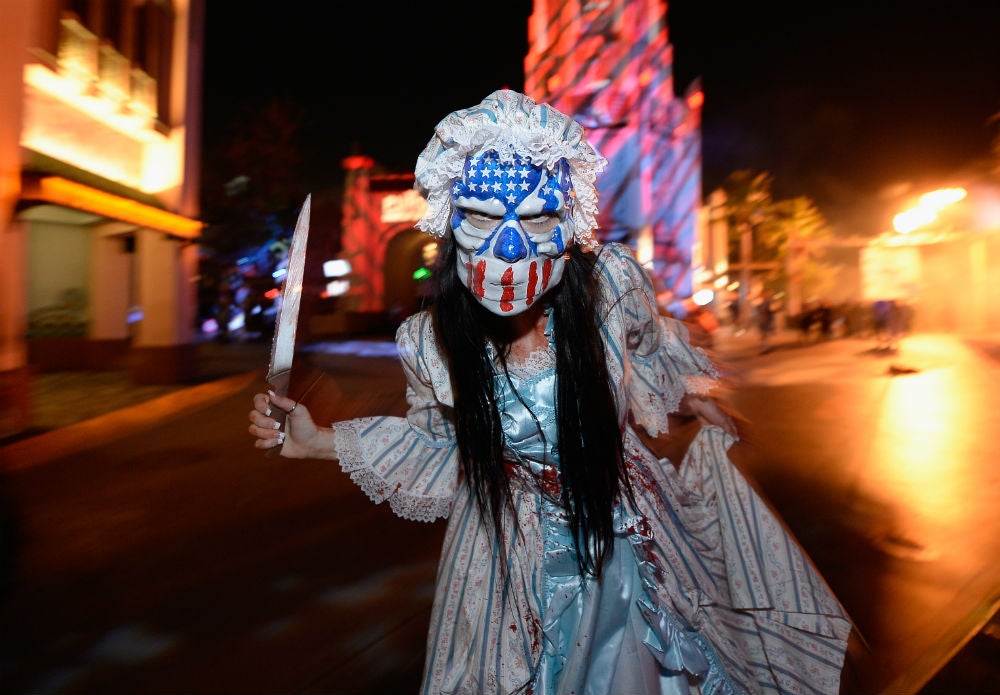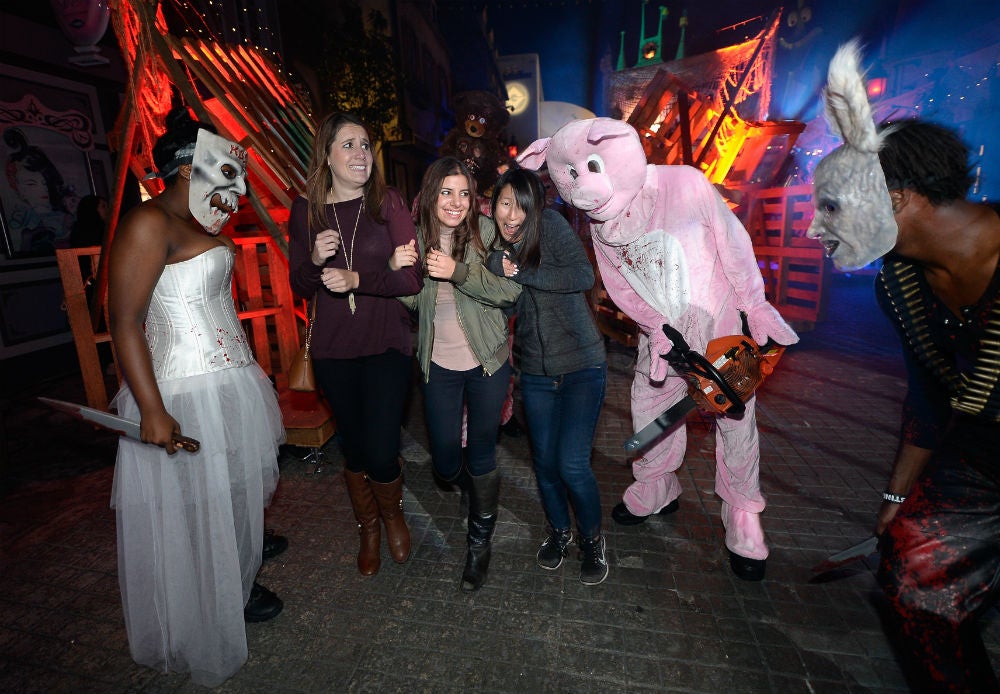 ---
Eli Roth Presents Terror Tram
The one attraction not attached to a major Hollywood franchise is the Terror Tram, which takes the iconic Universal Studio Tour and turns it into a maze. Director Eli Roth came up with a creepy, clown-driven concept, and the maze is filled with gross and awesome visuals. However, the night we went, poor crowd management really took away from the fun of this maze.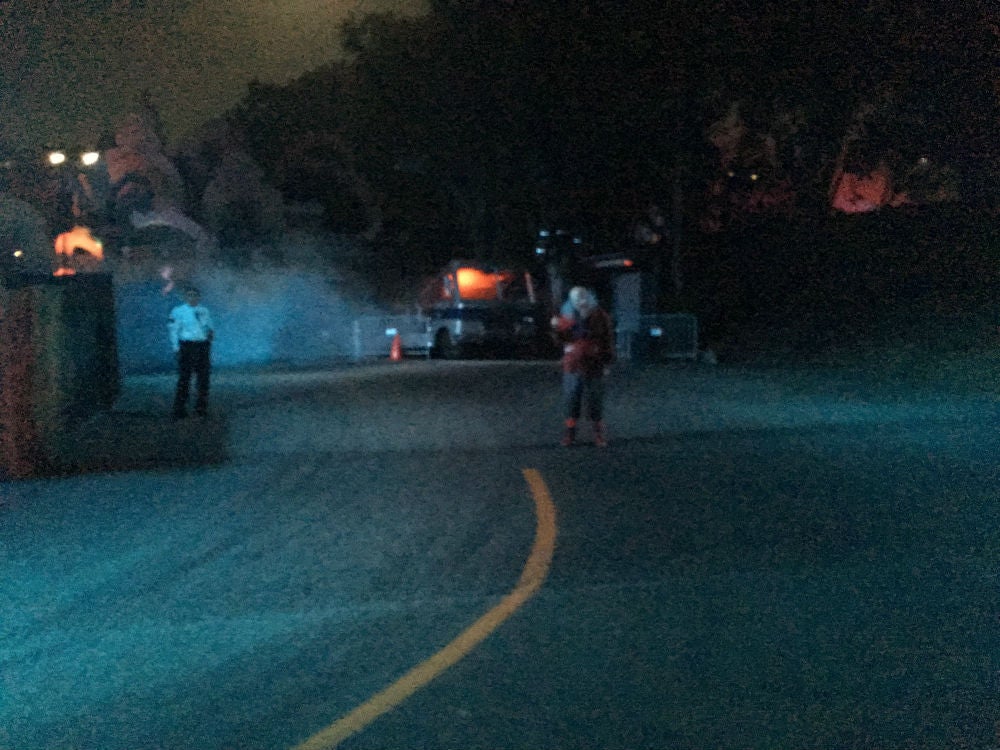 Sometimes, blurry pictures from your iPhone are better than clear photos.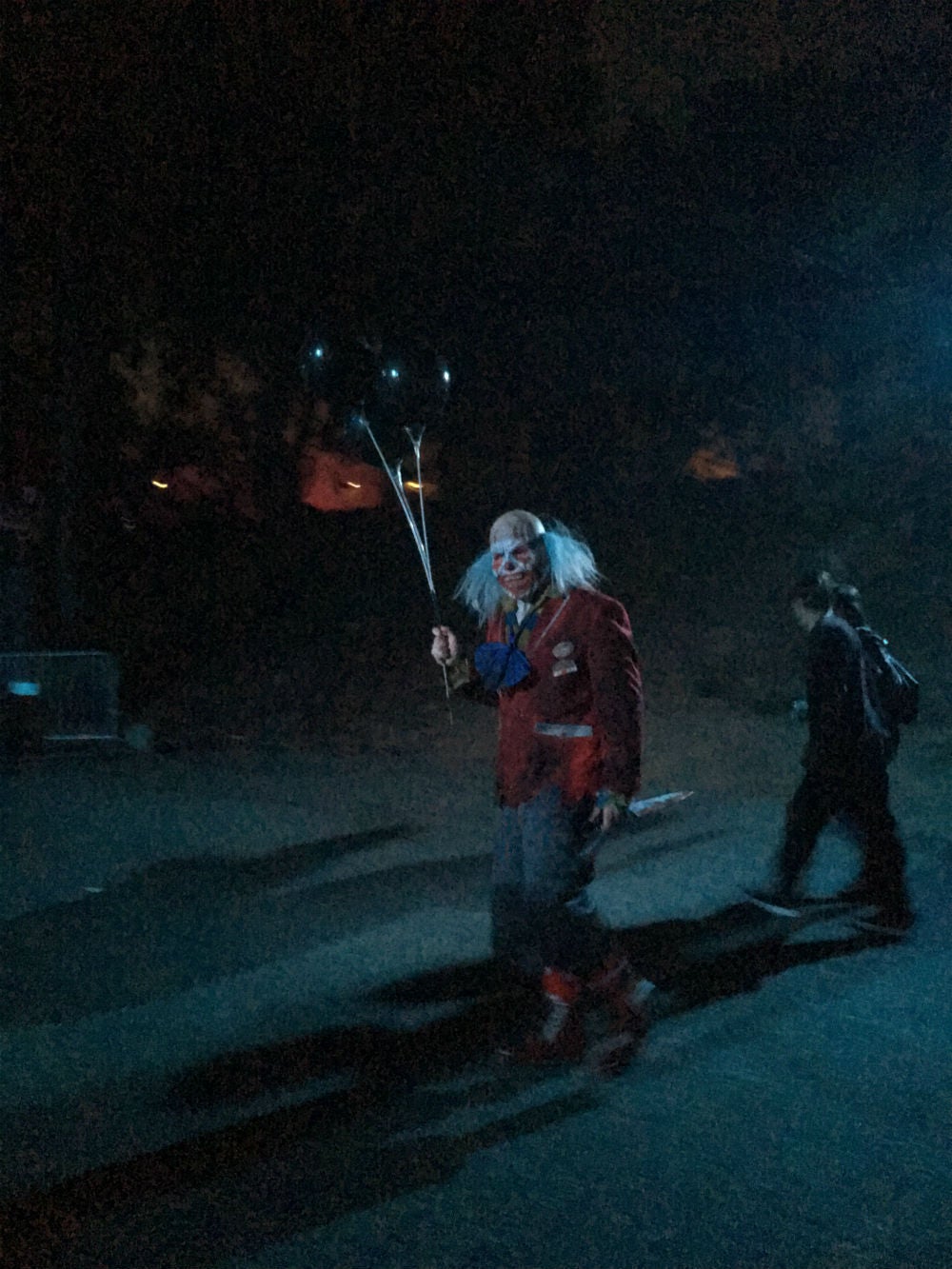 This is Hollywood Harry, the clown at the centre of Roth's story.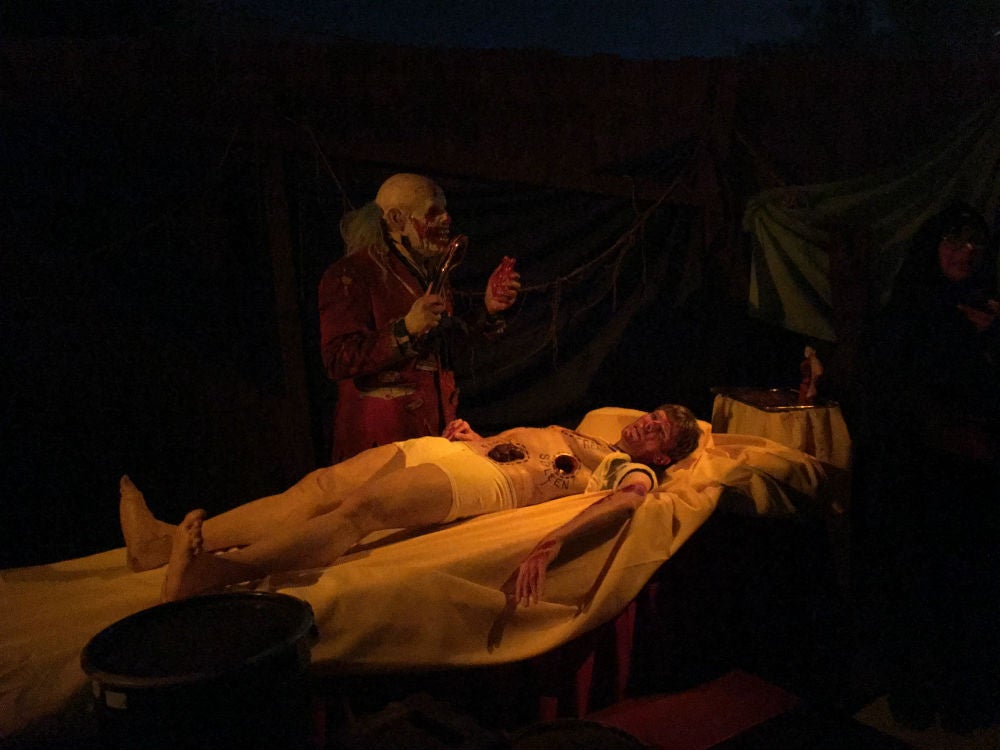 The board game Operation, but for real.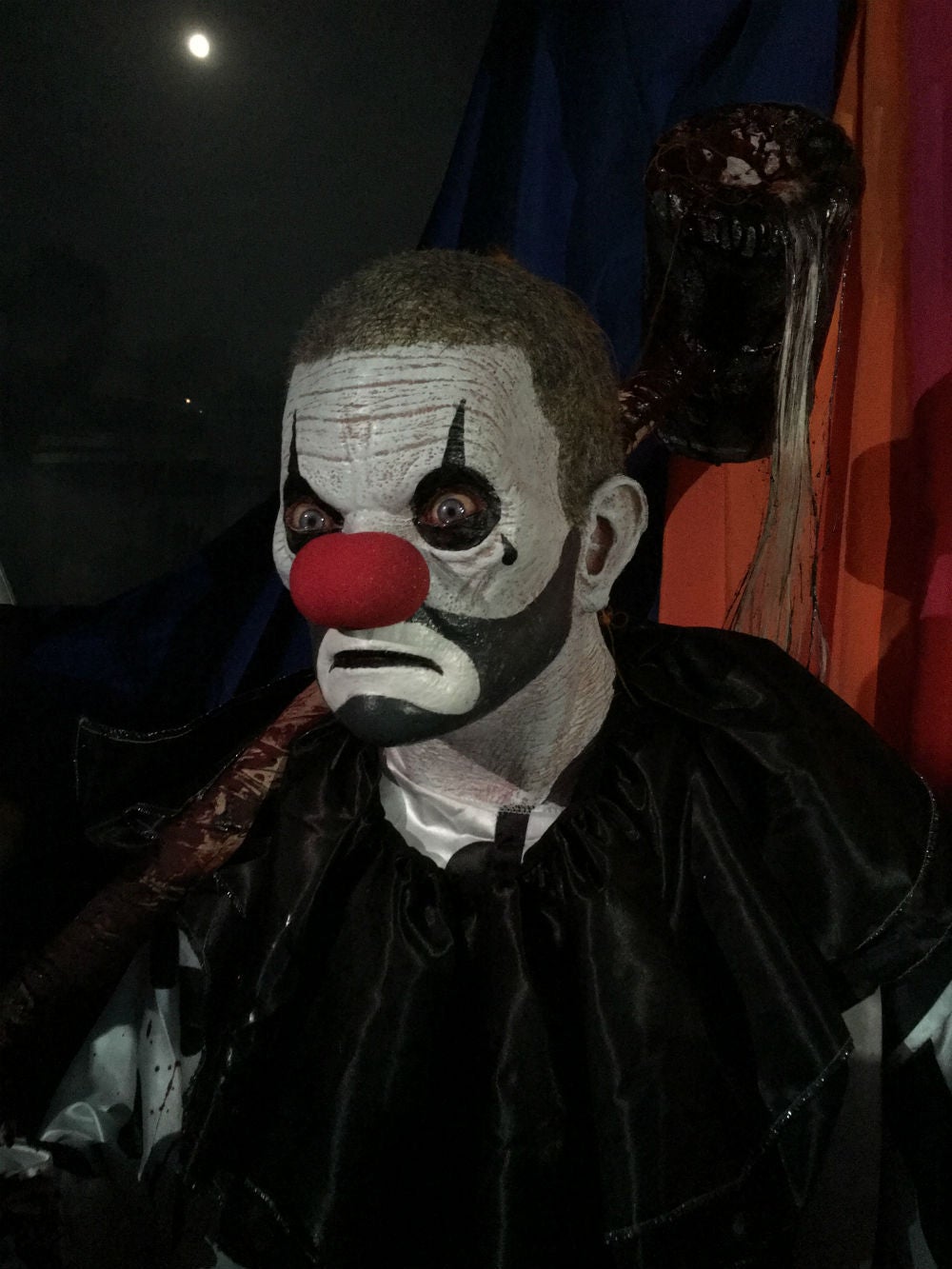 This is not a photo provided by Universal! I took this one and think it came out great. (It came out great because this creepy clown was stationary.)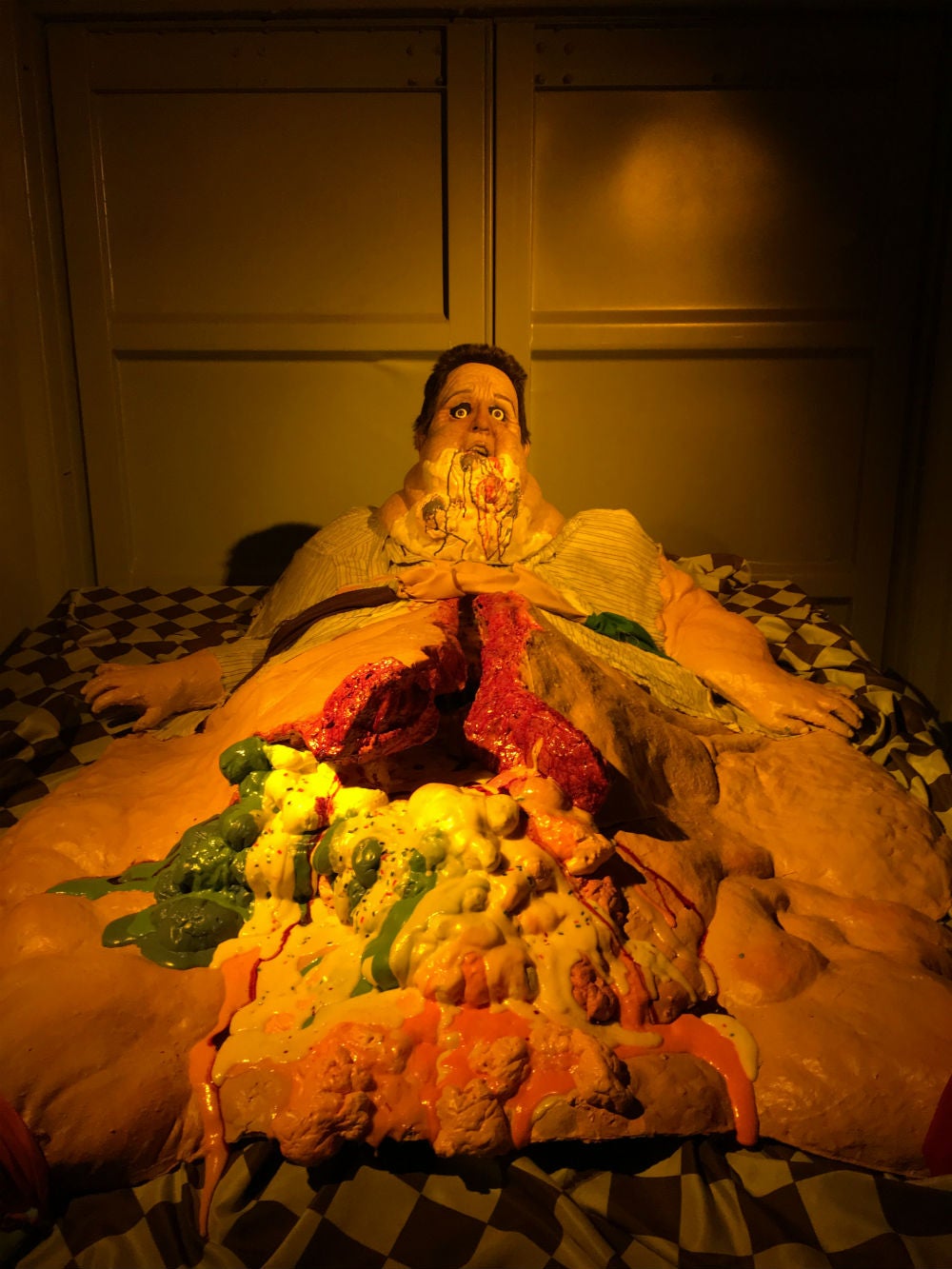 I also took this photo. Anyone hungry?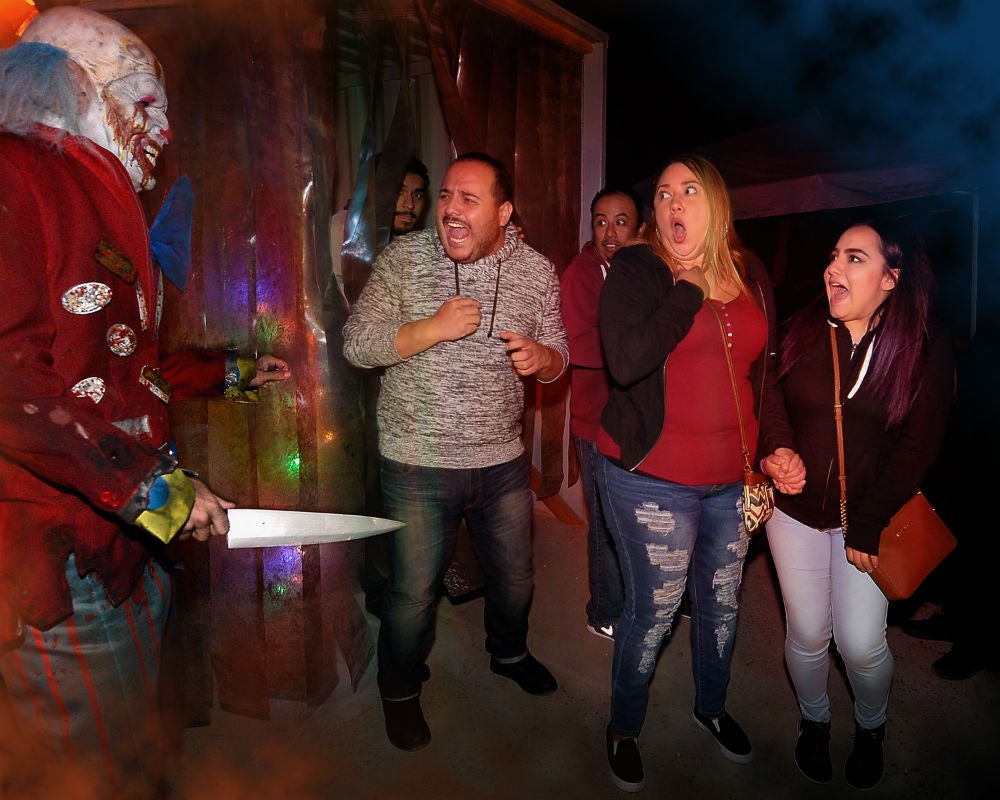 ---
The Walking Dead
After being the most popular maze for years, Universal Studios Hollywood decided to install a permanent maze into their park, open all year. Of course, it remains open during Horror Nights.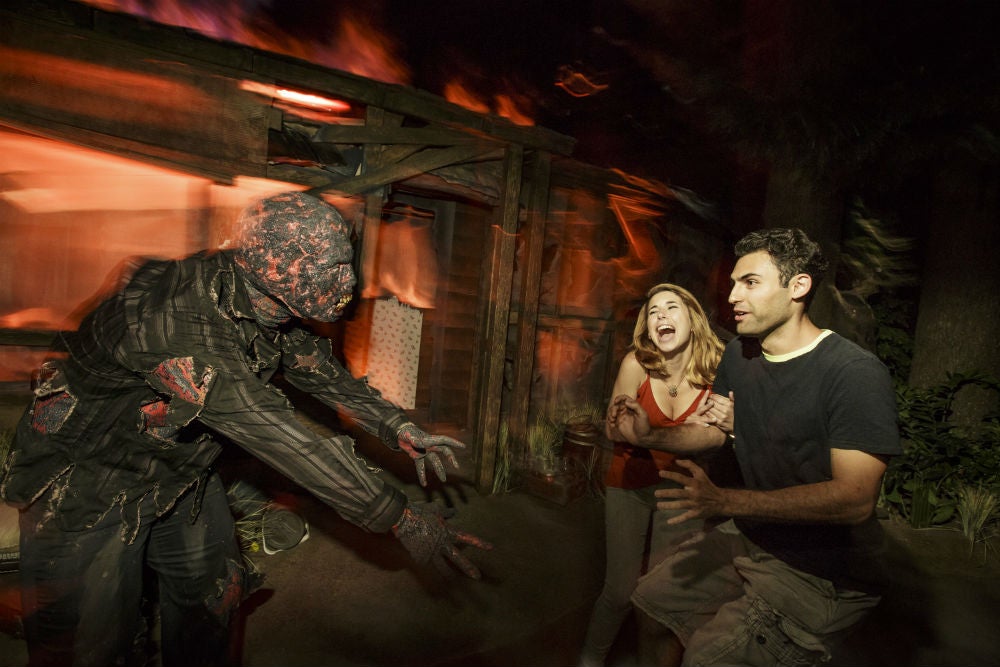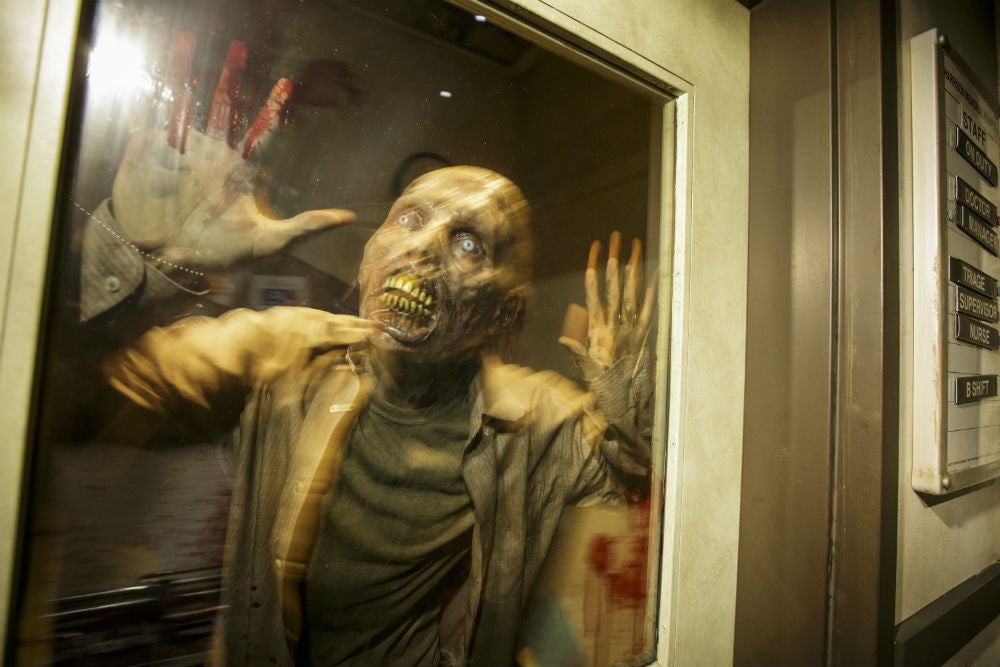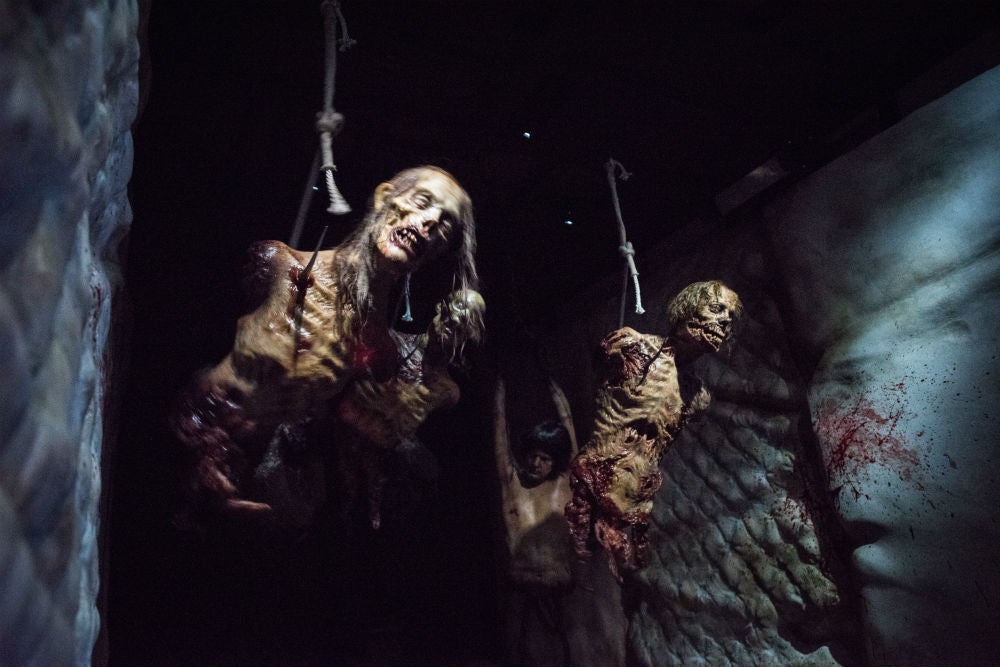 If you like to be grossed out and scared, Halloween Horror Nights is a blast. It's expensive, though, and very very busy as you get closer to Halloween. If you get to go, we highly recommend not just reserving tickets in advance, but also spending a little more to get the Front of the Line option. It will save you hours, literally. Get more information here.