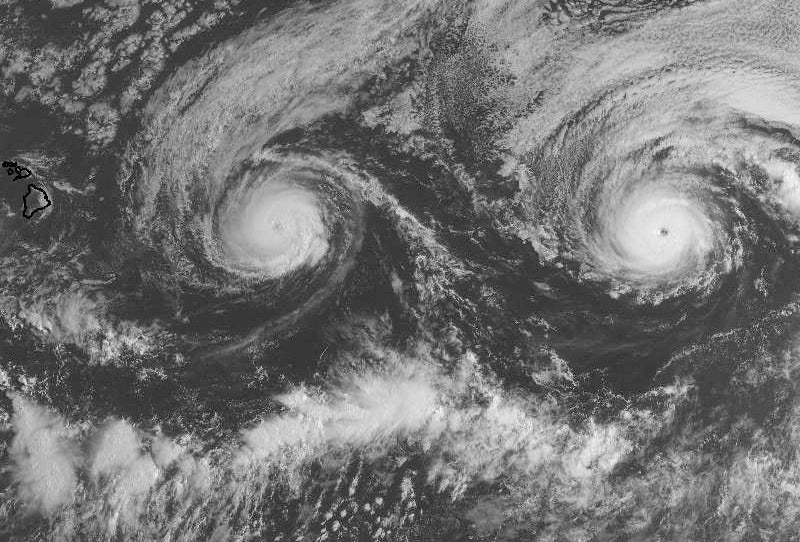 In what's being hailed a meteorological first, two back-to-back hurricanes are marching toward Hawaii, both of them threatening torrential rains and rip-roaring winds this week. The closer of the two, hurricane Madeline, could break a second meteorological record as the first hurricane to strike the Big Island since bookkeeping began in 1949. Hurricane Madeline (left) and Lester (right) churning toward Hawaii on Monday. Image: NASA via Weather Underground
Rumbling west at approximately 14km/h, Madeline is currently packing Category 3 windspeeds of 193km/h. Its latest track has the storm passing south of the Big Island on Thursday, although as meteorologists Bob Henson and Jeff Masters point out over at Weather Underground, it's too early to rule out the possibility of landfall on the island of Hawai'i. In any case, the storm is expected to bring heavy rains and 65 to 80km/h wind gusts to the island later this week. A hurricane watch is in effect for Hawaii County.
"What's concerning is that even if Madeline stays offshore, that will put the Big Island on the righthand side of the storm," Henson told Gizmodo. "That's more dangerous because of how winds rotate in a hurricane, and because those winds will be pushing up very high mountain slopes, which will squeeze out a torrential amount of rain."
Five day storm track for Hurricane Madeline, via NWS.
Following closely on Madeline's heels is Hurricane Lester, which also wields Category 3 windspeeds and is slowly gaining ground on its sister storm, moving east at 23km/h. Roughly 1600km east of Madeline at the present, Lester is tracking in a more northwesterly direction, and is expected to pass several hundred kilometers north of Hawaii on Saturday. Nevertheless, this storm could also bring torrential rainfall and powerful surf to towns and cities that haven't had a moment to catch their breath.
Hurricanes are rare in Hawaii — the conditions that favour their development tend to form more to the south — and to watch two barrelling toward the island archipelago at the same time is a first for meteorologists. According to Henson, a combination of ocean temperatures 1.1 to 1.6C warmer than usual and favourable atmospheric conditions are to blame.
"Usually the waters [along this storm track] are on the edge of what's needed to support hurricanes," Henson said. "Now, they're just warm enough, and it's making a big difference."
Henson added that long-term ocean warming is part of the story, meaning Hawaii could be in for more hurricanes as the planet continues to heat up. But the atmosphere also needs to be conducive, with very uniform windspeeds so that the storm doesn't tip over. Right now, the atmosphere is just about perfect, with warm air rising, spreading out and being hauled away by strong upper-level winds that act as an outflow channel.
For Hawaii, there is one silver lining to this ominous situation: Nearby cyclones tend to spin around each other, in a phenomenon known as the Fujiwhara effect. "What this means is the one ahead in line gets angled a little to the left, while the one behind is angled slightly to the right," Henson said.
In other words, the Fujiwhara effect could turn Madeline a bit further to the south while nudging Lester slightly further north, steering both storms clear of the Big Island. "The irony is, if if only one of these storms were there, there'd be a bigger chance of a direct hit," Henson said.