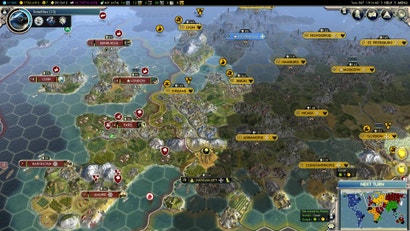 This is not a drill. A modified version of Sid Meier's Civilization V is being brought to high schools as of next year.
Civilization EDU will provide students with the opportunity to think critically and create historical events, consider and evaluate the geographical ramifications of their economic and technological decisions, and to engage in systems thinking and experiment with the causal/correlative relationships between military, technology, political and socioeconomic development.
Developed by Firaxis Games, Sid Meier's Civilization has sold-in more than 34 million units worldwide, and is recognised as one of the greatest strategy franchises of all-time.
In Civilization V, players strive to become Ruler of the World by establishing and leading a civilisation from the dawn of man into the space age, waging war, conducting diplomacy, discovering new technologies, going head-to-head with some of history's greatest leaders and building the most powerful empire the world has ever known.
Nonprofit learning company GlassLab says it is "thrilled" to offer Civilization EDU as part of its collection of games for next generation learning, stating "This beloved game is an important addition to the rich learning resources the LRNG ecosystem offers online, in classrooms, and through the communities that are participating in the LRNG Cities movement."
GlassLab will add a learning analytics engine to Civilization EDU to capture students' progress and assess their problem-solving skills — harnessing the popularity and innovation of interactive entertainment and turning it into a powerful tool for the classroom and alternative to standardised tests.
Teachers who use Civilization EDU will have access to an online dashboard that will provide reports on students' progress, demonstrating how in-game accomplishments relate to problem solving; developer diaries; gameplay tutorial videos, and instructional resources, including an in-depth gameplay guide and lesson plans aligned to academic and 21st century standards.
Strauss Zelnick, Chairman and CEO of Civilization EDU publisher, developer, and distributor Take-Two says the company is incredibly proud to lend one of the industry's most beloved series to educators to use as a resource to inspire and engage students further.
"Civilization has challenged millions of people around the world to revisit and experience history, pursue boldly exploration, and create their own societies based on their passions and freedom of choice," Zelnick said. "I can't think of a better interactive experience to help challenge and shape the minds of tomorrow's leaders."
Sid Meier himself, Founder and Director of Creative Development at Firaxis Games weighed in on the move, stating although the focus for Civilization has always been on entertainment first, he believes players — young and old — enjoy learning, even if they don't always enjoy education.
"For the past 25 years, we've found that one of the fun secrets of Civilization is learning while you play," Meyer added. "Civilization players find fun in discovering new civilizations, running into famous historical leaders, and charting their own version of human history."
"Along the way, players learn valuable lessons from their success and failures and are able to try again, employing different choices and strategies. We're absolutely thrilled to be partnering with GlassLab and I am excited to see Civilization EDU in classrooms next year."
Connie Yowell, CEO of Collective Shift and its global learning movement LRNG, which is merging with GlassLab says that education today too often focuses on what can be measured, rather than what young people need to know, and Civilization EDU is "a perfect example of how games can be used to teach and assess key 21st century skills that are hard to measure on multiple-choice tests".
Michael D. Gallagher, President and CEO of Entertainment Software Association pointed out that video games are today's most dynamic and compelling art form in the world, and its ability to captivate and engage audiences of all ages is unparalleled.
"Our industry defines the intersection of creativity and technology," Gallagher says, "and we are increasingly finding unique ways in which we can transcend entertainment to enhance our society for the long-term."
Civilization EDU will be available for download in 2017 from specialised partners Houghton Mifflin Harcourt, SMS Tech Solutions, Edmodo and Learning.com, in addition to other distributors.