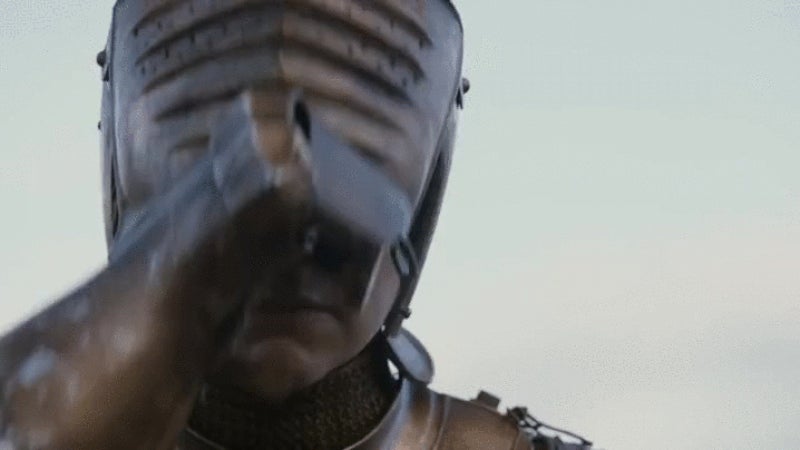 Making a rare public appearance, George R.R. Martin was a guest at Balticon last weekend, where the author read a new extract from Winds of Winter. But the most intriguing tidbit he revealed to fans wasn't actually in the chapter — instead, he confirmed a surprising backstory for everyone's favourite kickarse, Brienne of Tarth. As reported by Vanity Fair, Martin told fans that Brienne's ancestry stretches back into Westerosi history, and has a connection that is partially responsible for the looming, bulky frame that saw her mocked and scorned before she became a self-made knight. Because apparently, Brienne counts Ser Duncan the Tall, one of the most famous knights in Westeros, among her ancestors.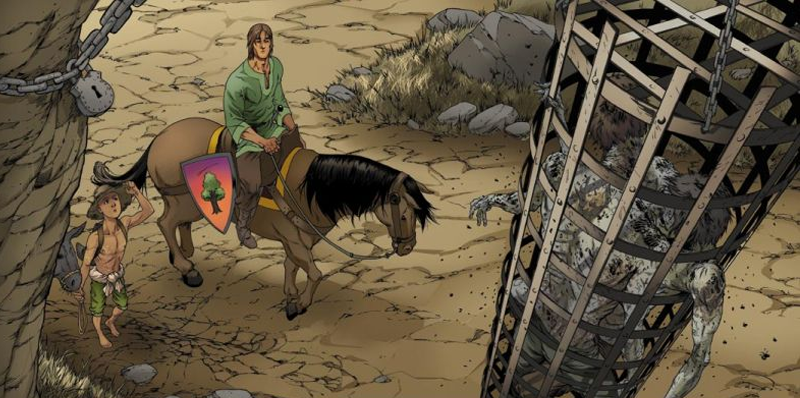 Duncan and Aegon as they appear in in the Hedge Knight comics adaptation. Art by Mike Miller
Show fans may not be familiar with Duncan (Joffrey mentions him when reading out the history of the Kingsguard in an episode from season four), but A Song of Ice and Fire readers should be more than familiar with the name. Duncan starred in Martin's spinoff series of novellas Dunk and Egg. Much lighter-hearted and set many years before the events of the main books, the stories recount the adventures of legendary hedge knight Duncan, better known as Dunk from his days as a commoner in Flea Bottom, and his squire, "Egg".
Egg is actually Aegon Targaryen, who starts the stories as a prince well down the line of succession for the Iron Throne, but who eventually becomes King Aegon V. Dunk and Egg travel all over Westeros performing knightly deeds, while the young Targaryen was able to experience his family's kingdom from a commoner's perspective.
We've noted in the past that Dunk and Egg's adventurous relationship has similarities that could be drawn between Brienne and Pod in the books (as well as how unspeakably tragic they are, when you think about where Duncan and Aegon end up), but at least we know that there's actually a much stronger connection between the two knights. Plus, Dunk is often cited as one of Martin's favourite characters to boot, right down to him requesting HBO turn the novellas into TV movies, so it shows how highly he regards Brienne to link her lineage to him. Ad for fans, it's very nice to know Duncan's chivalrous legacy is alive and well within the Maiden of Tarth.