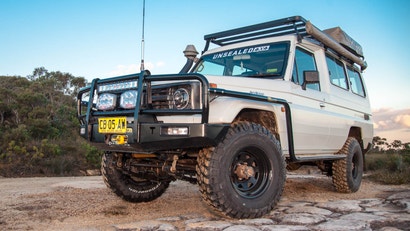 Anyone who has travelled through the red centre knows the feeling — there's awe at the beauty of our country, a feeling of freedom, and with 70 per cent of Australia — over 5.4 million square kilometers — receiving no mobile signal, a sense that if an emergency happens (unless you have a satellite phone) you're probably screwed. Now while you might be far from a mobile tower out bush, it turns out you're never too far from a Toyota LandCruiser. Seriously.
One in ten LandCruisers manufactured globally are purchased in Australia, there are nearly half a million of the vehicles in operation across the country. That's why a new device is being fitted to LandCruisers, enabling them to create a pop-up emergency network that will bring communications to the most remote parts of the country.
Here's how it works: a simple plug-and-play device has been engineered to use a mix of Wi-Fi, UHF and Delay Tolerant Networking (DTN) technology to turn vehicles into communications hotspots each with up to a 25km range. Distressed parties in the range of the roaming network can use their ordinary mobile phone to log a call or send a geo-tagged message.
Data is then passed from LandCruiser to LandCruiser on a store-and-forward basis. As soon as one LandCruiser gets in range of a network base-station, the data is uploaded and first responders can be alerted. The network promises to provide a first-of-its-kind disaster response lifeline one of the most cut-off places on earth.
The technology is being piloted in a fleet of LandCruisers fitted with the device in 50,000km2 of the remote Flinders Ranges, one of the most harsh and dangerous parts of the Australian outback. Saatchi & Saatchi Australia in partnership with Flinders University is pioneering the device, with Toyota currently evaluating the pilot to determine the next phase of development for the devices, with other potential areas of application to follow.
"Humanitarian technologies aren't just something nice to have, they all too often end up being the difference between life and death." says Dr Paul Gardner-Stephen of Flinders University.
Have you ever been caught out in an emergency without mobile range? Let us know how you got out of it in the comments!