Apple launched a tech support Twitter account this morning. It already has over 55,000 followers. Shockingly, no one's trolling it. People are asking actual tech support questions.
Welcome to... pic.twitter.com/EZA8eRycDs

— Apple Support (@AppleSupport) March 3, 2016
"We're here to provide tips, tricks and helpful information when you need it most," the Twitter bio reads. "And if you have a question, well - we're here to help with that too."
And people are already taking Apple up on its offer in droves. In between the warm welcomes and suspicious lack of jerks, Apple users are taking the opportunity to dump all tech questions and photos of frayed charging cables — with thousands of new followers by the hour.
Apple's responding to the crazy crowds with hundreds of tweets. "We offer support via Twitter in English" is one of the common refrains so far, as is "Please DM us."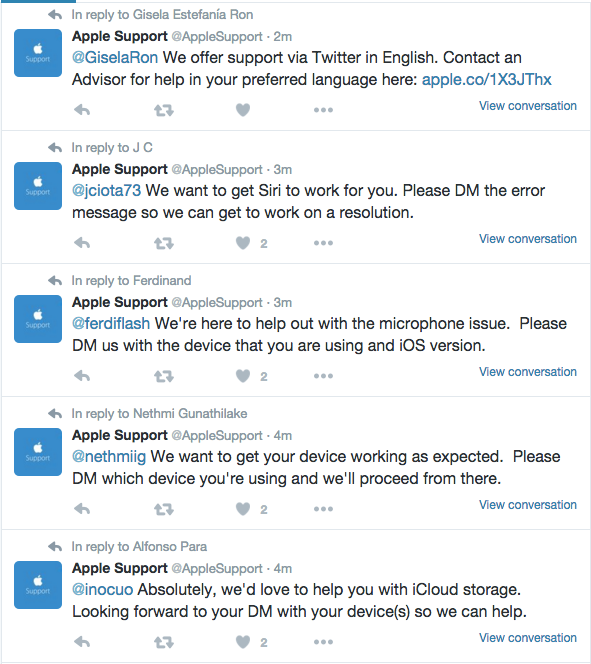 And look, Apple has a sense of humour, too! To, y'know, keep it real: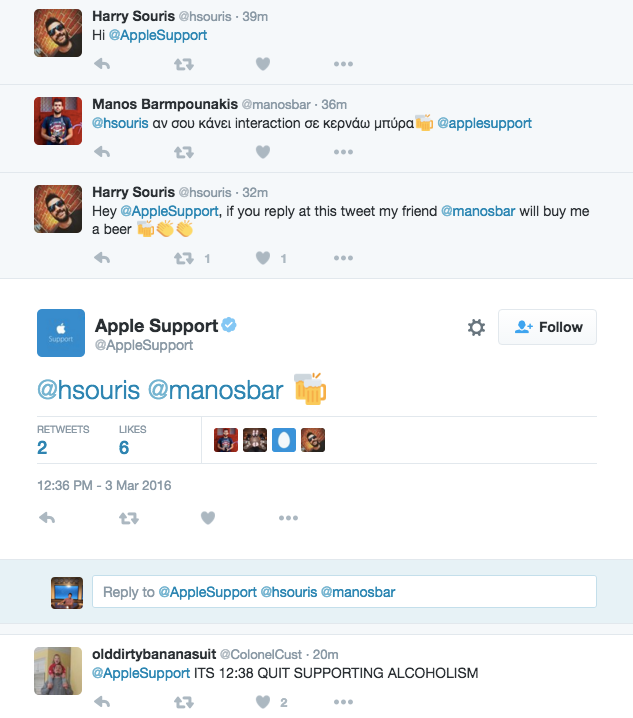 Some folks are asking the tough questions:
Why isn't there a sausage emoji? Explain yourselves @AppleSupport

— Ed Kelly (@edkelly) March 3, 2016
.@AppleSupport how many apples should I be eating every day?

— Bryan Yang (@bryanyang) March 3, 2016
Hi @AppleSupport. I cannot seem to hear anyone on my iPhone. Can you assist? #AppleSupport pic.twitter.com/BUAvc1tIfZ

— Jake Counselbaum (@jakecbaum) March 3, 2016
Some users celebrated the long overdue Twitter debut:
@AppleSupport I've been waiting for y'all pic.twitter.com/oT48GCtJDW

— #woohive. (@daysafterodeo) March 3, 2016
Others are using @AppleSupport to air rumour speculations:
@AppleSupport bitch where these 4 inch phones at

— daniel™ / ty for 200 (@nothumxn) March 3, 2016
But testy feedback remains strangely scarce:
HEY GIRL! @AppleSupport WHY THE FUCK DO YOUR CHARGERS FUCKING SUCK????

— @MADBLACKTHOT (@MADBLACKTHOT) March 3, 2016
Why go to the Genius Bar when you can just beam Apple 140 characters worth of woes on Twitter while you're hungover on the couch with a bag of chips? We'll keep an eye on @AppleSupport, which has been tweeting like a songbird nonstop since it went live hours ago. Keep the sausage queries coming, friends.