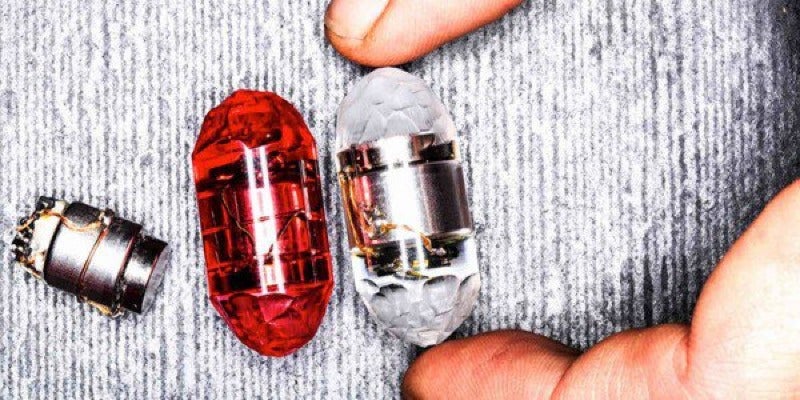 Here's something for all you hardcore party animals: when you can't get to the rave, you now have the option of the "Audiopill". It's a miniaturised sound system housed inside a plastic microcapsule that you can swallow to groove internally to those sweet beats. And yes, it's as crazy dangerous as it sounds. According to the project's Indiegogo page, Czech conceptual artist Jan Poope (real name: Jan Strmiska) got the idea while playing around with an approved Italian medical device called Sirio, which supposedly uses low-frequency ultrasound to speed up the healing process. (Therapeutic ultrasound is a very real application, and Sirio's manufacturer claims to have the stamp of approval from the Italian Ministry of Health, for what it's worth.)
He noticed that the "patients" experienced whistling sounds inside the head. So why not make an tiny audio system — excuse me, an "experimental art device" — inside a microcapusle that can be swallowed? Because "ultrasound scratching on human bodies is a brand new music genre!" The Audiopill, Strmiska writes on his IndieGoGo page, will
make you feel like you are standing in the middle of a concert hall with a powerful audio system inside your body. Or like you are standing in a factory workshop full of metal working machines and ramming an impact drill in your stomach. The only difference is there's absolute silence all around you and you are experiencing the music in perfect privacy and only from the inside.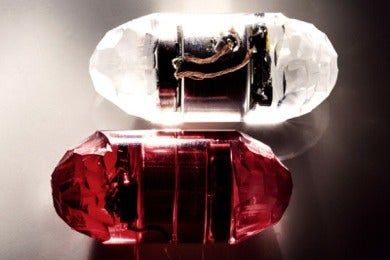 Credit: Audiopill/Indiegogo
Wait — tell me more about this impact drill to the stomach? Because that sounds... not so nice. It takes about an hour after swallowing the Audiopill for it to make its way to the gastrointestinal tract, at which point it will cause intense pain in the pelvic region. In fact, "You may for a while regret your experimental courage," Strmiska admits.
He swears it's all worth it in the end, though, for the ten-hour techno rave party that will commence in your body once the pain subsides. ("BANG insanity BANG joy BANG horror BANG elation!") But he suggests you might want to inspect your own faeces after the party's over — just to make sure the Audiopill has successfully exited your body.
Important caveat: when Strmiska consulted with various doctors and polymer scientists about his prototype, he was told in no uncertain terms to "never swallow anything like this". You should really listen to those doctors, dude.
Call me old-fashioned, but whatever happened to just popping some ecstasy with thousands of your closest friends at Burning Man to get your groove on? Apparently the Audiopill didn't appeal to anyone else either: Strmiska's Indiegogo campaign didn't even come close to its €150,000 ($234,738) goal, although someone did buy a prototype device for €120 ($187).
Is this a hoax, or the real deal? Or just another bizarre performance art project run amok? Live dangerously if you dare. Just remember that Strmiska is totally, 100 per cent not responsible if your little experiment goes horribly wrong.
[Via Oddity Central]
Top Image: Audiopill/Indiegogo