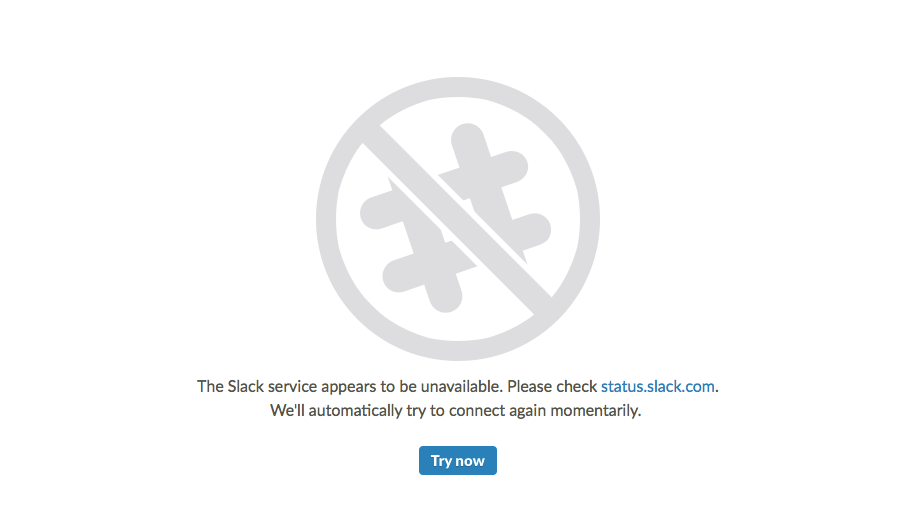 Today the work chat program Slack suffered intermittent outage for hours, becoming a trending topic on Twitter as workers fought to remember alternative routes for communication. How did you survive without Slack?
Slack CEO to investor: "Watch how powerful we are…Bill, hit the button." *slack goes down* CEO: "Now open Twitter." Investor: $$$$$

— Matthew Keys (@MatthewKeysLive) November 23, 2015
Slack is a great, slick program for communicating with teams of people that has come to dominate its field, especially in tech and media. Generally Slack is trusty and stable, as demonstrated by the freaked-out reactions whenever it was down. "Slack is a flickering flame today," wrote my colleague Cheryl Eddy during one of the rare connected moments, turning our agony into poetry.
Here at Gizmodo we coped, doing a lot of glaring at our screens, lobbing "Is it back for you? Can you see me now?" desperate questions at co-workers and reverting to "email," an ancient form of textual exchange.
When @SlackHQ is down and your whole team has to resort to e-mail #only90skidsremember pic.twitter.com/ZvNuXqQEra

— Kramer Stuvland (@KramerStuv) November 23, 2015
So that was us. What happened on your end? How did you or your team fill the Slack void?