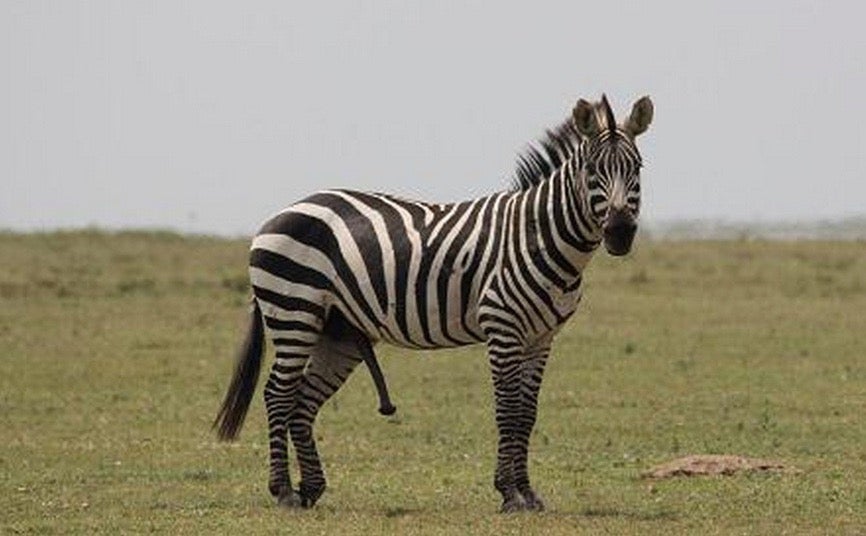 People following biologists on Twitter got a bit of a surprise this morning: their feed is full of genitals. They can blame Anne Hilborn (@AnneWHilborn) and a few of her colleagues at the Department of Fish and Wildlife Conservation at Virginia Tech.
Last night, Hilborn's labmate Chris Rowe (@chrisrowebot) and their research supervisor Marcella Kelly (@marcellakelly) were posting pictures of animal genitals on their lab's Twitter account (@Whapavt). When Hilborn added some more from her collection, one of their readers called it a "junk-off". And thus a hashtag was born.
Says Hilborn, "I figured if I had lots of junk pictures, other biologists would too since pretty much all biologists love junk." She posted the challenge, and got things started with a few snaps from her African field sites.
ATTEN: WE ARE HAVING A JUNK-OFF https://t.co/jPYnudIL36

— Anne Hilborn (@AnneWHilborn) August 26, 2015
Zebra junk #JunkOff #mammalwatching pic.twitter.com/IE3rIhzS3R

— Anne Hilborn (@AnneWHilborn) August 26, 2015
The entomologists and malacologists got on board fast.
Yeah whatever, mammals. No one beats Protanilla ants in the #JunkOff. https://t.co/nR4YCzxKUh pic.twitter.com/Grwt5Rzr0z

— Alex Wild (@Myrmecos) August 26, 2015
This #JunkOff needs more inverts like this gorgeous #whelk proudly showing off what he got! ;) pic.twitter.com/PwSLP6dhXW

— Carina M. Gsottbauer (@CarinaDSLR) August 26, 2015
And before long, biologists were coming out of the woodwork to show off exactly how complex and bizarre animal genitals can get.
Getting some bats in on the #JunkOff action. Wrinkle faced bat's wrinkle faced junk. Points for style. @AnneWHilborn pic.twitter.com/YW22FBgBHd

— Alyson (@alyb_batgirl) August 26, 2015
@AnneWHilbon Here's shore crab junk showing the four parts that form a pair of syringes. #Junkoff Photo:bio-boffin pic.twitter.com/gRWQkcpWsh

— P. Sean McDonald (@pseanmc) August 26, 2015
Black widows have corkscrew-shaped emboli - tips break off inside female's repro. tract #junkoff [photo @MikeHrabar] pic.twitter.com/wsw0zLvqy7

— Catherine Scott (@Cataranea) August 26, 2015
Let's take #Junkoff into the #deepsea. Check out the claspers on this Roughskin #dogfish from the #Azores. #sharks pic.twitter.com/nf8skfSv2U

— Christopher Bird (@SharkDevocean) August 26, 2015
Burmese pythons appear to be able to do the YMCA dance with their man-tackle... #JunkOff Via http://t.co/LoFBGwaH4F pic.twitter.com/7UBFBWy8To

— Rob O' Sullivan (@Rob0Sullivan) August 26, 2015
Botanists showed up to show that plants and fungi have their own version of genital organs: displaying heavily swollen anthers...
I have to say, though, that this fireweed's junk is engorged enough to make some mammals jealous... #JunkOff pic.twitter.com/w34o5Uw8JB

— Deez Weedz (@WyoWeeds) August 26, 2015
...And fungal reproductive structures that happen to look like some other reproductive organs.
https://twitter.com/KKTreseder/status/636394037868519424
The thread leaned heavily toward male anatomy, but females weren't completely ignored...
Now this... this is a clitoris. The Central American spider monkey (Ateles geoffroyi), ladies and gentlemen. #JunkOff pic.twitter.com/WjTf3IISfU

— christopher schmitt (@fuzzyatelin) August 26, 2015
Here's some lady junk for #JunkOff: female #whelk with small penis (imposex = females develop male sex organs). pic.twitter.com/cBPZOdQ5iK

— Carina M. Gsottbauer (@CarinaDSLR) August 26, 2015
The wondrous #Fossa (Cryptoprocta ferox) has to get in on this #JunkOff action. http://t.co/edgZRb1dH2 pic.twitter.com/cIUuoPgwTi

— Elsa Panciroli (@gsciencelady) August 26, 2015
Do girl bits count? I'm posing for a photo, unaware that Beni is showing off her swelling behind me #JunkOff pic.twitter.com/iLaLPqjGpm

— Addy (@adriana_lowe) August 26, 2015
There's more in the #JunkOff stream by the minute. Go check it out.