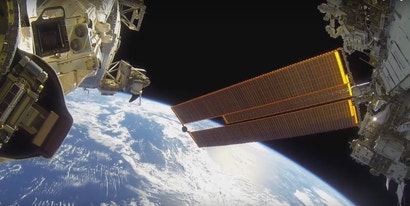 Russia's unmanned Progress M-28M vehicle docked with the International Space Station today, just week after SpaceX's Falcon 9 rocket exploded, destroying its payload of supplies and science experiments bound for ISS.
The spacecraft brought fresh supplies to the space station's crew, including astronaut Mark Kelly and cosmonaut Mikhail Kornienko, who are spending a full year on the Space Station to study how long periods in space affect the human body and mind. In a post on Twitter, Kelly sounded relieved to see the crew's first new supplies since April 14th.
The third time's the charm as the say! #Progress60 arrives overnight. Great news. #YearInSpace (with supplies!) pic.twitter.com/BRRFA13ER1

— Scott Kelly (@StationCDRKelly) July 5, 2015
ISS never received its previous shipment, which included experiments and new water filtration equipment, since it disintegrated along with SpaceX's Falcon 9 rocket last week. Before that, the last Progress resupply mission spun out of control shortly after its launch in April and eventually burned up during re-rentry over the Pacific Ocean. If this resupply mission had also failed, the space station's crew would have had to wait until mid-August for a Japanese spacecraft to make a delivery.
NASA said last week that the crew has enough supplies on board to keep them comfortable until at least October, but the resupply problems had been a source of tension. Besides, everyone enjoys fresh groceries.
#Progress docks to Pirs docking compartment at 3:11am ET. Crew reports, "Feels like Christmas in July" pic.twitter.com/pVoGUG5aQL

— Intl. Space Station (@Space_Station) July 5, 2015
Three new crew members are expected to arrive aboard a Russian Soyuz capsule on July 22, which will then bring home three of the current crew members.