You've got to really love your books to spend $300 on this new, top-of-the-line e-reader from Amazon.
Gizmodo loves technology. Our product reviews are presented thanks to Dick Smith.
What Is It?
Specifications
Screen Size: 6-inch
Screen Type: Paperwhite E-Ink HD e-paper (touchscreen with bezel touch buttons for page flipping)
Resolution: N/A, 300dpi
Battery: Up to six weeks
Storage: 4GB
Charging: yes (microUSB 2.0)
The cream of Amazon's e-reader crop. A $300 ode to reading.
The Voyage is only 180g and measures 162x115x7.6mm, so it'll likely find a home in a lot of the handbags and backpacks of commuters. It looks like Australia is only getting the Wi-Fi version of the Kindle Voyage, which has 4GB of internal memory and doesn't need to be plugged into a PC — it can access the Kindle Store through any 'net-connected wireless.
Amazon rates the Kindle Voyage's battery life for six weeks of use; that figure assumes the e-reader will be used for half an hour per day with Wi-Fi off and the screen brightness set to a moderate level. It'd be easy to drain the Voyage much faster if you're an avid reader, to be fair, but it only takes three hours to charge completely from an empty battery.
At 7.6mm thick, it's actually quite close in a lot of dimensions to Apple's iPad mini — a much more powerful but also much more expensive tablet.
Dick Smith sells the Voyage for $299.
What's Good?
The Voyage has a few premium touches in an attempt to make it worth that extra $100 on top of the mid-range Paperwhite. First of all, the design.
Just look at it! It's gorgeous. Almost like a baby Kindle Fire HDX. The HDX is Amazon's premium design, so it's unsurprising to find it on the top-of-the-line e-reader model.
And it doesn't just stop at a few funky edges, either: the Voyage has a micro-etched glass screen that's designed to cut down on glare when you read it. As a result, it's really easy to read in full sunlight, and the fact that it's completely flat on the front means that there's no shadow from the raised plastic bezel.
That bezel also plays host to a few interesting features. Those two stripes aren't just there to make the device look funky: they're actually page turn buttons, or what Amazon calls PagePress.
Give one a gentle squeeze and the page will zip over to the next one, giving you a pleasant bit of haptic feedback along the way. It makes for great one-handed reading with the Voyage, because it means you don't have to risk dropping it while reaching a finger over to switch pages, nor do you have to use a separate hand to flip.
The dots above the PagePress buttons aren't actually buttons at all: they're ambient light sensors. These take a look at the light around you and adjust the brightness of the screen's backlight accordingly. The Voyage's ambient light sensor goes as far as to gradually step the light down if you're reading for a long time so as to not hurt your eyes.
The whole unit, while still packing in a six-inch screen certainly feels more premium than the Paperwhite. It's ever so slightly thinner, and fits gorgeously into the exclusive Origami cover that Amazon has built for the device.
That cover folds itself into a little stand you can put on your desk or your lap (if you're well balanced) so you don't have to hold it while you read. It's nifty, but the coolest thing about it is how the Kindle clips in. Essentially, it doesn't: it's held there by really strong magnets so you aren't wrestling to get it into an annoying case and risking that beautiful glass screen in the process. Just snap, and it's done.
The magnet connecting the Voyage to the Origami case is also super-strong: we tried shaking the thing out of the case as well as holding it above us while in bed, and it didn't budge. You aren't about to drop this on your face when you lie down, that's for sure.
The absolute precision with how the Voyage was designed means that it's a reader geared to someone who demands sexy hardware above all else.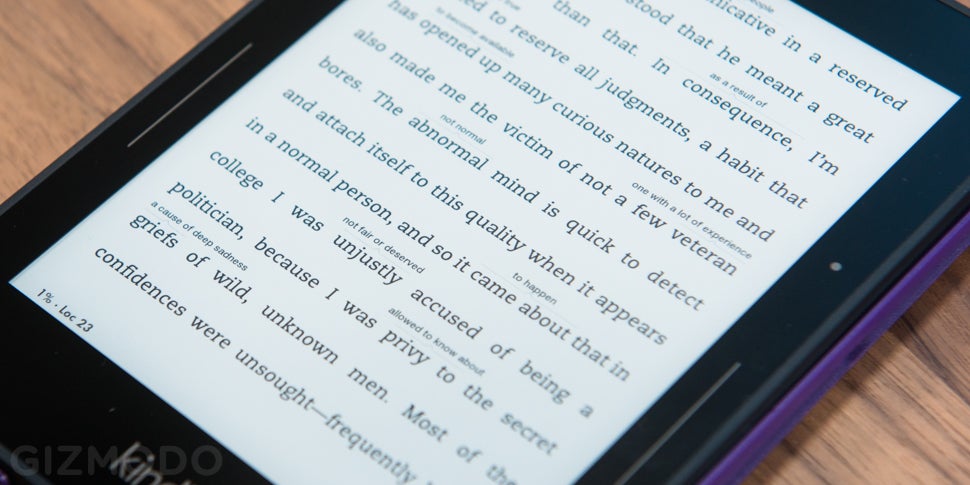 Using the reader is just as delightful as looking at it. That light-diffused, etched glass and the 300dpi screen just underneath it is a joy to read on. I've been reading my way though a few choice James Bond novels during this review, and it's excellent to read about the theft of a military plane in Thunderball on the Voyage's screen.
Amazon's book library is still amazing, and you now benefit from having a store that charges you in Australian dollars rather than in US. We've only found a few books where the Australian price differs from the US price in a way that would raise eyebrows.
Overall, the Voyage is a brilliant e-reader, but I'm worried it's not worth the money you're paying for it above the excellent mid-range Paperwhite.
What's Not So Good?
We talked about the premium design in how it looks earlier. The only real downside to that premium design story is that it's still essentially plastic and rubber all round. It has a premium design in the way that it looks, but the way that it feels still leaves a little to be desired.
Another thing that leaves you wanting more is the navigation system on the Voyage. It's designed to be as out of your way as possible once you get into a book, and that's a good thing. You jump into your book and everything fades away so that you can really get into your book. The problems arise when you want to do something else with the readers like go back to the menu, wander over to the store or just open up a menu.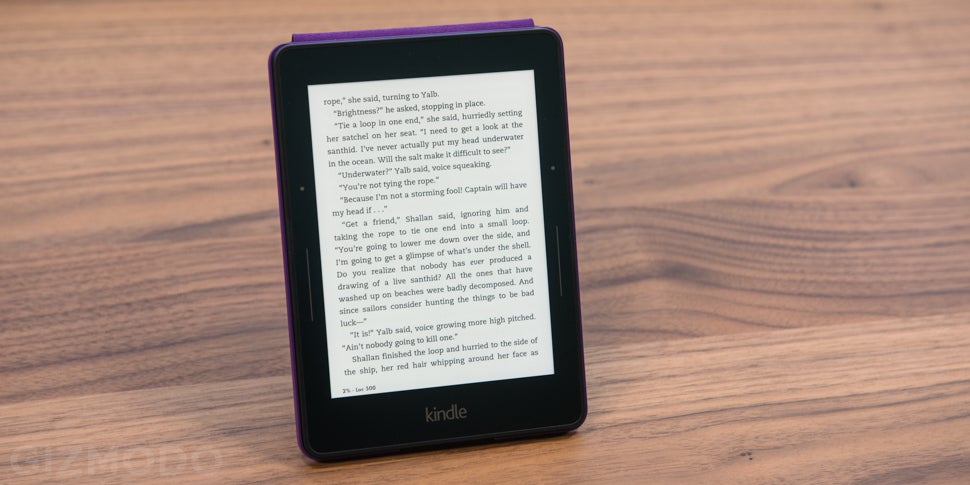 The menu itself is also frightfully ugly. The whole thing looks like a sad, unloved WAP browser from the 1990's, and it looks really out of place on a premium e-reader like this.
Amazon claims that the Kindle Voyage will also give you around six weeks of standby time, but I can faithfully say we didn't get anywhere near that before having to charge our device. It's still a long standby time of around a couple of weeks, but don't be fooled into thinking you can leave to go on an extended holiday without your charger.
It's also worth noting that the Voyage isn't waterproof, which is something Kobo has been building into its premium e-readers for a while now.
Should You Buy It?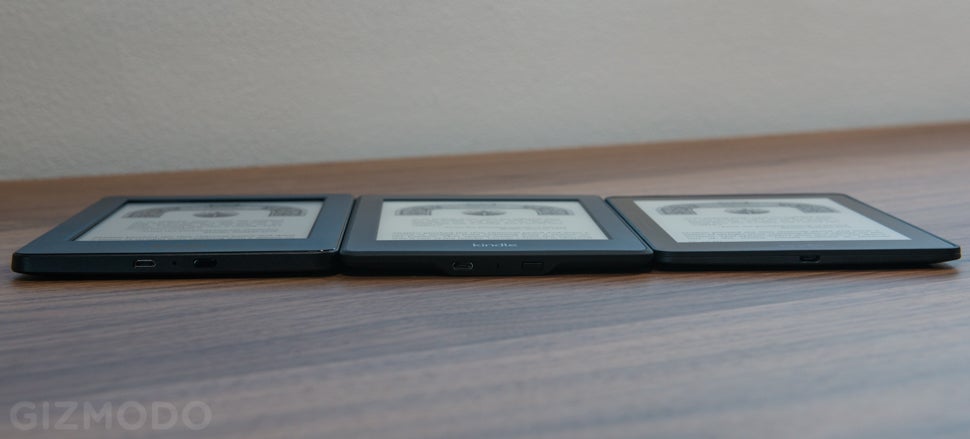 When I started reviewing the new, top-of-the-line Kindle Voyage, it made sense. The 300dpi display far outpaced that of the sub-100dpi display of the original Kindle, and made a measurable difference against the 212dpi screen of the then-current Paperwhite.
Since then, Amazon has updated the Paperwhite again to give it the same battery as the Voyage, the same six-inch, 300dpi screen and the same storage. It's slightly heavier, and slightly more boring to look at, but for $120 less the new Paperwhite does almost exactly the same job.
The only thing the Voyage really has over the Paperwhite is PagePress and the ambient light sensor, and I just don't think it's worth an extra $120 for those two things. You also lose out on the Origami case with the Paperwhite, but you're spoilt for choice with Kindle cases these days.
Perhaps if the Voyage came in at eight-inches rather than six, it might be understandable, but otherwise the Voyage is an ever-so-slightly smarter Kindle Paperwhite hiding inside the case of a Kindle Fire HDX.
$120 is a lot when it comes to e-readers, too. That's a whole extra Kindle 6-inch. Definitely get yourself a Kindle if you're into e-readers, just not this one.
Buy the Kindle Paperwhite and throw that extra $120 at books instead.
[clear]