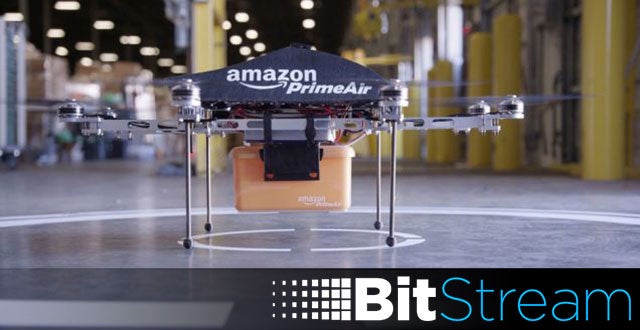 Technology is filled with all kinds of rumours, real and fabricated. It gives us a look at what might be and will be. All The News You Missed Overnight gathers the whispers all in one place to help you catch up.
On December 1, 2013, to much fanfare and next-level hype, Jeff Bezos announced Amazon Prime Air in the US. The idea seemed insane, implausible really, due to a bunch of air space regulation that hadn't even been thought of yet. But now that regulation is beginning to shape up, and Amazon says it's ready.
Yesterday, Federal Aviation Administration Deputy Administrator Michael Whitaker said that "within a year" a plan would be in place for commercial drones to operate in a public space. Reuters followed the announcement up with a very short report saying that Amazon "expects to have drone technology ready" as soon as these plans are announced. It would seem that something that appeared to be an insane idea might be taking one huge step toward actually happening.
But until an autonomous drone gingerly drops my latest Amazon buying binge on my doorstep, I'm going to remain a sceptic. [Engadget/Reuters]
---
GarageBand Gets Connected: Apple Music goes live June 30. GarageBand, a popular music-making app, gets a major update June 30. Coincidence? NOPE. According to Create Digital Music, GarageBand is expected to be integrated with Apple Music Connect — basically a MySpace for musicians built into Apple Music — so you can upload songs directly. Pretty "whoa" if true.

iPhone Soothsaying: Apple's famous tech fortune teller, KGI analyst Ming-Chi Kuo, says the next iPhone could be a teeny bit thicker and longer than current iPhone 6, but those extra millimetres may be packing in some Force Touch tech, a better battery, and finally eliminating that stupid camera bump. Death to camera bumps!

Twitter Gets Smarter: Yesterday, Twitter acquired Whetlab, a company that Twitter says will accelerate its "machine learning efforts." Although that is frustratingly vague, the one (and most probable) use case will be for moderation, specifically to guard against trolls and weed out abusive comments before they're even seen by anyone — which companies have been known to do before. [Twitter]
What You Might Have Missed on Gizmodo
Aussie University Bans Watches In Exams Over Cheating Risk Samsung Is Working On A Fix For A Security Flaw In 600 Million Galaxy Smartphones The HTC One M9 Camera Firmware Update Is Out Today For Aussies How To Find A Lost Phone New Kogan Agora: Octa-Core Power For A Proper Cheap Price Laptop Graphics: What You Need For Gaming, Browsing, Working On The Go Australia's Piracy Site Blocking Tech Would Redirect Pirates To That Crappy Digital Content Guide Fallout Shelter For Android: Bethesda Is Definitely Making It Tesla Australia Is Bringing Fast Chargers To You With Destination Charging You Can Now Buy The Apple Watch In Australian Apple Retail Stores...Sort Of The Game Trailers Of E3 2015 So Far [Even More Updated]