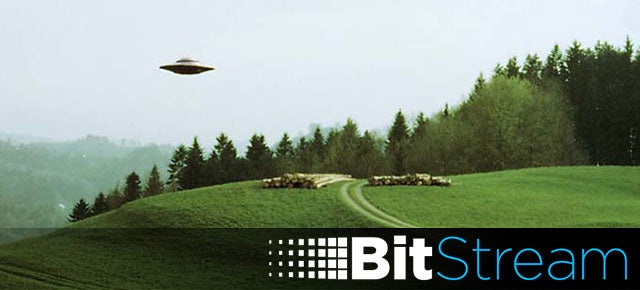 NASA ups its alien-searching game, LG's got a stylus-focused smartphone to show off, and tablets get even thinner (can you believe it?). BitStream is the news and rumours you missed in the last 24 hours.
Yesterday, NASA launched NExSS. No, this isn't some fancy satellite, an extraterrestrial rover, or a NASA/Google smartphone. Instead, it's a coalition of scientists spanning several scientific fields for one deliberate purpose — searching for life beyond our solar system. The Nexus for Exoplanet System Science is a new endeavour because the first exoplanet was only discovered 20 years ago. Now, we know more than 1000 exist with many, many more yet to be found. NExSS will use earth, planetary, heliophysics and astrophysics to help "classify the diversity of worlds being discovered" and further our understanding of what makes planets inhabitable.
I want to believe, and it seems NASA does too. [NASA]
Apps and Devices
Several days before the G4 reveal, LG outs a 5.7-inch stylus-enabled smartphone that won't cost you a fortune, but price and availability remain a mystery. [LG]
Tidal Discovery lets musicians upload their music directly to the platform without needing a distribution service. But the real question is... will anyone be listening? [Smashd]
Clear is an app that will scrub your social media clean if you've got an important interview coming up, or you could just not be an arsehole on the internet. Either works! [9to5Mac]
Apple Watches may not be available in Apple stores, but these six fashion boutiques will have the wearable for sale this Friday. This Apple Watch thing may be getting a little out of hand. [NYT]
Amazon wants to deliver packages not just to your home, by drone, or within one hour... but also directly to your car's trunk. This Amazon shipping thing may be getting a little out of hand. [Amazon (Google Translate)]
Rumours!
Microsoft has been quiet on the high-end smartphone front, but new rumours suggest the upcoming 940 could have a 5.2-inch screen. [Wmpoweruser]
Sony's Japanese Z4 is out in the wild, but two entries in an Indonesian database suggest that Sony may have a Z4 Compact and a Z4 Ultra up its sleeve. [Phone Arena]
The Galaxy S2 Tab is going to be thin... I mean... stupid thin. [OnLeaks]
(Update) #Samsung's 9.7" Galaxy Tab S2 = Galaxy S6 inspired design ≃ 237.17x169.58x5.5mm

— OnLeaks (@OnLeaks) April 23, 2015
Crash tests offer slow-motion destruction for a good cause — making sure you're safe behind the wheel. Here's all the gear that makes that wanton car destruction useful.
What You Might Have Missed on Gizmodo
Another Example Of Why Australia's Metadata Retention Scheme Is A Stupid Idea Watch Australia's Latest 'Daily Show' Clone Take On Internet Piracy Samsung Series 9 Curved SUHD TV: Australian Review Stan and Netflix Are Owning The Australian Video Streaming Market Asus Transformer Book T300 Chi: Australian Review Chart: Top 5 Digital SLR Cameras Under $1500 Google's Wireless Service Is Almost Definitely Not Coming To Australia Uber Expands Into Newcastle, Offers Free Rides After Devastating Storm The Netflix Tax: Coming To A Country Near You Apple Is to Tech as Star Wars Is to Movies. Just Think About It. Pro/Con: Why Google's Fi Could Be Awesome and Terrible Tesla's New Battery Could Solve One of Solar's Biggest Problems