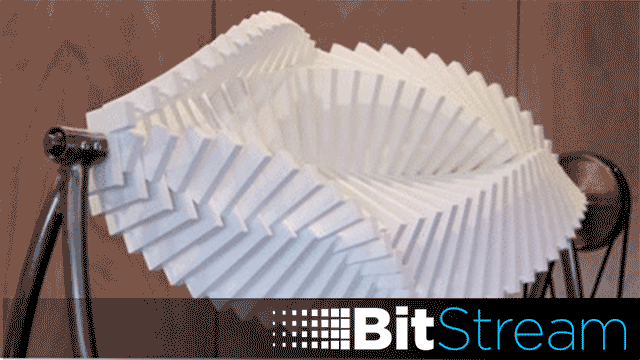 Sculptures that make your brain feel stupid, more and more smartwatches, a security-conscious tablet that looks pretty familiar. All the news and rumours you missed overnight.
I usually start these things off with a crazy gadget or some other weird piece of tech news, but seeing as it's Monday I thought I'd tease your brain with some coolness. This sculpture was created by Jennifer Townley, a kinetic artist who's made other illusionary artwork that equally confounds me. Just embrace the strangeness of it all. [Vimeo]
Yesterday, NASA released a desktop app that lets citizen scientists and amateur astronomers hunt for potential asteroids or even earth-bound threats. You're kind of like Bruce Willis in Armageddon expect not in a terrible movie. [NASA]
A department store in Shinjuku, Tokyo is getting an Apple Store. OK, so what? It's completely dedicated to just the Apple Watch. [9to5Mac]
Apps and Devices
Google's crazy-weird AR game, Ingress, will be getting its own convention. [The Verge]
Chrome has a new extension that gives you a pie-chart breakdown of your web-surfing habits. Hmm, mine's just a majority Gizmodo. Makes sense. [Chrome]
Google is releasing an open API to let any app take advantage of the awesomely wonderful Google Now. Oh, and theme park ride time info is incoming. [TNW]
SecuTablet, BlackBerry's terribly named security-focused tab, is basically a Samsung Galaxy S Tab with additional security built in. With Blackphone+ also offering a secure tab alternative, seems like this might be shaping up to be "a thing." [Wall Street Journal]
Rumours!
Samsung has taken its typical hardware approach and applied it to smartwatches — just make a shit ton of them until something sticks. Now, it looks like a round Samsung wearable is on the way. [SamMobile]
Not to be outdone by Apple, Xiaomi is also going to make its own smartwatch. Taking bets that it will probably look just like the Apple Watch. [GizmoChina]
YouTube is considering launching a subscription-based, video-on-demand service, much like Music Key. Anyone else think online subscriptions are getting to be a little much? [Variety]
What You Might Have Missed on Gizmodo
Super Mario Runs Left to Right Because Our Brains Say So Relive the Internet of the 1990s in 6 GIFs California Just Has One Year of Water Water Reserves, So...Water Cannons? How to Survive an Avalanche Android 5.1 Is Coming and These Are Its Best New Features