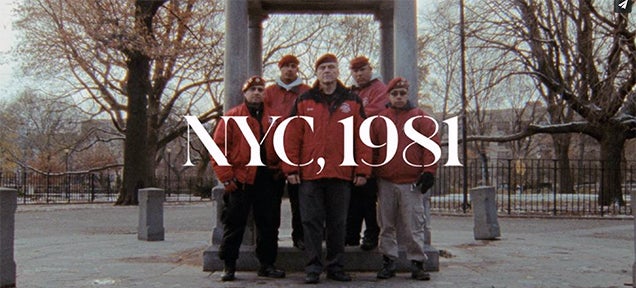 NYC had 328 murder victims in 2014, its lowest figure ever. For those who live or visit it's hard to believe that this was one of the world's most violent cities. 1990 was the pinnacle of a spiral of crime that started in the 1960s and exploded in the 1980s. Listen to some of the people who lived it all in Austin Peters' NYC, 1981.
[Inspired by the film A Most Violent Year] the documentary NYC, 1981 features Guardian Angels founder Curtis Sliwa, performance artist and former Warhol Factory fixture Penny Arcade, actress Johnnie Mae, Harlem street-style legend Dapper Dan, auto body shop owner Nick Rosello, and trucking union rep Wayne Walsh.
If you look at New York City's homicide statistics since 1928 (the first recorded year), 1981 wasn't the most violent year in the history of the capital of the known universe. At 1,826 victims, it wasn't even the most violent in the 80s. That position corresponds to 1989, with 1,905 murder victims. Both figures were amply surpassed in 1990, with 2,245 victims — the all-time record.
But 1981 was the year when everyone realised that the city was completely out of control, as murders, assaults, rape, mafia, and police corruption levels soared in a perfect storm that pushed New York into a black hole of physical destruction, and moral and economical bankruptcy. As Curtis Sliwa says in this film, it is not a coincidence that the cult film Escape from New York — in which Kurt Russell tries to get the President of the United States out of a city that the government turned into a prison because it was already a hellhole that nobody wanted to live in — was released in 1981.
If you want to know more about this period, go to the short film's site.