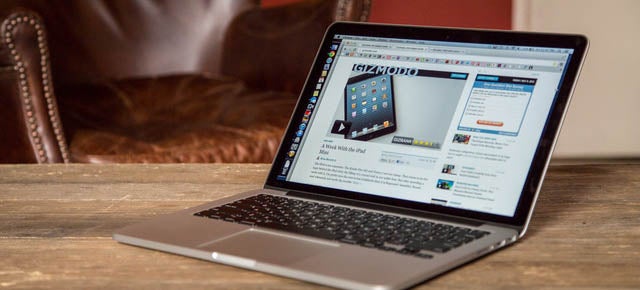 Apple has just updated its MacBook Pro with Retina display range. The revamp sees the high-end laptops gain faster chips, more memory and, in the case of the 15-inch model, a price cut, too.
There are now three updated 13-inch models, and two refreshed 15-inch models. All feature Intel's newest i5 and i7 Haswell processors.
The cheapest 13-inch model now features a 2.6 Intel Core i5 chip and 8GB of memory (up from a 2.4GHz Core i5 chip and 4GB of memory). The entry-level 15-incher gets 16GB of memory and a 2.2GHz i7 processor (up from 8GB and 2.0GHz).
Most of the pricing remains the same as before: the basic 13-inch model still costs $1599, and the entry-level 15-inch model $2499. But the more expensive 15-incher, with discrete graphics, sees a modest cut, from $3299 to $2999.
This is the first modest update to the range since the last update to the Retina line of MacBook Pros last October. It comes a little ahead of the arrival of Mac OS X Yosemite, which will be available as a fee update when it's released in a few months. The updated line is already available on the Apple Store. [Apple]