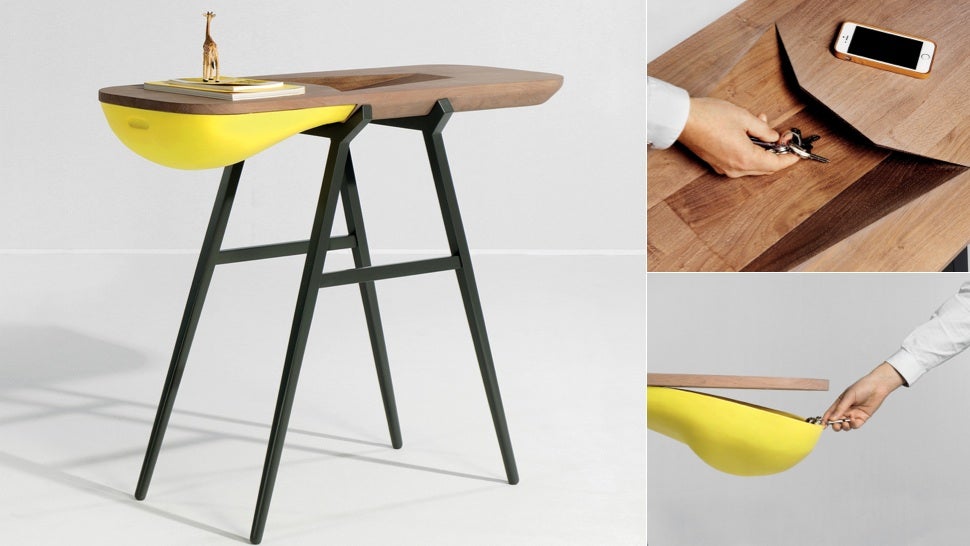 We all have a surface somewhere in our home that is covered in clutter: phones, wallets, coins, keys, pens, cables, tickets and all other kinds of crap. But this neat console table gobbles it all up to keep it out of sight.
The Balka Console, brainchild of Gregoire de Lafforest, combines a beautiful oak top with a crazy yellow bag to hold your junk. Carved into that beautiful table top is a chute that allows it to swallow everything — from keys to credit cards — wholesale. A bit like a well-designed pelican turned into furniture. The designer explains:
"The oak top of the console, pierced with a drain, allows objects to slide in and disappear in a flexible bag drawer. Stored, the user can keep them there indefinitely or unearth them at any time."
It might not keep your life organised, but it will at least keep it free of clutter. The table was unveiled just this month, but pricing and availability are as yet unknown. [Gregoire de Lafforest via Fresh Home]