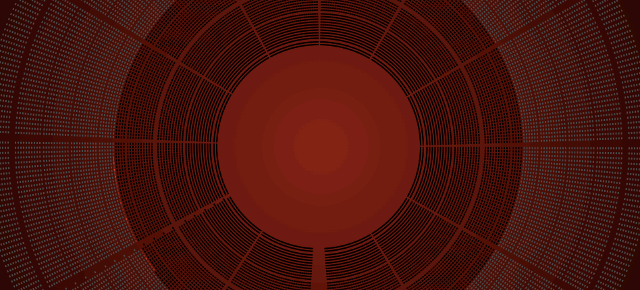 As visualizations go, this is a simple one: it simply shows the heartbeats of Jen Lowe from the last 24 hours, gently pulsing as a big, bold, red screen. And it is insanely mesmerising.
Over the course of the day, the big circle fills out with readings. Lowe uses a Basis watch to record the data, but then has to gently tease it out of the hardware. She explains:
Basis doesn't provide an open API, so I access the data using a variation of this code. The heartrate you see is from 24 hours ago. This is because the data can only be accessed via usb connection. Twice a day I connect the watch and upload my latest heartrates to the database. I've been doing this for 33 days now.

It's March 25, 2014, and statistics say I have about 16452 days left.
That last point, in fact, is a little creepy. The viz tells us how many days Lowe has lived, and how many she's predicted to have left. If anything, at least that number will encourage people to make it bigger. [One Human Heartbeat via Flowing Data]