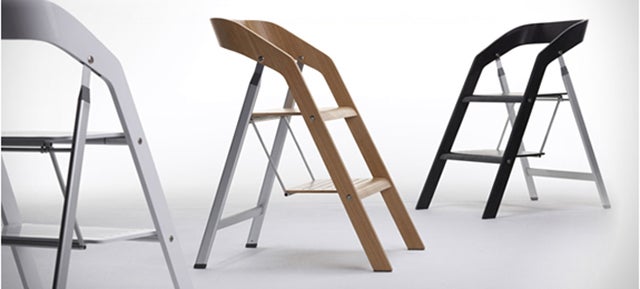 For the short, or those with tall apartments, some steps are an essential household item. But why buy a stepladder when you can hide one in plain sight, as this wonderful looking chair?
Obviously It's not the first chair to function as a stepladder — designed or impromptu — but Usit, designed by Maarten Olden, might just be the nicest looking. Olden explains:
"Usit originated in the desire to create a stepladder that fits into a contemporary interior. Today's stepladders often look too utilitarian, and they are quickly returned to storage after being used. Although it is collapsible, the Usit doesn't have to be packed away. The two-step version of Usit can be used as a seat, the three-step version as a high stool."
Indeed, the simple, minimalist design can blend into practically any apartment. Available in natural, black or white for around $US300, it's a pretty stylish solution to a pervasive problem. [Maarten Olden via Fresh Home]