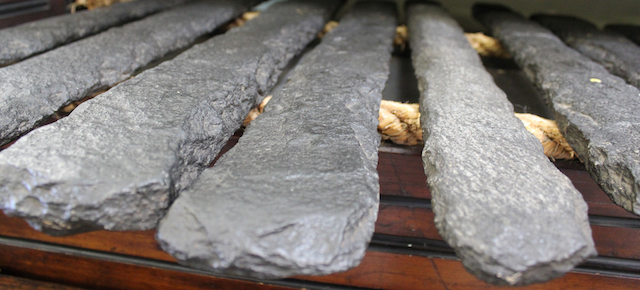 Roughly 10 millennia ago, musicians didn't lug amps or guitars around to their shows — they lugged lithophones, or instruments made of resonant rocks. The oldest lithophones ever found will be played in their first public concert next week in Paris. Sadly, it will also be their last.
The stone instruments, which date from between 2500 BC and 8000 BC, will be played publicly for the first time next week as part of a three-night series at France's National Orchestra. Four percussionists will take the stage to man the hand-held stone devices, playing a piece called Paleomusique, which was written for them by the French composer Philippe Fenelon.
It's only been a few years since archaeologists even realised these stones were instruments. Before that, everyone thought the long, thin stones — which were brought back from the Sahara in the early 20th century — were used for grinding grain. But according to The Telegraph, another theory emerged when one scientist gave a stone an errant tap in the storeroom of France's Natural History Museum in 1994:
I thought back to my grandmother's piano and the small supports which made the strings resonate. I found some packaging foam in the trashcans of the museum I made two rests that I placed under either end of the lithophone, and tapped it. It made a clear 'tinnnnggg.' My heart beat like crazy. I knew that I had found something great.
If it seems like lithophones are everywhere right now, it's because just across the channel, scientists are investigating a similar discovery in the UK. This year, archaeologists tested the theory that Stonehenge might actually have been a massive musical instrument — even going so far as to tap it to see if it resonated (it did).
It turns out that our ancient ancestors may have used stones for everything from playing music, to communicating, to even praying, thousands of years before conventional instruments emerged.
There are plenty of examples of lithophones on YouTube to give you an idea of what the real thing will sound like next week. For example, Finland's Mårten Bondestam builds and plays his own:
While the Icelandic band Sigur Ros used this modern stone marimba in one of their concerts:
And in Virginia's Luray Caverns, rubber mallets tap on stalactites to produce notes:
It goes without saying that these are best heard while seated around an open fire in the wilderness, gnawing on the bones of a small animal you just killed. [The Telegraph]
Picture: The Musical Stones of Skiddaw found in Cumbria, by Trevor Cox Salford