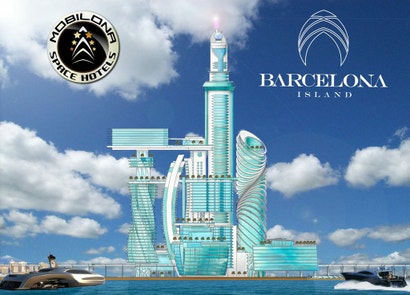 Pop quiz: what does a country on the brink of economic collapse, with dozens of unfinished buildings dotting its countryside, really need? A monstrous, phallic space hotel, of course!
Meet the 300m tall hotel proposed US-based firm Mobilona for an artificial island off the coast of Dubai Barcelona. Reachable by a walkway from the mainland, the hotel would feature things no one would ever need or want unless that person was a sheik with limitless funds: a zero-gravity spa (the world's first!), a vertical wind tunnel, and an "other worldly [sic] experience for guests wishing to travel to distant galaxies." It'll also be home to a 24-hour shopping centre and a marina that can house your yacht as long as it's under 200m long.
Want to stay one night at the 2000-room hotel? You'll spend anywhere from €300 to €1500 ($395 to $1975) for a room. Want to stay for a week? You can pay €20,000 ($26,000) a year for a timeshare. Want to own six-storey penthouse mansion? €70 million ($92 million) will make the garish place with its infinity pool, superyacht mooring and optional helipad yours.
So what's the problem here? One, this place is unnecessarily phallic. Two, Spain's economy is already massively screwed, and its construction industry is in an especially dire state. Dubai has similar versions of this real estate project, and they're pretty much falling into the sea.
Sure, Barcelona is known for crazy architecture, but not of this magnitude. But the good news? Barcelona's mayor, who saw the plans last week, is not on board with the lodgings. And neither is most, if not all, of the city council. Plus, Mobilona has proposed space hotels all over the world — and so far not one has come to fruition. [UK Telegraph]