It's Gizmodo Australia Shooting Challenge voting time! There are some amazing photos in this bunch, so start voting for your favourite photographer. They might just win a shiny new Canon Powershot G15 camera valued at $600.
Note: In the interests of fairness, voting has been restricted to one per user, based on cookie and IP.
IMPORTANT Voting closes at 10am on Friday, January 25
Prizes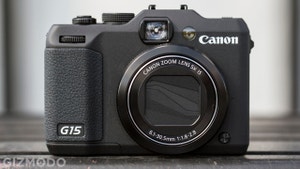 That's right, it's new prize time. We've got the fantastic new Canon PowerShot G15 camera to giveaway!
The Canon Powershot G15 has finally arrived, and brings with it a level of sophistication we love in the fixed lens compact space. It sports a 12.1-megapixel CMOS sensor, a powerful DIGIC 5 processor, 5x optical zoom and an amazing lens which rocks an f/1.8-2.8 aperture. It's sleek, stylish and beautifully retro with the ridged lens hood, pop-up flash and nested dials, and it's a winner when it comes to user friendliness.
The Canon Powershot G15 is valued at $599.95, and we're thrilled to be giving this one away to the Gizmodo Shooting Challenge faithful for our last challenge of the year.
We'll be running this challenge over two weeks, with this week being the final round. The finalists from each week will go head to head in the final and the winner will be selected by Gizmodo editors for the grand prize!
Note: Linking friends from your social networks to the Gizmodo voting page is encouraged, however, use of "vote farming" sites including (but not limited to) GetOnlineVotes or links directly to polldaddy.com will result in disqualification. The goal is to grow the Giz Shooting Community in the fairest way possible.
Please be respectful and constructive if leaving a comment about any photo.
---
This Week's Entries
Maria Christine Dela Fuente
Equipment: Nikon D700, Nikkor 24-70mm 2.8 Settings: F3.2, 1/320 Shutter Speed,Metering: Spot Story: I have decided to avoid the typical summer photos - beach, bbq etc. In this photo I used the summer fruits that i know of to represent how we, Australians, love to explore and discover its beauty as soon as summer hits and scream WELCOME TO AU-SUMMER!
Peter Maniatis
I made this sandman when i went to the beach a week ago.
Wilson Lee
Canon EOS 7D 50mm f/1.4 ISO 100 I'm on holiday in Seattle at the moment and it's winter here and a foggy day i the norm here. I thought it would be a nice juxtaposition of summer.
Marc Greinke
My second cousin Tyler enjoying the water while blowing bubbles at his 3rd birthday party.
Ericardo Loh
Noticing how beautiful the summer sunset was last Friday, I decided to take a photo of it from my neighbourhood. Very rarely do u get a nice sunset like this. Camera: Canon 6D Lens: Canon 100mm f2.8 Aperture: 2.8 ISO: 500 Shutter: 1/200
Daniel Isserow
Camera: Canon 60D Lens: Canon EF 28-90mm f/4-5.6 II USM ISO: 100 Shutter Speed: 1/125 Focal Length: 90mm f/stop: f/5.6 Background Info: This photo was taken on 19/01/2013 at Skydive Sydney on the right is my Dads hand and the left is his mate of 10 years hand. It has been around 5-6 years since they have jumped with each other and after such a long time this is a photo of them embracing before their first jump together in 6 years.
Will Nixon
I put my ND filter on and went for a walk on my favourite walking track to try my luck with a shot of the sunset. On my way my the hill I scratched my leg, stopped, looked down to curse at what I walked into and found this. I really liked The different textures and colours, they reminded me of the harshness of the Australian summer sun. I continued my walk and when I got to the top it was overcast and dull reminding me I still live in Melbourne. Nikon D5100 - 18-55mm Lens f/7.1 - exp 1/80sec - 1250-ISO
Kevin Ly
Using Canon 6D with 24-105mm F4 lens, Mounted a 430exII flash but didn't fire it for this shot. ISO 100. Story behind this photo: My eleven years old pet/best friend has passed away over the last weekend, our whole family missed him so much, I regret not taking enough photos with him. Since its such I lovely sunny arvo, I decided to take his daughter out, for a photo shoot so i wont regret in the future for not taking enough photos.
Stewart Leech
Family BBQ & pool get-together on a hot Brisbane summer Sunday afternoon at my Dad's place (left). It was warmer in the water than out of it. My 4yo niece (2nd from left) had only just come to trust her vest, so was for the first time ever enjoying the thrill of launching herself into the pool. Photo taken using my Nikon AW100 waterproof point'n'shoot camera - which works fine in sunlight, but is pretty terrible in low light. Shots like this though justify its purchase. Everything on auto with no post-processing.
Dimitar Dojcin
For me, nothing says summer more than a fresh batch of blackberries from the garden :) Slight photoshop edit by increasing vibrance and levels. Camera: Nikon D60 Lens: 18-55mm ISO: 100 f/8 1/250sec
Daniel Minge
I think this has to pretty much sum up an Australian summer. Out on the beach, enjoying a late sunset with mates (not pictured) Taken with a Canon 550D, 34mm f2.0 Lens, ISO 100
Rob Bunt
Shot this weekend in Boracay, Philippines. Minor edit to closer convey water colour. It was a bit of a hike to get to this beach, including walking along a very narrow bridge over rocks and crashing surf, and being a tad scared of heights, it was more than a little out of my comfort - but the beach was stunning and so were some of the shots I got. Worth the scare and scar on my arm from rocks :)
Ben Vawdrey
Canon 5d Mk III, 24-105 F4L f/11, 1/80th, 24mm, ISO 200 Out with the motorbike club for a ride down to Chinderah via all the best roads on the Gold Coast Hinterland. Resting under a tree after a hard ride in near 40 degree heat. I could have jumped straight into the river if I didn't have to ride home to Brisbane, despite my leathers already being soaking wet in sweat.
Matt Stokes
Camera: Canon EOS Kiss X4 Lens: Canon 18-55mm ISO: 200 F: 11 Exp: 1/50 Processed in Lightroom 4. I took this on a recent holiday away to Coffs Harbour. It was the last day of the holiday and I had been getting up late every morning and I finally made the effort to get up early. The first shots I got before the sun came up were ok and I thought the sunrise was as good as I was going to get. Then the sun came out and it was looked amazing with the clouds casting shadows and a nice orange glow. I took the camera off the tripod and frantically ran around the beach looking for the best angle while the sun quickly ascended.
Brendan Meharry
Canon Eos 1100D, f/5, 1/125, ISO-200, 140mm. Summer around my house has always been associated with kookaburras. Obviously they're around all year long, but they seem to make themselves more apparent during the Summer months. This particular cheeky bastard always hangs around our patio; solely because there is a fish pond underneath with he has cleared out of all fish >.<
Daniel Bongiorno
This panorama was taken last Friday on that scorching hot 45 degree day, some friends and I popped down to Bondi Beach in the afternoon to cool off, and were standing round when this big storm came across and rained on us. This was summer, the petrichor, the heat and the beach. I shot this on the surprising decent camera on the iPhone 5 with it's panorama mode, my friend Alastair (in the shot) ran around a few times so we could get multiple shots of him in the one panorama.
Andrew Simmonds
Summer is not summer without sailing, we all watch the start of the Sydney to Hobart but those talented sailors have to come from somewhere. This is Southport sailing club before the start of Sunday sprint sailing and the starting line is directly in front of the club.
Trevor van Weeren
Summertime and the living is easy... Surfers waiting and hoping for a wave at Byron Bay
Peter Neave
Nothing better in Summer time than a BBQ at the end of a hot day. It tastes as good as it looks.

Handheld camera. Photo of piece of Lamb on BBQ.

Canon 5D Mark II, 60mm, f7.1, 1/320 sec.
Ian Mackay
Samsung Nexus S smartphone, point and shoot settings! Taken during daily afternoon walk with the family to the wreck of the SS Dicky on Dicky Beach, Caloundra, Qld. Lots of blue bottles washing up this trip - this one nearly got me! Have to get down low and up close but smartphone cameras...even this one, a few generations old...are amazing.