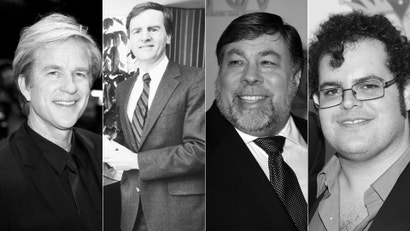 The Craigslist-casting, Ashton Kutcher-glorifying, budget-lacking Steve Jobs biopic just added some fresh blood: the guy from Full Metal Jacket and the funny fat man from Book of Mormon. Uh, alright!
jOBS — yes, that's really the title of a movie that will be made — will star Matthew "Private Joker" Modine (far left) and Mormon's Josh Gad (far right) as Pepsi CEO Villain John Sculley and The Woz, respectively. This is good news, as both gents are fine actors, but there is the slight problem of neither of them looking much like the characters they will be portraying. This is fine in the case of Sculley, since nobody knows what he looks like anyway, but Wozniak is a human icon and it's hard to imagine anyone but a spitting image portraying him.
Modine seems keen on making the film at least slightly interesting, On CBS News he said:
"It's my feeling — and I think there's a lot of people who feel — that had John Sculley not fired Steve Jobs from Apple Computers and Steve go on the journey that he did when he was away from Apple Computers that we wouldn't be speaking about Steve Jobs today."
The more the movie leans on people like Modine and his non-titular character, the better. A Sculley contra Jobs flick, treating the two with equal focus, might actually be worth paying $20 for. [CBS News via The Verge]
Photos: Getty